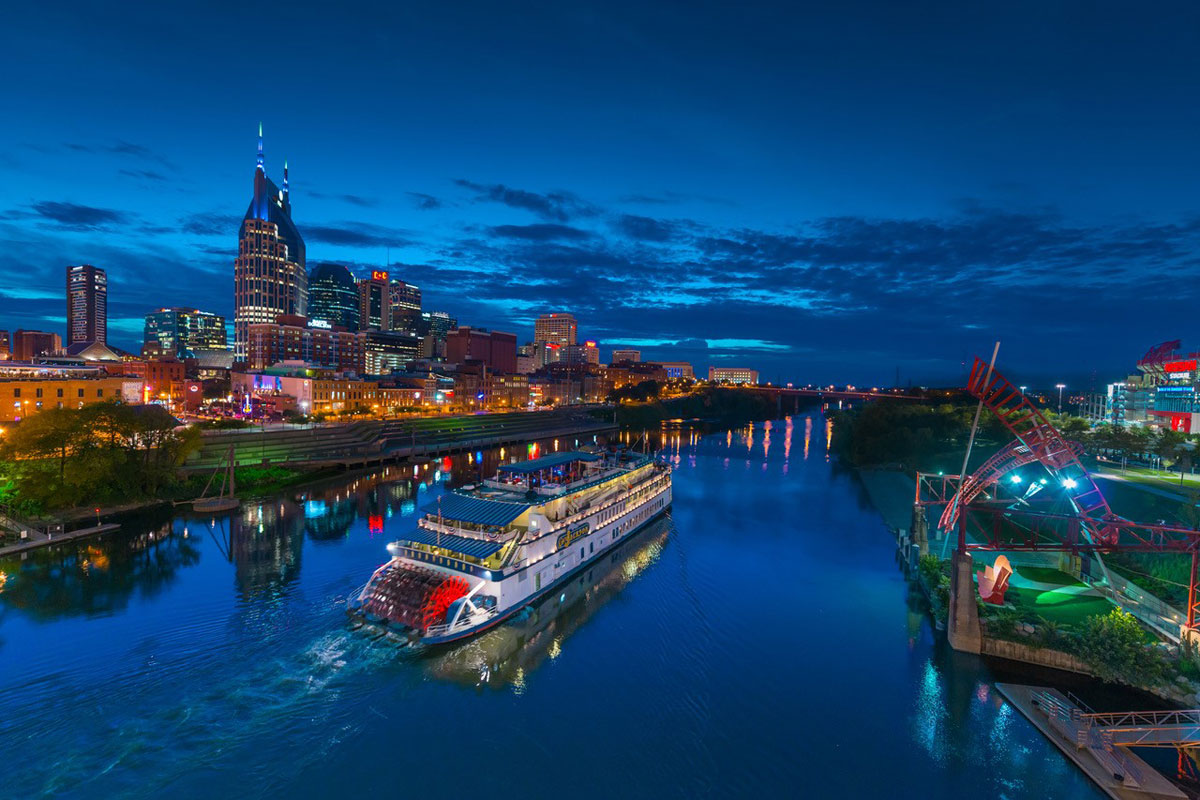 Nashville is a city in which creativity thrives.  Not only is it the epicenter of country music, it has evolved into a place where music of all genres is created, recorded and performed.  It is a natural draw for musical artists and songwriters and for talented people in other areas of performing  and visual arts.
Visitors come to Nashville primarily for the music. Anywhere you go downtown, day or night, there's live music playing.  It streams from bars, restaurants and clubs, and throbs through the walls of huge venues. Choices are countless, especially at night when the music scene transforms from its daytime vibe of mellow and fun to a high energy, rocking, dancing, sing-along place. While country music dominates the live music scene, Nashville has other great nighttime entertainment options.
This top 10 list includes options from traditional country music played in Honky Tonks to classic symphony performances at the Schermerhorn and other nighttime attractions.
Nashville Night Tour. Nashville at night can be baffling to first time visitors. Rows of blinking neon lights beckon and wonderful venues call out.  Get a great overview of Nashville after dark on a 2.5 hour Nashville Night Tour aboard the Old Town Trolley.  Talented on-board guides make sure you have a great time during an evening of the evolution of music filled with wonderful stories about the legendary musicians who got their start here – past and present.   Get close-up looks of famous music places from big viewing windows – landmarks glowing against the dark sky, Honky Tonks on lower Broadway casting color and sound into the trolley, crowded Printers Alley, Music Row, Ryman Auditorium, The Station Inn, Ellson Place's Rock Block.  Get off the trolley to catch a 30 minute performance in a live music venue, and again for a stroll across John Seigenthaler Pedestrian Bridge for amazing skyline views and great photo ops. Find discounted tickets here. 
Lower Broadway. Most visitors walk packed lower Broadway to pop into some of the legendary Honky Tonks along the way.  All have live country music. Tootsies Orchid Lounge is a country music institution; Legends Corner is a classic honky; The Stage has great music and a big dance floor. Don't miss all-American casual food and ambiance at retro Paradise Park Trailer Park Resort.
Printers Alley. The narrow kitchy alley between 3rd and 4th Avenue and between Union and Church streets is a nighttime place. Not much is open during the day and the neon lights at night give the sometimes littered alley a cool, eclectic vibe.  It's lined with bars, small restaurants and karaoke bars. Bourbon Street & Boogie Bar is a nice change from traditional country music. On-going renovation may change its unique character.
2nd Street Saloons and Clubs. Running parallel to the river, 2nd Street has lots of saloons and eateries. Three-level Wild Horse Saloon, a bar, concert site and dance venue boasts the largest dance floor in the city; George Jones Rooftop has great views and great wings; BB King's Blues Club carries on the heritage of the King of Blues.
Ryman Auditorium. For first time visitors, attending a performance at the "Mother Church of Country Music" is a must. It was in this acoustically amazing music heritage site that the Grand Ole Opry radio show performed live from 1943 until the early 1970s.  Today, the beautifully renovated concert hall retains its magic, hosting entertainers of all genres.  Check out the Ryman calendar to see who's performing during your visit.  Country music traditionalists should catch an Opry Country Classics performance featuring a celebrity host and guests.
Grand Ole Opry. Head across the Cumberland River for a performance at the Grand Ole Opry. The Opry does not release final line-ups until the Wednesday prior to each performance, but get tickets ahead of time and be surprised.  Show line-ups are always awesome!  The music is rousing and being part of a live radio broadcast is a blast! 
Tennessee Performing Art Center and Schermerhorn Symphony Hall. These two remarkable venues demonstrate the depth and quality of the artistic talent in Nashville.  TPAC, located in the James K. Polk Cultural Center in downtown Nashville, has a several large performance venues – an auditorium, two theaters and a large hall.  It presents an exciting array of Broadway shows and special performances.  It's also the venue for performances of the Nashville Ballet, the Nashville Opera and Nashville Repertory Theater.  Schermerhorn Symphony Center is an architecturally grand concert hall known for the richness and diversity of performances held there.  The Nashville Symphony offers its Classical series with an amazing range of exciting performances. In addition to classical offerings, the Schermerhorn presents pops, jazz and music from all over the world.  For a special Nashville evening in a lovely venue, take a look at the schedule and attend.
Belcourt Theater. Sometimes an indie film is just the ticket for a nice break from the live music scene and crowds.   This hidden gem in the Hillsboro Village District is the place to go.  Originally build in 1925, and recently renovated, it's a small, pleasant cinema venue screening top indie films in a relaxed atmosphere.  There's not a bad seat in the house to watch good American and International film, enjoy great drink selections, including cocktails, wine and local craft beer, and popcorn too!.
Jackson Showboat Dinner Cruise. See the Nashville skyline at night on a leisurely riverboat cruise along the meandering Cumberland River.  Aboard the 300-foot paddle wheel riverboat, it's an evening of dining and entertainment.  Massive decks offer plenty of places to see the skyline, awesome at night.  Full service bars, a pleasant dinner served at tables of six or eight guests and a music-filled, high-energy show make it a pleasant evening under the stars. Keep in mind that on the largest showboat in the world, you are in the company of a lot people.
The Gulch Nightlife. Located between downtown and Music Row, the Gulch is one of the hottest neighborhoods in Nashville for young locals. Warehouses in the old industrial area have been converted into upscale restaurants, cool loft spaces and unique stores. Go there for happy hour at some smaller places with names like Little Octopus, Moto, Hops and Craft, Flyte, Finn & Pearl. Spend the evening at local hotspot, Sambucca, for good food, classic cocktails and great entertainment or to Up, a Rooftop Lounge with a farm-to-table menu and great views downtown views.