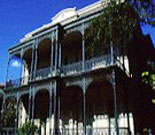 No doubt one of the eeriest neighborhoods in the US, the New Orleans Garden District is a perfect place to get into the Halloween spirit. Made famous by Anne Rice's books that portrayed vampires, ghosts and witches living the stately mansions that peek out behind huge old trees, the Garden District has a very real history of spooky inhabitants and chilling phantoms.
Join a Garden District walking tour with a knowledgeable guide who will share the wonderful and wicked stories of the residents of this long inhabited part of New Orleans, from common criminals on the run to high society big wigs whose indulgences have become the stuff of legend. Learn about the natural disasters that have challenged this now beautiful neighborhood and the wars that have left tales of ghosts and hauntings in their wake.
Visit the 1st Street house that was long the home of Anne Rice and featured in exquisite detail in her series of novels on the Mayfair witches. See the antebellum homes that have seen such historical moments as the death of Jefferson Davis and the invasion of rock stars like Trent Reznor. Check out the Lafayette Cemetery, the safest cemetery in the city, where restoration efforts have reclaimed centuries of neglect.
Be prepared to navigate the uneven sidewalks under looming trees and vines whose roots have pushed their way through the concrete over the centuries. Wear very sturdy shoes and consider bringing a walking stick or cane to help you keep your balance.
Current New Orleans Garden District Ghost Tour Coupon Offers
Kids Go Free (1 Child under 12 Free with each Adult Admission)
Purchase Discounted New Orleans Garden District Tour Tickets
etickets purchased through Trusted Tours also include an online discount with no coupon code necessary.