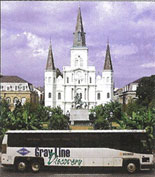 If you are looking for the best way to explore the magical city of New Orleans, then look no further. The New Orleans Gray Line Sightseeing Tour will show you the city's best sights including the famous French Quarter, the Garden District, and the St. Charles Avenue Streetcar.
First, no one could visit New Orleans without first touring the French Quarter centered on St. James Square. You will see plenty of beautiful, historic architecture dating back to the city's founding centuries ago. You will find plenty of nightlife and entertainment options there including many of New Orleans' world-renowned jazz clubs.
Next, you will explore the elegant Garden District. You will surely be awed by the district's many stately mansions, homes of former kings and queens of Mardi Gras. Loyola and Tulane Universities are located in the Garden District as well as the Audubon National Park.
The Garden District's most famous means of transport, the St. Charles Avenue Streetcar, is a wonderful way to see its most famous mansions. It runs from one end of the Garden District to the other and stops very near the beginning of the French Quarter. Few people know that the St. Charles Avenue Streetcar is the oldest continuously operating passenger railway in the world.
It is usually best to visit New Orleans in the cooler months of the year. The winters are usually quite mild and the hot, humid summers can be oppressive for some visitors.
Comments Off on Gray Line New Orleans Sightseeing Tour