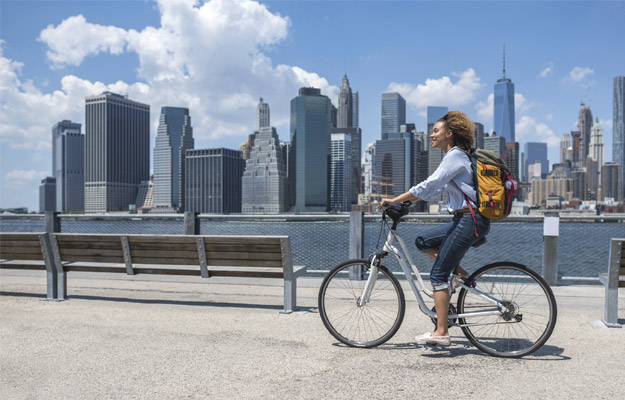 New York City is the ultimate metropolis. It's the global center of finance, fashion, theater, shopping and dining. It's a magical place, a city of bests – best art, best museums, best restaurants, best theater, best shopping.
Busy, noisy and exhilarating 24/7, there's always something incredible to see and do in the Big Apple. Get forever views from the Empire State Building; see Lady Liberty up close; share a somber tribute at the 911 Memorial. Be part of the action in the neon glow of Times Square; go to a Broadway show; connect with spectacular art in world-class museums.  Escape to Central Park; join locals along the High Line. Bike the riverfront Greenway; circumnavigate Manhattan on a boat cruise. Taste amazing food in the trendy restaurants or sample savory flavors in small ethnic eateries, and shop, shop, shop – couture or bargain basement.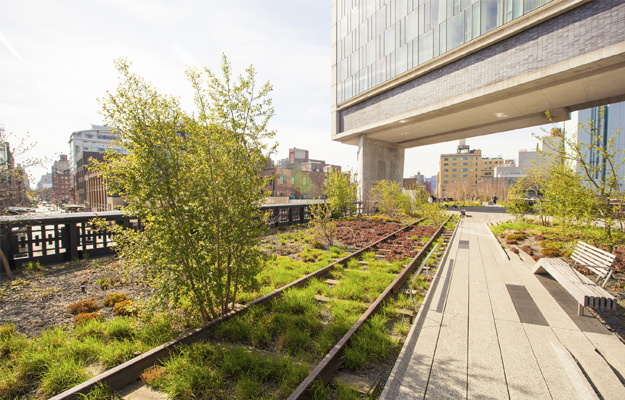 Sightseeing Tours
Great visibility, interesting narration, live or audio, and many hop on/hop off stops are what make a double decker bus sightseeing tour the stress-free way to see and do a lot. Options run the gamut: multiple day packages give you time to see the city and daytime route choices – Uptown, Midtown and Downtown, plus Brooklyn and the Bronx – ensure you see it all.  Being able to hop off to explore areas and visit must-see places around the stops adds a huge bonus to big-city sightseeing. Save $3 per ticket on your choice of these great bus tours:
Double Decker Bus Tour– Promo Code NYAL3
Double Decker Bus Tour Manhattan– Promo Code NYDL3
Foreign Language Bus Tour– Promo Code NYFL3
Night Tour– Promo Code NYNT3
Bike Tours
Feel the pulse of the city street-level close on a bike ride through Central Park, along riverfront greenway bike paths and over massive bridges. It's a blast! While renting bikes is always an option for the adventuresome, taking a leisurely paced 2-3 hour guided bike tour along mostly flat bike trails is a great way for bike riders of all levels to see well-known sites up close and lesser known ones too. Engaging, informative guides lead the way through the beauty of Central Park or on a thrilling, vista-packed ride over the Manhattan and Brooklyn bridges. Use the coupons below and Save $5 on your choice of NYC bike tour.
Brooklyn Bridge Bike Tour– Promo Code NYBB5
Central Park Bike Tour– Promo Code NYGB5
9/11 Memorial Bike Tour- Promo Code NYMO5
NYC Night Bike Tour- Promo Code NYNI5

Helicopter Tours
Prepare yourself for an adrenaline rush on a helicopter ride around Manhattan. It's 15 or 20 minutes of pure thrill. Views from above –the Statue of Liberty, Empire State Building, Chrysler Building, the new Freedom Tower, Ellis Island, the great green swath of Central Park, pier after pier jutting out into the rivers, gigantic bridges – are captivating. Watching the bustling, crisscrossing boat activity below is spellbinding.  Seeing the huge cranes of New Jersey port facilities off in the distance on one side and Brooklyn and Staten Island on the other, puts all the pieces of this amazing metropolis into perspective.
New York, New York Helicopter Tour– Save $10 with promo code NYNY10
Big Apple Helicopter Tour– Save $5 with promo code NYBA5
Food Tours
Experience the Big Apple in full flavor through its global cuisine. Tastings, samplings, small plates or multi-course, food choices in this confluence of cultures are endless. In NYC, eats come from any place in the world and range from pricey to budget, haute cuisine and trendy minimalism to Soul food, savory ethnic specialties to New York signature food – pizza, warm bagels and hot dogs. Dine in multi-starred white-linen elegance, in gilded gold of Old New York, in upscale spaces with edgy designs, in the warm simplicity of family-run eateries, and busy grab & run delis.  For an authentic all-in-one neighborhood & culinary experience, guided walking food tours are the way to go. Nothing beats being in colorful neighborhoods where locals live, shop and dine – Nolita, Little Italy, Chinatown, Lower East Side. Choose from a variety of tours and Save $5 per ticket with these coupons:
Downtown Chocolate and Wine Tour– Promo Code NYCH5
NOLITA Ethnic Foods Tour– Promo Code NYET5
Flavors of NYC– NYFV5

Guided Tours
NYC has numerous interesting iconic and eclectic specialty tours, on foot, by bus, or a combination of the two. Check out these offering great coupon deals.
Sex & The City Tour– Save 5% With Promo Code NYSC5
Boat Tours & Cruises
Manhattan is an island surrounded by water – the East, Hudson and Harlem rivers. A must do on anyone's list:  circumnavigate it on a boat tour or cruise. Viewing soaring skyscrapers, massive bridges, and iconic sites from the water is unforgettable. There's a boat experience for everyone – daytime, sunset, twilight, nighttime; on a speedboat, Tall Ship, sailing schooner, luxury yacht, large sightseeing vessel, and elegant, multi-decked ships with panoramic windows. Go for sightseeing only, for lunch or elegant dinner cruise. Take an architecture, landmark or harbor lights tour. Enjoy a gospel music lunch, champagne brunch, wine or craft beer tasting. Cruising times range from a 30-minute speedboat ride, perfect for kids, to a 3-hour fine dining cruise popular with the dinner and dance crowd.
Check back for future promotions.