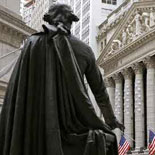 Whether you are new to New York City or a seasoned veteran you are well aware that there is so much to choose from when it comes to attractions, so how do you know what to do? How about a tour? Not just any tour, but the Alexander Hamilton Financial Walking District Tour. This tour will guide you through the financial district, and bring the city alive in way you couldn't imagine.
This historical walking tour will take you on a route to Dutch Monument and Old Waterline, Statue of Liberty, Castle Clinton and Ellis Island, Bowling Green Square, Fraunces Tavern, Delmonico's Restaurant, Hanover Square, The New York Stock Exchange and Federal Hall, City Hall and the Woolworth Building, Trinity Church and Alexander Hamilton's Grave and will conclude at The World Trade Center. On the tour you should try to imagine looking at it through the eyes of Alexander Hamilton, a penniless immigrant who rose out of his meager means, to become United States first Secretary of the Treasury.
During your tour you will be amazed at everything that went into the innovation of our advanced financial system, even though many of our founding fathers, at times, disagreed when creating it.
Tickets can be purchased at https://store.trustedtours.com/alexander-hamilton-financial-district-walking-tour, and for a limited time children can go on this tour for FREE with the purchase of an adult eTICKET.