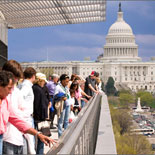 Established in 1997, the Newseum opened its new, multi-story interactive facility eleven years later. The museum chronicles the history of news reporting from the 1500s until the present in all its formats, including print, photojournalism and electronic media. Located in Washington, D.C. on Pennsylvania Avenue, NW, the building is situated between the U.S. Capitol Building and the White House near the museums of the Smithsonian Institute. The museum has 14 exhibition galleries, 15 theaters and a 4-D experience that enables visitors to travel through time and witness some of the most pivotal events in history. There are also two state-of-the-art production studios. One of these facilities will serve as the headquarters and a broadcast location for Al Jazeera's American bureau. Tours provide a behind-the-scenes glimpse at how media outlets produce and broadcast their news programs. The theaters screen films and documentaries related to the coverage of various news stories and sporting events.
Save an additional $2 with Coupon Code: DCNW2
Purchase Newseum Tickets or
Purchase the Old Town Trolley and Newseum Package here. Savings of up to $9 per ticket!
In addition to presenting the history of news reporting, various exhibits and galleries are dedicated to the First Amendment, the events that occurred on September 11, 2001 and photographs that have won the Pulitzer Prize. A two-story, steel and glass memorial is inscribed with the names of more than 1,800 reporters from across the globe who have died while covering stories. Another special exhibit features the media coverage of the Berlin Wall from the construction of the barrier in 1961 to its dismantling in 1989. The exhibition is the largest collection of pieces related to the structure outside Germany. Another popular exhibit is the display that features the front page from more than 80 newspapers from around the world each day. This exhibit complements the one relating to World News where visitors can compare stories and press freedoms from more than 190 countries.
The Ethics Center evaluates your judgment as you race to meet the deadline for publishing a front-page story. The Pennsylvania Terrace provides marvelous views of the surrounding skyline while relaying historical events that have taken place on this well-known thoroughfare. The Internet, TV and Radio exhibit explores the history and relationship between technology and journalism. The Interactive Newsroom exhibit features 48 kiosks where visitors can perform the job of a reporter, a photojournalist, an editor or a news anchor. The museum also has an assortment of computer games, touchscreens and other interactive multimedia exhibits dispersed throughout its seven floors.
Comments Off on Newseum DC Coupons