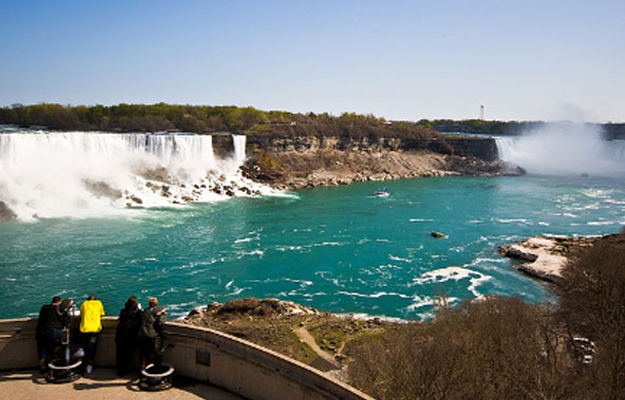 To say that Niagara Falls has scenic views is an understatement. The Falls are not only breathtakingly beautiful, to feel the immense power of the endless volume of water as it makes its way to the precipice, to drop, boiling and churning white into the gorge below, is mesmerizing. The cool thing is that there is no shortage of awesome scenic places from which to experience this natural wonder.
Three waterfalls collectively make up Niagara Falls which spans the border between Canada and the U.S. Horseshoe Falls is on the Canadian side; American Falls and Bridal Veil Falls are on the U.S. side. Be sure you bring your passport, a must if you plan to to visit both sides at the Rainbow Bridge border crossing.
Both sides have jaw-dropping views. Canada has a long, clean panoramic view of all three falls; the U.S. has multiple closer views. Niagara Falls Ontario is larger, more commercial and more crowded. Niagara Falls New York is more natural and wooded, thanks to the establishment of 400-acre Niagara State Park in the late 1800, encompasses the shoreline along Niagara Gorge and American Rapids, and includes Goat, Green, Luna and Three Sisters islands.
Comments Off on Niagara Falls Scenic Views