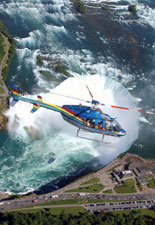 Niagara Falls is the shared name of three magnificent waterfalls located on the U.S.-Canada border that has attracted tourists from around the world since the 18th century. You can see the cascade from the water or the shore, but a helicopter tour provides a unique perspective of the widest and most powerful falls in North America and the surrounding scenery. The tour aircraft is the Bell 407, a helicopter renowned for its safety, reliability and superior performance.
Planning a Niagara Falls Helicopter Tour? Use the following coupon code (promo code) and save an additional $3 on tickets.
Niagara Falls Helicopter Tour Coupon Code: NFHR3
Purchase Tickets Here: https://store.trustedtours.com/niagara-falls-helicopter-ride
After departing the helipad, you will enjoy a bird's eye view of the Sir Adam Beck power-generating plant, one of the first hydroelectric power stations in the world. Other attractions include the spectacular Niagara Parks School of Horticulture, the Queen Victoria Park and the banks of the Niagara River. The landscaped gardens and parkland are in bloom during the spring and summer, and the nearby hills are ablaze with colors in autumn. A fresh blanket of snow in the winter provides an ethereal backdrop for the mesmerizing cascades. You will see the natural whirlpool and the Rainbow Bridge that connects the Canadian and American cities named in honor of the falls. The aircraft then flies over the Bridal Veil, Horseshoe and American Falls, which allow you to get an up-close look at the majestic water and beautiful rainbows.
Welcoming thousands of guests each year, the Niagara Falls Helicopter Tour includes a recorded narration that you can hear on your individual headsets. The commentary is presented in a dozen languages, including French, German, Italian and Spanish as well as English and Japanese. The 12-minute aerial tours are available throughout the day as the weather permits. Because the helipad is located in Niagara Falls, Canada, passengers crossing the border from the United States must have the appropriate travel documents to enter the country.