To say that Niagara Falls has scenic views is an understatement. The Falls are not only breathtakingly beautiful, to feel the immense power of the endless volume of water as it makes its way to the precipice, to drop, boiling and churning white into the gorge below, is mesmerizing. The cool thing is that there is no shortage of awesome scenic places from which to experience this natural wonder.
Three waterfalls collectively make up Niagara Falls which spans the border between Canada and the U.S. Horseshoe Falls is on the Canadian side; American Falls and Bridal Veil Falls are on the U.S. side. Be sure you bring your passport, a must if you plan to to visit both sides at the Rainbow Bridge border crossing.
Both sides have jaw-dropping views. Canada has a long, clean panoramic view of all three falls; the U.S. has multiple closer views. Niagara Falls Ontario is larger, more commercial and more crowded. Niagara Falls New York is more natural and wooded, thanks to the establishment of 400-acre Niagara State Park in the late 1800, encompasses the shoreline along Niagara Gorge and American Rapids, and includes Goat, Green, Luna and Three Sisters islands.

AMERICAN SIDE SCENIC VIEWS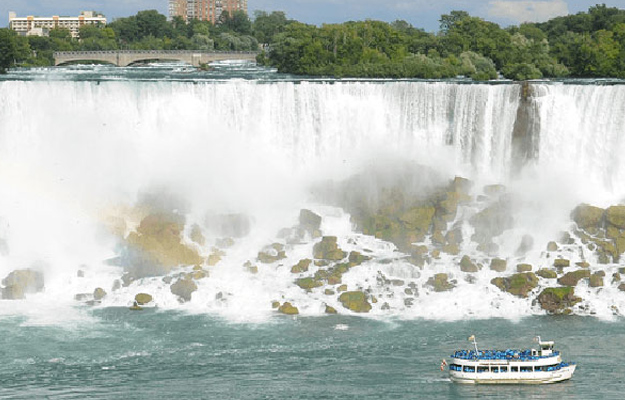 Maid of the Mist, an iconic double-deck vessel, transports visitors past the base of American Falls and into the mist of Horseshoe Falls' distinctive curved basin. The dramatic passage through churning whitewater, past the thundering waterfalls of 3160 tons of water per second flowing over the edge, is unforgettable. Be prepared to get wet in your souvenir poncho on the 20-minute ride departing from Prospect Point every 15 minutes May – October.
Prospect Point Observation Tower, extending way out over Niagara Gorge, is the only place on the American side to get a panoramic view of all 3 Falls. It's an amazing sight! Elevators provide access to the base of the gorge. From there, visitors can climb a series of steps to the Crow's Nest, where the views are great and the misty spray blast cooling.
Goat Island, dividing American Rapids and the Canadian Rapids, offers the most opportunities for spectacular falls views. Drive to the wooded island over American Rapids Bridge and head to parking areas. Better yet, take time to appreciate the views by walking over American Falls Pedestrian Bridges. Once on Goat Island, check out these out:
Cave of the Winds comes with a definite Wow! factor and a guarantee to get wet! For incredible, close-up views of Bridal Veil Falls, visitors have two choices at the timed attraction. For those who don't mind climbing, put on your issued parka and sandals for an elevator ride 175 feet down to Niagara Gorge to follow a guide up a series of wooden walkways to Hurricane Deck, just 20 feet from Bridal Veil's rushing waters. You'll get soaked! For those unable or unwilling to climb the walkways, and for adults carrying small children, views from a deck 150 feet from the fall's base are awesome!
Terrapin Point, hanging out on the brink of Horseshoe Falls, this spot has spectacular views of the grand Falls on the Canadian side.
Niagara Gorge Trail is great for walkers and hikers. Views along a series of easy trails, are phenomenal. Many of them lead to observation areas. Niagara Gorge Rim Trail is the big one! It's an easy walk for hikers who are can walk for 6 miles one way and back again. Although long, views from overlooks are spectacular. Or, just go part-way and back!
Top of the Falls Restaurant is the place to enjoy lunch with amazing views of Horseshoe Falls.
Three Sisters Island is accessible from Goat Island. Views of the rushing Niagara River rapids approaching  the top of Horseshoe Falls are mind-blowing.
Luna Island, a tiny island between American Falls and Bridal Veil Falls, is accessible from Goat Island. Standing on what feels like the brink of the falls is awe-inspiring.
Grayline Maid in America Tour is the perfect solution for visitors who want to see it all without having to get around on their own. Operating year-round is ideal for winter visitors. The tour passes by all the highlights and stops at several for up-close views and photo ops.
Whirlpool Aero Car is an awesome, thrilling,scenic ride in an aerial tram suspended from 6 cables, 250 feet over the churning, swirling water making its way through Niagara Gorge.
CANADIAN SIDE SCENIC VIEWS
Queen Victoria Park, filled with colorful, beautifully maintained seasonal gardens stretching along Niagara Gorge and the River, is Canada's main Falls viewing area. From the brink of Horseshoe Falls almost to Rainbow Bridge, the park has unobstructed views of grandness of Horseshoe Falls. Several scenic attractions are accessible from the park.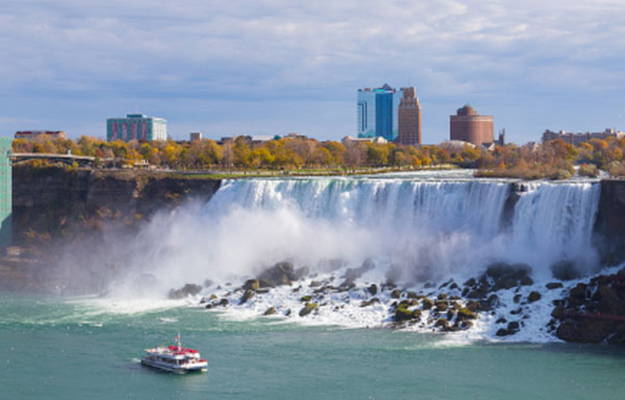 Voyage to the Falls Boat Tour aboard Hornblower Cruises new 700-passenger catamaran is a 20-minute daytime or evening adventure straight into the mists of Horseshoe Falls, American and Bridal Veil Falls. Hear the thundering roar, experience the mist.
Journey Behind the Falls, is a journey into once-in-a-lifetime views of Horseshoe Falls. Viewing platforms at the base of Horseshoe Falls, accessible first by a 150-foot elevator ride down, and then by a walk through a 150 foot tunnel cut through bedrock, where the thunderous vibration can be felt, to two outdoor observation platforms. From there, the rush of water thundering over the edge is an incredible experiences. The coolest experience is peering through viewing portals cut through the bedrock to see the back of the Falls! Totally unique.
Table Rock Visitor Center, a retail and observation complex perched at the edge of Horseshoe Falls, has amazing views from an indoor multi-level observation area and also from an outdoor observation area. The view from the restaurant overlooking the Falls is great too.
Skylon Tower, punctuating the sky, is all about views, views, views and dining too, 775 feet above street level. Enjoy elegant dining with fabulous views in the Revolving Dining Room. Summit Suite Buffet has great choices for families. For views only, take the glass, Ride-to-the-Top exterior elevator ride for incredible views of the Falls, the surrounding vineyard countryside and long-range views of Buffalo and all the way to NYC!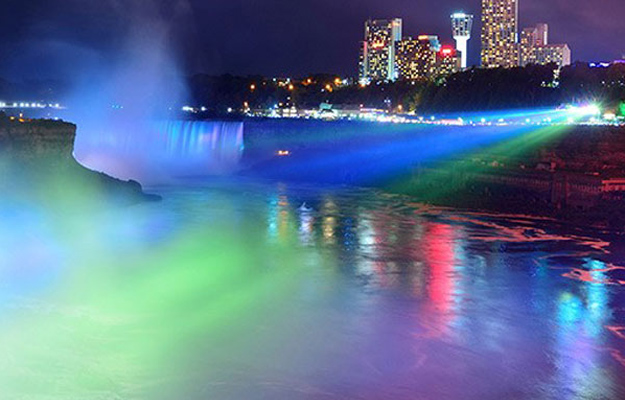 Grayline's Canadian Rainbow Tour is a year-round, 4-hour narrated scenic tour of the Canadian side. Offered twice a day at 8:30am and 1:30pm, daytime tours include Hornblower's Niagara Gorge Cruise and the afternoon tour includes Journey Behind the Falls Cruise. Tours depart from the American side. Having a passport or other accepted border-crossing documentation is essential.
Niagara Helicopter Tours takes passengers on the ultimate scenic experience! Taking off from the Canadian side, Bell 407 helicopters take passengers on stunning, 12-minute thrill rides of a lifetime. Incredible photo ops are everywhere – Whirlpool Rapids, all three Falls, and sights on both sides. Awesomeness begins the moment the helicopter ascends gently and the massive Falls come into view. After passing by American Falls, rainbows dancing along Horseshoe Falls' curve are a beautiful sight.