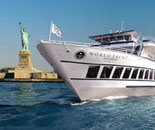 If you are planning a special evening in New York City, the World Yacht Dinner Cruise would offer a wonderful start. The cruise is a three hour jaunt that offers passengers amazing views of the Manhattan skyline, the waterfront in New Jersey and amazing bridges that connect the area. If you're not on the deck enjoying the spectacular views, you are most certainly in the cabin partaking in the fine dining prepared by culinary chefs. All guests receive the a Gold Preferred Package that comes with an elegant four-course meal, Filet Mignon upgrade, and an Open Standard Bar. The menu is diverse and can suit any palate. Even the most discerning patron will be satisfied with the cooked to order fare that is offered.
Guests can cap off the night with dancing under the stars. Music is provided by the World Yacht's Master of Ceremony DJ playing a variety of music that adds a touch of romance to the evening. The DJ also will play more contemporary and upbeat songs that encourage guests to take to the spacious, hardwood floors and dance the night away.
The fantastic views, world-class cuisine, and dancing are what makes this experience so amazing and one that you will not soon forget.
Save 10% with Coupon Code: NYWC10
Purchase Discount Tickets for the World Yacht Dinner Cruise
Find additional coupon codes and daily deals for other tours and attractions on Twitter
Comments Off on NYC Yacht Dinner Cruise Coupons