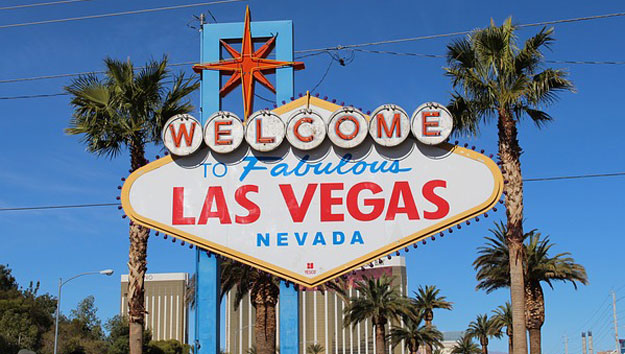 Las Vegas is commonly thought of as an adult-only escape rising out of the desert. The famous Las Vegas Strip is packed with casinos and lavishly themed mega hotels. Fabulous live performances by top entertainers, wedding chapels, free-flowing booze, glitz, glamour, mile-long buffet bars and neon light shows round out the reputation.  However, what many may not know if that Las Vegas has much more to offer. Take a journey off the Strip to experience these lesser known attractions.
Learn Stories of Gangsters
The early history of Las Vegas is clouded with gangster and other illegal activity. That's what makes it the perfect place for The Mob Museum, officially named the National Museum of Organized Crime and Law Enforcement. This attraction is dedicated to telling the history of organized crime and law enforcement and the relationship between them.  It's a really interesting and interactive experience where true stories, giving insights to both sides, are told through multi-sensory exhibits.
Discover America's Explosive History
Atomic testing, much of which was done in the remote Nevada desert,  has always been semi-secretive, shrouded in darkness. The National Atomic Testing Museum makes it a secret no more. It's an educational institution which tells the story of America's nuclear testing program at the Nevada test site. Exhibits and artifacts filling 8,000 square feet of space display the discoveries and early testing as well as illustrate the effect of nuclear testing on global nuclear deterrence and geo-political history.  Nowhere else will you see such thought-provoking highlights of the nuclear world in which we live.
Light Up Your Vacation
Neon is synonymous with Las Vegas. Head out to the boneyard of vintage outdoor neon signs at the Neon Museum.  The only way to see the collection of more than 150 signs, a few of which have been restored and are presented as art installations, is on a one hour tour of the Boneyard; others can be seen in the Neon Boneyard North Gallery on a self-guided tour.  There's a lot of nostalgia in these signs and a fun way to hear about The Strip's history!
See Las Vegas From a Different Perspective
Sights, beauty, bird's eye views, fun, serenity. In the peaceful ambiance of a one-hour Vegas Balloon Ride, which takes place at sunrise, watch The Strip, the desert, and the Red Rock Mountains drift by beneath you. From this vantage point, surrounded by stunning landscape, you'll put this created city out in the middle of the desert in perspective. Add to the thrill with a traditional champagne toast at the conclusion of your trip!  While you'll have to get up early for this one, it'll make you look at the famed city in a different light.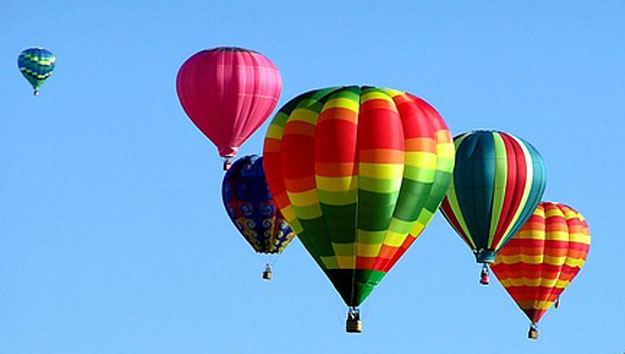 Visit a Historic Structure
Curious what takes place outside the Las Vegas Strip boundaries? Head out of town to the grand Hoover Dam to find out. Rising 736 feet above the canyon floor, when it was completed in 1935 the dam was the tallest one in the world. The structure was constructed to tame the Colorado River and provide water and power to the fledgling cities in the dry Southwest. You can see this iconic American landmark in many ways. Drive there on your own, tour it by bus, go the adventurous route with a helicopter tour, or on the 4-hour Hoover Dam Jeep Tour. This tour offers narrated transportation aboard distinctive pink off-road vehicles designed for sightseeing adventures. You can see live presentations, films, exhibits, get a behind-the-scenes look at the gigantic generators and step out on the observation deck.
Seek Water in the Desert
For those who start to miss water while visiting this desert biome, head to Lake Mead. Created by Hoover Dam, it is one of the largest man-made bodies of water in the western hemisphere. Many Hoover Dam tours departing from Las Vegas drop down to the giant lake for great views. If you want to get out on the water, drive over for a sightseeing champagne brunch or dinner cruise around the lake on an authentic, 3-level, paddle-wheeler on Lake Mead Cruises. Or, just hang out at the Harbor House Café, a floating restaurant on the lake at Lake Mead Marina, a huge facility.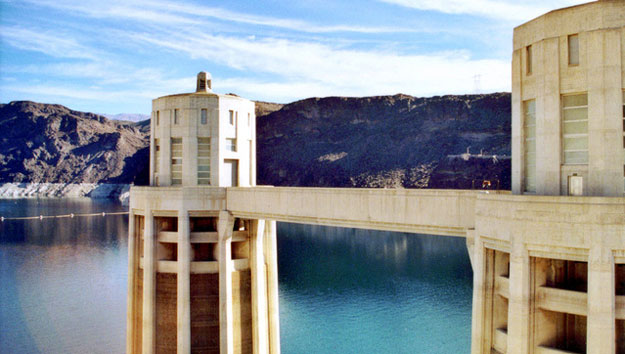 Indulge in an Unlikely Combination
Get a chocolate fix and walk through a spectacular botanical cactus garden all in the same place, at Ethel M. Chocolates in Henderson, between Las Vegas and the Hoover Dam. You can take a self-guided walk down the viewing aisle of the chocolate factory to see how chocolatiers and machines create mouth-watering delicacies. Pick your favorite and take some home with you; the accompanying shop sells these mouth-water products. Outside, the Botanical Cactus Garden is a feast for the eyes. One of the world's largest collections of its kind, it features over 300 species of plants, from drought-tolerant ornamentals to cacti, and other succulents. It's laid out in the English landscape method of naturalistic design. The range of shapes, sizes and color of these desert species create a visually beautiful experience.
See Natural Beauty
From Las Vegas, there are endless ways to see the magnificent Grand Canyon; by helicopter, airplane, bus, off-road touring vehicles, as well as several places from which to view the drama and the color of one of America's most spectacular and recognizable landmarks. The Grand Canyon stretches  227 miles from one end to the other. It's red rocky walls change shades from red to gold to brown depending on the sun's position and there's over a one-mile drop to the canyon floor, where the Colorado River makes its way on its southwest journey. See this spectacular attraction from all angles on Grand Canyon West Rim Skywalk, a glass horseshoe-shaped bridge jutting out over the edge of the Grand Canyon 4,000 feet above the floor.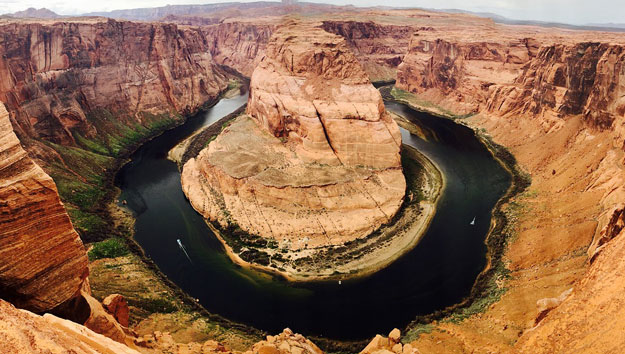 Hike a Canyon
To further experience the natural beauty of Nevada, the Red Rock Canyon National Conservation Area is a huge, mountainous, visually beautiful desert area 20 minutes west of the Strip. It's a great place to take a scenic drive either on your own or on one of the many tours out of Las Vegas. You can also walk, hike, or climb the area depending on your interest and skill level.
Go Off-Roading
For those into spectacular off-road scenery, but not into hiking, take an off-the-road trip through stunningly dramatic Valley of Fire on Pink Jeeps. With its off-road permits, this tour can get you to places you might never get to see on your own. The one hour trip to get there is well worth it. The sights created by nature are simply spectacular and you can learn about Native American cultures along the way.
Discover Las Vegas' Past
Check out the way Nevada once was at the 30 acre Clark County Museum in Henderson.  This attraction has a museum with changing exhibits about southern Nevada from pre-historic to modern times and a street lined with restored historic buildings depicting daily life from different decades in Las Vegas, Boulder City, Henderson and Goldfield.  The mining exhibit is filled with mineral specimens and resurrected Ghost Town is a fun walk-through. Check out 1932 Boulder City Depot and don't miss a real 1918 Union Pacific steam engine and old caboose.  
Experience the Wild West
Bonnie Springs Ranch, in Red Rock Canyon Conservation Area, is all about the Wild West. Old Nevada Town is a replica of a 1880s mining town, with shows, performances, and gunfight re-enactments along the dusty street. The restaurant, open daily, brags about its burgers, ribs and authentic bison burgers. There's also a petting zoo with native and exotic animals, and early morning horseback trails rides through Red Rock Canyon can be reserved.
Keep Your Eyes Open
Contemplate your belief in extraterrestrials with a tour of the famed Area 51. Adventure Photo Tours offers day-long guided tours for small groups to head out through the desert in comfortable 4×4 SUVs to this mysterious, super-secret military installation and hot spot for UFO sightings. At one time a nuclear test site, conspiracy theories abound of UFO landings and the existence of extraterrestrial beings.  It does not help that along its perimeter are threatening no-trespass signs backed up by ominous-looking, heavily armed men in black peering down through binoculars. The ride there through the seemingly empty desert is long, but a few sites and places offer a chance to get out, explore and take photos, including a small stream, an abandoned ghost town and an incredible Joshua tree forest. A favorite stop is lunch at a small inn in the middle of nowhere, named Little A-Le-Inn. The decor of this eatery consists of, what else, photos of UFOs taken over the years! The Black Mailbox, a gathering place of UFO enthusiasts, is a must-see stop and the turn onto SR 375 AKA Extraterrestrial Highway feels creepy to some.