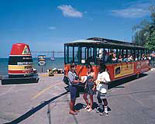 Old Town Trolley Tours of Key West, Florida offers a plethora of tours of Old Town, Key West. Old Town Key West is a great place to visit to get the full effect of the culture and history of Key West. And the best way to experience the culture and history of Key West is to take an Old Town Trolley tour of the historical city.
It is easy to purchase tickets for any of the varied tours offered on Old Town Trolley Tours. Simply go to the website https://www.trustedtours.com/store/old-town-trolley-tour-of-key-west.aspx to make arrangements for the tour of your choice. Tours are easily and conveniently arranged at this site, and for a limited time, children go on tours for free, making this tour a great family experience.
Day tours of Old Town Key West are offered that give visitors an overview of the Key West area. All of Key West can be toured in one day on the comfortable trolleys. Frequent stops avoid lots of walking, and no important sight is left unseen. Using the trolley avoids parking costs and problems, too.
There are great sights to see such as the scenic views and sandy beaches of Key West. There is an exciting "Ghosts and Gravestones" tour for the brave tourist interested in an unusual tour to tell the folks at home about. See the Hemingway House as well as other historical homes. The trolley also stops for shopping and restaurants so tourists can experience Key West culture and cuisine.
Comments Off on Old Town Trolley Key West