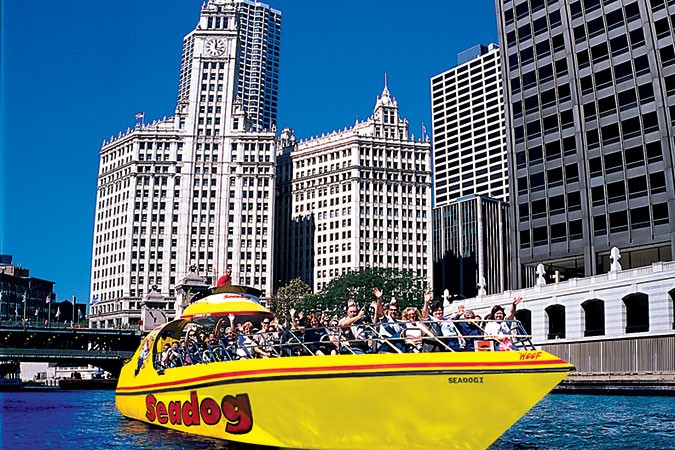 Thinking about a visit to Chicago this summer? Read our list of the best outdoor activities for visitors. Whether you're an avid Windy City enthusiast or first time vacationer, this list of things to do will give you plenty of information to plan a few days of exciting outdoor activities for the entire family.
Seadog Speedboat Lake & River Architectural Tour
One look at those wild-looking, bright yellow speedboat moored at Navy Pier and you know this is going to be a great ride!  The only river tour departing from Navy Pier, when everyone is set and the boat makes its way out to open water, the captain punches the throttle to thrill ride speeds on big Lake Michigan on the way to the Chicago River. From the lake, Grant Park, Museum Campus, Buckingham Fountain and other lakefront attractions stream by – in a bit of a blurr!  Then, it's a journey through the famous historic Chicago Locks and a more leisurely fun cruise up the Chicago River, through all the bridges all the way to Willis Tower.  All along the river, Chicago's architecturally unique skyscrapers tower overhead so close, perspective feels distorted – really at ground level, narrowing significantly where the top seems to touch the blue sky.  Along the way an entertaining guide delivers a wealth of great stories, trivia, and facts about Chicago's unique history.  Seadog Boat Tours goes out seasonally from April through October, weather permitting, for a sensational 75-minute ride.
Navy Pier
A favorite with kids and tourists, the historic "People's Pier,"  jutting out 1.3 miles out into Lake Michigan, has a lot going on, including construction to create an even better public place. It's a place of summer in a great waterfront location with beautiful skyline and lakefront views. Walk the pier, watch the boats coming and going;  stop for a bite, shop for souvenirs, sip a beer; catch a film in an IMAX theater, check out an indoor botanical garden with the feel of a rainforest;  experience the Children's Museum, play mini golf, make it through an interactive fun house maze, hop on a few rides.  The highlight:  ride the Ferris wheel – at least once.   What a feeling it is to be hanging up there 150 feet in the air where the views of the skyscrapers and up and down the Lake Michigan shoreline are spectacular.  Check out summertime programs, seasonal celebrations, special events, concerts and festivals.  Everyone comes out for these and, although packed with people, it's fun to be part of summer in Chicago, when everything and everybody moves outdoors.   A Navy Pier must do:  attend a play or performance at Chicago Shakespeare Theater where it's wonderful theater – Shakespeare and much more – it two dynamic and intimate theaters.  A don't miss:  fireworks over the lake!  Throughout the summer months, a firework display timed to music makes Wednesday and Saturday evenings on Navy Pier spectacular.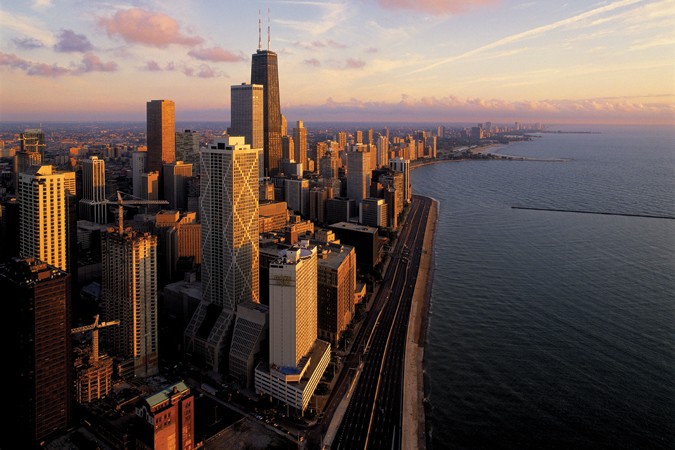 Lakefront Bike Tour
Jump on a comfortable bike, put on a helmet, and pedal for 7 easy miles on a great guided tour of Chicago's North Side neighborhoods where the architecture is amazing, the mansions along the Gold Coast are stunning, Oprah's condo is fun to see close-up as is the original Playboy Mansion.  The ride goes by well-known sites too: Lincoln Park Zoo, through Old Town Historic District, along popular North side beaches.  Yes, Lake Michigan has beaches!  Take in the beauty and breezes along the lake shore ride.  What a feeling!  Best of all, the tour goes by "insider places" – interesting not so touristy places you would never find on your own. Bobby's Bike Hike guides do a great job.  They're interesting, engaging and friendly too. The unique outing is an easy ride on a well thought-out route – along bike paths, sidewalks, through parks, and on designated bike paths on bike-friendly Chicago streets.  The guide adds personal touches and humor to everything along the way.  In addition to a knowledge of historical facts, their entertaining approach and ability to tell interesting stories and point out bits of trivia makes everyone feel comfortable and at ease.  Every now and then, just when the peddling legs need a break, the ride pauses, for easy conversation and Q&A before heading out again. There's also a short break in a quiet outdoor café/beer garden to enjoy an a la carte drinks and snacks (not included in the tour price).   The camaraderie that develops on a shared experience pedaling through a major city with random people from all over America and the world is an unexpected added dimension to what is totally fun, invigorating experience.  From the end of March through October 31st, this is a great way to see Chicago.
Segway Tours, Day or Night
From April 1st through October 31st, gliding through the city on a Chicago Segway Tour is way cool. On the day tour, it's 3 hours of exploring along and around South Side lakefront sites – through Grant Park, to dramatic Buckingham Fountain, around lovely, green Museum Campus where the Adler Planetarium, Shedd Aquarium and Field Museum sit in architectural splendor. All around this open space, Chicago's famous skyscrapers rise.  Then it's down to Soldier Field, home of the Chicago Bears, and back up the scenic lakefront. Covering way more than it's possible to walk, it's an opportunity to really see the city from a different perspective without wearing totally out.  City Segway Tour guides are phenomenal.  They know Chicago and along the way tell its stories in a fun and entertaining way.  The guides are really great about making everyone new to Segways feel totally comfortable with standing upright on a funny-looking two-wheeled gyroscopic contraption, hanging on and letting it do what it does.  Before taking off, there's 30 minutes worth of training, and, once on the way, getting used to the Segway just takes a few minutes.  Once over the "getting used to" hump, it's a fun, interesting and relaxing ride with plenty of wonderful up-close photo op stops.  Another option: ride through the night – on a Chicago Segway Night Tour.  Spectacular!  There is nothing more magical than a major city glowing with night light. At night, Chicago takes on a different aura.  Lovely by day, it;s really lovely by  and it's thrilling to glide through the summer evening air on a Segway.  The 2-hour night tour travels along the south shore on a route similar to the day tour.  The guides make it comfortable ride, pointing out all the special places along the way.  It's a pleasant way to spend an evening.
Enjoy The Sports
Chicago is a famous sports town boasting 3 major outdoor stadiums within the city limits. Home to Wrigley Field, US Cellular Field, and Soldier Field where you can see MLB or NFL games along with seasonal concerts and special events. Visiting a stadium is definitely one of the most popular outdoor activities in the city during the summer.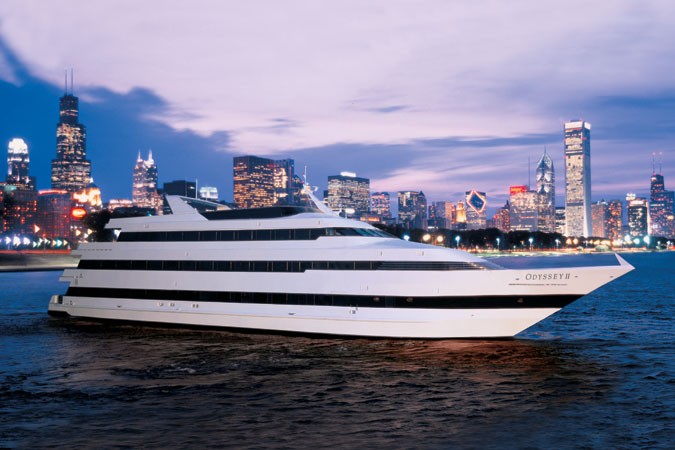 Weekend Brunch Cruise on Odyssey II
After walking, biking, and sightseeing all over Chicago, a relaxing 2-hour brunch cruise around the lake on a luxurious boat might just be the ticket.  Head out to Navy Pier to board Odyssey II, the largest fine-dining cruise vessel on Lake Michigan.  See the sights from the open-air observation deck or from the large observation windows in one of three climate-controlled decks.  In addition to great views along the whole trip up the North Shore and down the South Shore, there's a DJ spinning vinyl for listening or dancing.  Brunch choices are plentiful – arrays of appetizers, entrees, salads, and desserts.  A complimentary glass of wine included in the price is a nice touch, and the wine list is great. Odyssey II cruises year-round, even when it's frigid outside.  In warmer months, strolling the deck is really nice; on those cold days, when even the Lake Michigan seems motionless with cold, it's the perfect way to get out on the lake, see the fabulous views, enjoy a lovely brunch, all in the comfort of the climate-control deck. Whatever the season, it's a nice way to wind down a wonderful visit to the Windy City.
Public Art & Architecture Loop Walking Tour
Not everyone wants to pedal, Segway, ride on a trolley tour or boat their way through a city.  They just want to walk.  But not necessarily on their own.   A pleasant, uncomplicated way to see Chicago is on a walking tour.  All you need are 2 hours, comfortable shoes and a great tour guide.  Chicago's remarkable diverse architecture is well known; it's colorful public figures, notorious, its spectacular public art, hardly known at all.  The year-round Saturday-only, 10 am walking tour covers all these, offering something of interest to everyone on tour.  Dynamic guides with knowledge of the ins and outs of Chicago, share what they know – interesting facts, history, stories – with fun and humor.
Lincoln Park Zoo
A zoo with a view!  Open year-round and free of charge, it's a nice place to spend a couple of hours within sight of, but quietly removed from, Chicago's famous skyline.  At 35 acres, small by today's standards, the animal diversity is surprisingly large – lowland gorillas, big cats, lots of monkeys, hippos, rhinos, bears, bison kangaroos, reptiles of every kind, birds – over 1000 animals and 200 species.  Everyone and everything are beautifully maintained.  Dedicated to research, conservation, and maintaining species diversity, the zoo has a nice balance of both inside and outside exhibits.  Exhibits are arranged by geographical habitat, making it easy to get around and to view animals at close-up. While some exhibit space may seem small, naturalistic habitats are recreated with significant detail.  Everything appears to be thoughtfully planned to give the animals the best possible conditions and to handle them with care.  One of America's oldest zoos, it was founded in 1868 to give a home for just two swans, and has continually striven to update its exhibits.  There's a construction boom going on now.  The Regenstein Macaque Forest, a naturalistic setting for a troop of Japanese Snow Monkeys, recently opened.  Construction is ongoing for a new, fully outdoors exhibit for polar bears and penguins, scheduled to open in 2016. A relatively new addition and a nice touch: a quiet, bucolic garden of native plants and flowers centered by a pond. There's a charm to this urban zoo in lakefront Lincoln Park, a large green space carved out of a big city. And the neat thing:  in this zoo, lots of young are being born!
Land and River Cruise of Chicago
Chicago has 2 all-encompassing attractions:  fantastic architecture and grand Lake Michigan shoreline.  See them both by land and by water on a 4-hour Chicago Tour & River Cruise.  Start out on land for a 2-hour scenic guided tour of downtown, along the shore, through neighborhoods.  It's a great way to see remarkable innovative and stylistic architectural details of Chicago's famous vertical architecture, and distinctive residential style. The rebuilding of Chicago following its massive destruction of the Great Chicago Fire in 1871, is a fascinating story.  Innovative commercial architecture became competitive, and the skyscrapers and phenomenal buildings pointed out and explained along the tour are a result of that intense competition.  At the same time, there were dramatic changes in residential architecture, primarily through the influence of the timeless, clean style of Frank Lloyd Wright.  The tour travels along the shoreline too, giving a super land/water perspective of the Windy City.  Next, it's out on the water!  The second 2 hours are spent aboard a comfortable luxury lake sightseeing vessel, cruising along Lake Michigan's shoreline .  Notable buildings and places now familiar by land seen from the water take on a different scale, shape and perspective.  Buildings, seemingly huge from the ground, appear to float on a wafer-thin land.  The contrast is remarkable.  The seasonal guided tours, June 1 – Sept. 30th, have 2 departure times from the Palmer House: 9:30 am tour focuses on panoramic, scenic Chicago; 11:30 am tour focuses on historic Chicago.  By land and lake.  It's an interesting way to see a great city.
Walk the Lakefront Trail
Get on your walking shoes and head out on an urban trek along a scenic 18-mile long dedicated paved pathway along Chicago's shoreline.  With the blue water of Lake Michigan on one side and lots of green space on the other, it's a wonderful walk (or bike or roller blade ride).  Stretching from Ardmore Street on the North Side to 71st Street on the South Side, it's a wonderful outdoor activity.  Lakeside there are harbors, piers, boardwalks and beaches. On the land side, with Chicago's skyline always out there, popping in and out of direct view, are playgrounds, ball fields, gardens, lovely public spaces, and iconic attraction – Lincoln Park, Soldier Field, Grant Park, Navy Pier .  The list goes on.  Stop along the way to take in the special Chicago surroundings and lakefront neighborhoods, take advantage of the convenience amenities, grab a bite to eat at a concessions stand, pick a pretty spot to hang out and take it all in. Get out, walk, and fully enjoy a beautiful Chicago experience.