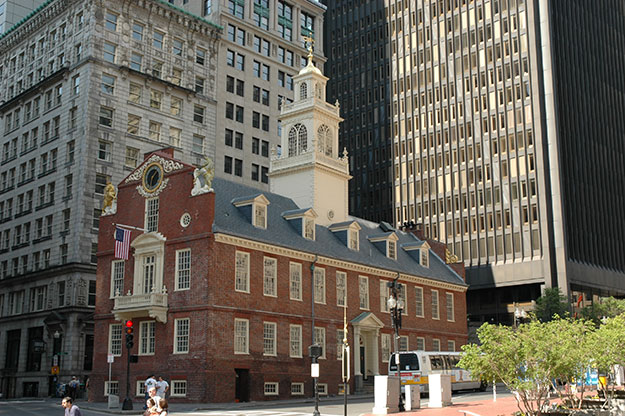 Walk the Freedom Trail
Follow the famous red line through one of the few American cities whose history dates back to the 1600s, and where so many historic sites, most from the 1700's, have been preserved. You can walk the line on your own, but the way to go is on the Freedom Trail Walk Through History tour.  You'll see and learn things you can't possibly do on your own, even with GPS-guided apps. Being led through history by enthusiastic, knowledgeable guides dressed in 18th century period clothing who stay in their assumed role as a historical character throughout the tour, makes it an interesting and enjoyable experience. Through their eyes and voice, historical facts, trivia, wonderful stories delivered with accuracy and humor, come to life.  It's the best way to really see and understand what went on in Boston in the lead up to the American Revolution. It's a fascinating journey which begins at the Boston Common and meanders through colonial Boston where history happened.
Tour Fenway Park
Play Ball!  Well, not exactly.  See where it is played on a guided walking tour of "America's Most Beloved Ballpark," home of the Boston Red Sox.  It's a legendary place, whose reputation in baseball lore is global, and it's a must see for anyone who enjoys baseball.  Why? Because except for a few upgrades, it remains much as it was since it opened in April 20, 1912. Listed on the National Register of Historic Places, it's the oldest ball park in Major League baseball and one of 2 remaining classic parks still in use in the league today. Get inside the fence and see it up close on the 1 hour Public Tour, departing on the hour 9-5 year-round. See legendary places throughout the park – Pesky's Pole, the Triangle, The Lone Red Seat. Climb to the top of 37'2" high Green Monster. Visit Fenway Park Living Museum exhibiting Fenway Park and Red Sox artifacts, photographs and memorabilia.  On a short time schedule? Hit the highlights in 15 minutes on the guided Fenway in Fifteen tour only offered on game days from noon to 3pm, May – Sept. Getting there by car is a bit tricky. It's an easy ride on the MBTA subway's Green Line, usually crowded with boisterous fans on game days. Or, take the hop off/hop on Old Town Trolley tour.  Hop off at Stop #12.
Whale Watching.
Nothing beats the thrill of seeing a whale rising from the deep blowing a large spray, slapping the water with its tail fluke or gracefully rolling into a dive, fluke submerging last with barely a ripple.  It's breathtaking. The New England Aquarium Whale Watching Tour is an awesome 3 hour experience. Through a partnership between NEAQ and Boston Harbor Cruises, it's whale watching at its best. The high speed catamaran with good viewing decks skims through the water to get out to Stellwagen Bank Marine Sanctuary. A rich feeding ground for whales, dolphin, sea birds and other marine life, it is one of the most active marine sanctuaries in the world and one of the best for whale sightings.  Watching and waiting for the unknown to surface is part of the thrill.  Suddenly, out of nowhere, there she blows!   Or, a startlingly huge form becomes visible just below the surface, right near the boat!  It could be any one the magnificent creatures of the sea: humpback, pilot, finback, or minke whale, an endangered right whale. Or, at warp speed, a dolphin pod on a feeding run can cruises through. It's exciting and informative as NEAQ-trained naturalists give great explanations of all the sightings which enrich the experience.  It's not just sea life they know. Departing Boston Harbor, they point out man-made sights along Boston's skyline, transitioning easily into of sea birds and marine life spotted on the way to Stellwagen.
Boston Harbor Islands
For a nature-filled experience, ferry out to 2 of the Boston Harbor Islands, a cluster of 34 small islands in the Boston Harbor Island National Park Area, so close they are visible from the shoreline.  Managed by the National Park Service, 6 are accessible by ferry from different locations in Boston, May until mid-October.  Some have amenities, most do not.  Each island is distinct in its geological features and history – some have fort remnants; others were home to Native Americans, naval training station, hospital for polio patients, fish drying business.  For visitors in Boston only for a short time, a day trip to the "Hub" Islands, Georges and Spectacle is the way to go. They are accessible and have amenities.  Which one to choose?  If forts are your thing, go to Georges Island and take a ranger tour of Fort Warren, a Civil War era granite fort with a museum. The fort's parade ground is a scenic place to walk and picnic, and the views from the ramparts and tower is great!  Lunch or snack in the full service café.  For nature lovers, Spectacle is the place.  Walk along the trail up one of the tallest hills in the Harbor Islands for an amazing panoramic view; wade or swim along the sandy beach (there is a changing/shower pavilion); grab a bite in the Sea Glass Café. Boston Harbor Island Ferry service, operated by Boston Harbor Cruises, departs daily from Long Wharf North in downtown Boston. Schedules vary from spring to fall. Contact Boston Harbor Cruises or the bostonharborislands.org for details.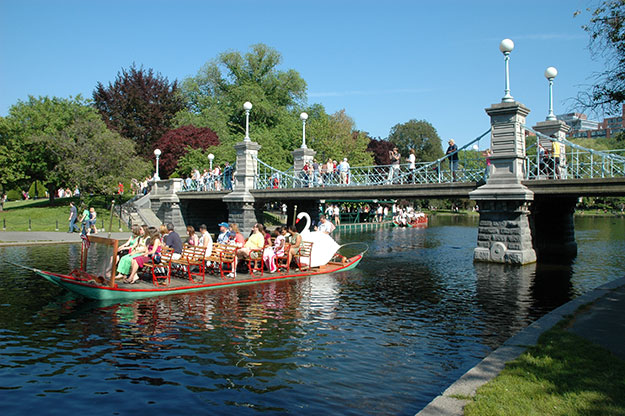 Ride Swan Boats in Boston Public Gardens
On a beautiful Boston day, a quiet, gentle ride in a Swan Boat around the lagoon in lovely Boston Public Garden, is a delightful experience.  Calm and serene, it's a nice change of pace. Strolling leisurely under a shady canopy through the first botanical garden in America is a joy.  Still planted in the Victorian tradition as it was when established in the mid-1800s, the plantings are colorfully showy. It's a timeless experience.  Mid-April to mid-May, gliding around the lagoon on a whimsical Swan Boat also feels like something out of a more romantic era.  It is.  It starts with the boats. Designed in 1877 by Swan Boat founder Robert Padgett, whose family still owns and operates them, they are modeled after a boat in Wagner's opera, Lohengrin, based on an old German legend in which a medieval knight crosses the river in a boat drawn by a swan to defend the innocence of his heroine. The boats are simple craft: two pontoons, wooden benches, a large, elegant white swan in the stern hiding the driving mechanism and much of the driver.  The power: leg power.  Yes, these are paddle boats, and the driver paddles!  The garden and skyline views along the 10 to 15 minute ride are lovely.  The ride is over too soon; the $3.00 fee is a bargain; the feeling is priceless.
Walk through Arnold Arboretum
Not just for horticulturalists, Arnold Arboretum is a beautiful place for anyone who just wants to be outdoors walking through splendid landscapes.  Naturally changing with the seasons, it's a beloved public park in Boston's Emerald Necklace, and an internationally respected Harvard research institution.  Created by the combined land gifted to Harvard University by Benjamin Bussey in 1842 and James Arnold in 1872, it has a world-class collection of plants and historic landscape.  Planned and designed in collaboration with Frederick Law Olmstead, it is a National Historic Landmark, and one of the best preserved of Olmstead's landscapes.  The property is vast – 281 acres of rolling landscape which flows with large, curving areas planted by species – Magnolia, Lindens, Cork Trees, Maples, Cherries, Birch, Elms, Hickory, Conifer, Vibernum, Rhododendrum, Azalea, Scrub and Vine Garden, Bonsai Collection. It's a dynamic place where the color of the season is everywhere, and changing featured collections are on display.  In Boston in May? The sensory spectacle of Lilacs in bloom is a must.   Guided Tours are available April through October. Self-guided tours throughout the year are easy with a map and information picked up at the Hunnewell Visitor Center, or by opening the link to the Arboretum Explorer on a smartphone.  See it. It's simply gorgeous.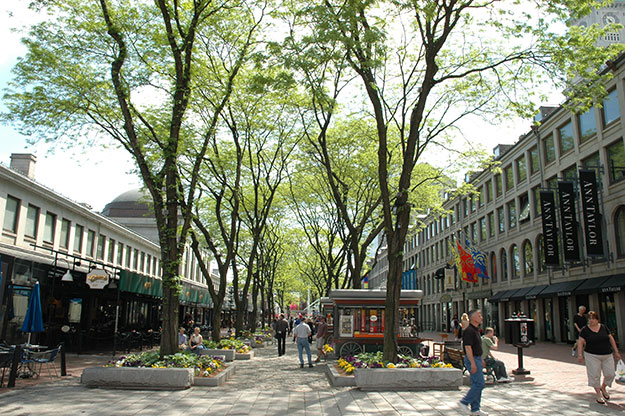 Shopping
In walkable Boston, shopping is an outdoor sport!  The walk is great, so is the shopping. For a major American city, Boston is easy to get around on foot.  From downtown to Back Bay, where much of the shopping is clustered, it's a nice walk. Walking from shop to shop, there are interesting things to see and do and lots of sidewalk cafes for a quick pick-me-up.  Major department stores are all here. High end boutiques are lined up along Boylston and Newberry Street.  Newberry on its own is worth the walk. Here, brownstones line the street stretching for blocks, boasting unparalleled shopping from high end to unique, distinct, different. Charles Street, which cuts between the Common and Public Gardens, crosses Beacon Street and up Beacon Hill.  On that stretch, the narrow street is lined with a diversity of interesting stores and great antiques shops. The enclosed Shops at Prudential Center and Copley Place, joined by a covered glass bridge, cover a huge area from Copley Square to the Christian Science Plaza and from Boylston to Huntington. Once inside, it's easy to get turned around as there are so many stores on different levels, and entrances everywhere. Use the mall maps or a customer service desk to find where you are!  Guaranteed, the day will end with armloads of shopping bags!
Walk through North End 
Old, interesting, diverse, and tiny, just a fraction of a square mile North End is a great place for a walk. Despite slow gentrification, Boston's oldest residential community has remnants of its fascinating layered heritage.  From its Puritan beginnings in 1630, it has been the home of working people. In the years leading up to the American Revolution, patriots gathered, planned and plotted in its taverns.   In the 1800s, it was an enclave of Irish and Eastern European Jewish immigrants. As they prospered and moved away in the 1900s, densely packed tenements lining narrow streets filled with Italian immigrants, whose imprint is most strongly felt today.  Walking to North End from Faneuil Hall or the Aquarium is a bit of a hike, but not a bad one. Commercial Street runs around the neighborhood along the waterfront, and with a good map and walking shoes, it's fun to wander up, down and around small streets and narrow alleyways crisscrossing the peninsula.  You may get turned around, but you won't get lost for long. Lined with locally owned ground floor shops, bakeries, markets, and wonderful classic Italian restaurants, Hanover and Salem have a great street atmosphere.  Tour tiny Paul Revere House, and walk to North Square.  Walk up the hill to Old North Church, where the two lanterns were hung to give the signal for Paul Revere's famous ride.  Go inside.  It's beautiful.  Not far from Old North, see who's buried in Copp's Hill Burying Ground, established in 1659. Check out the 10'wide Spite House. Browse the shops; take time for a wonderful Italian lunch; stay for dinner.  North End bustles.
Bike Boston
It's a great way to cover a lot of ground in a city with a lot to see.  It's fun and invigorating too!  Do it on Urban Adventours 3-hour Boston Bike Tour.  They have good, comfortable bikes, friendly, knowledgeable guides and a well-thought out, comprehensive route.  Boston is a major city with big city traffic, and much of the ride is along busy streets with vehicular and pedestrian traffic.  But, with a careful guide and a maximum of 6 people on the ride, it's not a problem. The tour takes in a lot of interesting, diverse sights – historical, contemporary and scenic.  It starts along the waterfront near Faneuil Hall and the Aquarium, cuts right through North End's quaint streets, around the waterfront for a great view of Zakim Bridge and Charlestown, then down through the evolving West End into downtown where gold-domed State House glints in the sun.  The tour meanders through the quiet of Beacon Hill streets, and along Boston Common.  The bike path along on the Esplanade along the Charles River on the way to Back Bay is a wonderful respite from the traffic. The tour hits the highlights: Prudential Center, trendy up and coming South End, Copley Square, the Public Library, and the major Freedom Trail in downtown.  What a ride!
Take Cape Cod Day Trip
Experience the favored weekend and summer retreat of Bostonians.   Ferry over to Provincetown, on the tip of the Cape Cod arc.  It's a perfect day trip and outdoor adventure.  Get there in 90 minutes, quickly and comfortably on Boston Harbor Cruises Cape Cod Ferry.  As the Cape comes into view, a couple of features stand out. Pilgrim Monument, reaching higher than any lighthouse, towering over quaint Ptown, and gigantic dunes, some 250 ft high, along the shorelines.  The dunes must have been a welcome and overwhelming sight to the Pilgrims aboard the Mayflower who landed here in 1630.  The ferry docks at MacMillan Pier, at the foot of Ptown, long known as an artist colony, where streets are for walking.  A pleasant walk down colorful Commercial Street reveals charming cottages whose open doors lead to small, eclectic shops, galleries and great restaurants. Mixed in are beautiful houses and lovely gardens. Three quarters of Ptown is preserved in the Cape Cod National Seashore Park, which allows for nature bike and walking trails, many of which are accessible by shuttle service provided by Cape Cod Regional Transit Authority.  Leaving from MacMillan Pier, it stops at many spots, including Herring Cove Beach, Race Point Beach and First Pilgrim Park.  The 90 minute return home aboard the fast cat ferry, with good amenities, is a pleasant way to end a perfect day.  Kick back, relax, enjoy the ride.