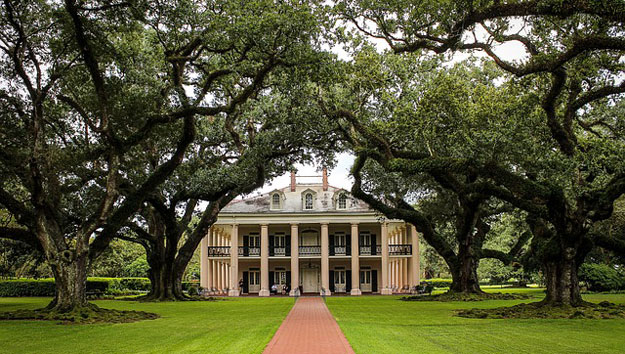 What everyone knows:  New Orleans is a 24/7 party town with great bars, fabulous food, great live music, and a laissez-faire attitude.  What many don't know: America's most unique city is a great place for outdoor activities.
Outdoor activities in New Orleans run the gamut. Walk, bike, jog, glide on a Segway; skim through mysterious bayous on authentic swamp boats, paddle kayaks around lagoons and bayous; cruise down the Mississippi, enjoy shady parks and botanical gardens, explore moss-draped plantation grounds.
Work off the beignets binge! Get out, get moving and enjoy the outdoor side of New Orleans.
WALK IT  
In New Orleans, a good walk meets the definition of outdoor activity!  French Quarter, Garden District and Cemetery walking tours get you out and moving without requiring much effort. While tours are similar, each has its own twist.

French Quarter Architecture & History Tour guides weave together stories of the Creole culture, piracy, architecture, and traditions as they lead the way to sites and hidden corners throughout the Quarter.
New Orleans Legendary Walking Tour of the French Quarter and St. Louis Cemetery #1 is led by knowledgeable tour guides who focus on architecture, tales and lore. The walk through the oldest "City of the Dead" is filled stories about the city's unusual burying grounds and practices
New Orleans Garden District & Mansion Tour includes walking past lovely homes, a visit inside the Opera House and a stroll through Lafayette Cemetery #1.
Cemetery & Voodoo Tour. Venture into St. Louis Cemetery #1 with a guide who knows all its secrets and the rituals of Voodoo. Marie Laveau's tomb is always  a highlight.
JOG IT!  Step it up a notch on an early morning run through the Quarter.
New Orleans Jogging Tours. Get up early and put on your running shoes!  If you can handle a minimum of an 11-min. mile early in the morning, this 6.2 mile jog at 6am or 9pm in the company of a guide and tour buddies is a super-energized way to see the Quarter, Cemetery and Garden District.
BIKE IT!  Biking is a great combination of outdoors,  exercise and sights.
New Orleans Beyond the French Quarter Bike Tour is an insider's ride through neighborhoods most tourists seldom get to. Bike around Treme, the first neighborhood established by free people of color, where New Orleans jazz took root.  Bike to shady Louis Armstrong Park and Congo Square. Pedal through St. Louis Cemetery #3.  Ride along Frenchman St. in Faubourg Marigny, where locals go for art, culture, great bars and the best live music. Cruise past the a Creole enclave of beautiful homes along Esplanade St.
Confederacy of Cruisers Bike Tour offers a choice of themed, off the beaten path bike tours – food, Creole culture, and 9

th Ward.
KAYAK IT!
Kayakitiyat. Experience a unique side of New Orleans on a peaceful kayak tour of Bayou St. John, a Midcity urban waterway whose banks are lined with colorful, interesting sights.
New Orleans Swamp Tours's 3 guided kayak tours capture different sides of New Orleans. See the city from water-level on City Historical Bayou St. John Kayak Tour. Kayak through the swamp just 35 minutes from the Quarter on Marvelous & Mystice Manchac Tour; see the funky, grimy and eccentric side of Cajun country on Backwoods Honey Island Swamp Kayak Tour.
EXPLORE URBAN PARKS
City Park, 1300 acres in the middle of this densely populated urban area has 11 miles of lagoons, art and a Botanical Garden, playgrounds, ball parks, jogging paths. Ride around the shady park in single and double surreys; rent kayaks, pedal boats, canoes and paddleboards to enjoy peaceful lagoons.  Little ones love the antique carousel in Carousel Amusement Park and have fun being active in storyland-themed playgrounds.
Audubon Park, bordering the Mississippi River, has great river views and a lot of outdoor activities to do on your own.  Jog in the refreshing river breeze on a 1.8 mile jogging path; bike along a 25 miles flat bike path.
GET OUT ON THE RIVER.  Cruise the storied Mississippi River in style on a real steamboat or paddleboat for an indoor/outdoor New Orleans experience.
New Orleans Steamboat Natchez Dinner Cruise combine river breezes with spectacular city views, jazz and authentic Creole food on New Orleans's only steamboat.
Creole Queen Jazz Cruise catch the breezes and spectacular city skyline views while dining on tasty selections from a Creole buffet, enjoying great jazz and dancing on a paddle wheel boat.
TOUR AN OLD RIVER ROAD PLANTATION.  Travel back in time along River Road, the 70 mile corridor between New Orleans and Baton Rouge, through swamps, wetlands and past a remarkable collection of Greek Revival plantation homes, most built by wealthy sugar planters as early as 1827. Oak Alley Plantation Tour is a comfortable motorcoach ride along River Road with an on-board guide pointing out sights along the way. The entrance drive into the plantation, canopied by huge live oaks, is breathtaking.  Walk the grounds and tour the 1837 masterpiece, one of the finest remaining of River Road plantations.
VENTURE INTO BAYOU COUNTRY.  Swamp boat and airboat tours, going deep into the mysterious swamps of Cajun bayou country, are the ultimate New Orleans outdoor experience.
Bayou & Swamp Tour. Get to the Bayou 20 minutes from the Quarter in the comfort of a motorcoach with big viewing windows. Board a swamp boat for tour of this unique area filled with interesting wildlife and plants.  Along the way, local guides reveal some of the bayou mysteries.
Airboat Swamp Tours. Getting out into the natural beauty of the Louisiana swamp on an airboat is a thrill ride! Several airboat tour operators offer great tours of South Louisiana bayous and swamps. Most are located about 30 minutes from the French Quarter in the vicinity of Jean Lafitte National Historical Park and Preserve.  Some provide hotel pick-ups.  Check out Jean Lafitte Airboat Tour, Airboat Adventures, Louisiana Tour Company's New Orleans Airboat Tour, Big Easy Swamp Adventures.