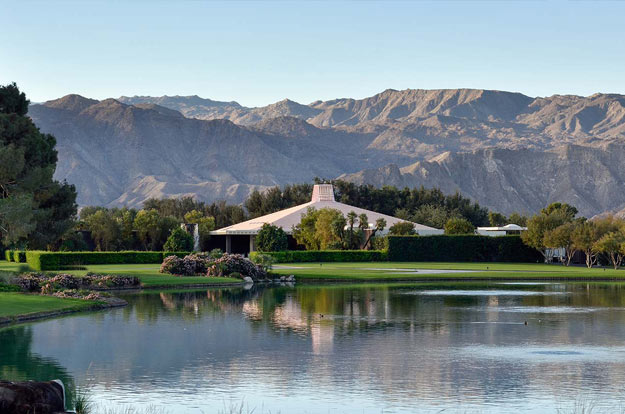 Finding outdoor activities in and around the sun-drenched desert oasis of Palm Springs is a natural. Three hundred- fifty days of sunshine and blue skies, breathtaking desert-hued views, and lovely palm tree lined streets, make a Coachella Valley get-away an ideal place for outdoor fun.  There's something for everyone, from invigorating hikes through mountain canyons to laid-back alfresco dining.
Climb aboard the world's largest rotating tram cable car for an awesome 2 ½ miles ascent along the Cliffs of Chino Canyon. As the car rotates slowly, astounding views of the surrounding landscape are revealed. Believe it or not, the ride to Mountain Station, 8516 feet above the desert floor, takes only 10 minutes!  Enjoy the natural beauty on a ¾ mile self-guided nature walk.  Hike along one of 50 miles of trails through the spectacular wilderness of Mount San Jacinto State Park. Lunch at Peaks Restaurant or Pines Café; have a drink in Lookout Lounge – all with views, views, views!
Walk Through Living Desert Preserves and Botanical Gardens
The Living Desert Zoo & Gardens
A vast nature preserve, remarkable zoo and botanical garden all in one, is dedicated to conserving and interpreting the desert and its varied plant and animal life. See the unusual shapes and colors of plant species growing in 1200 protected acres of desert landscape where over 450 wild animals of North America and Africa roam. There are really cool places to see – a replica of a replica of a village found in northeast Africa, a wildlife hospital and rehabilitation facility – and special programs to experience.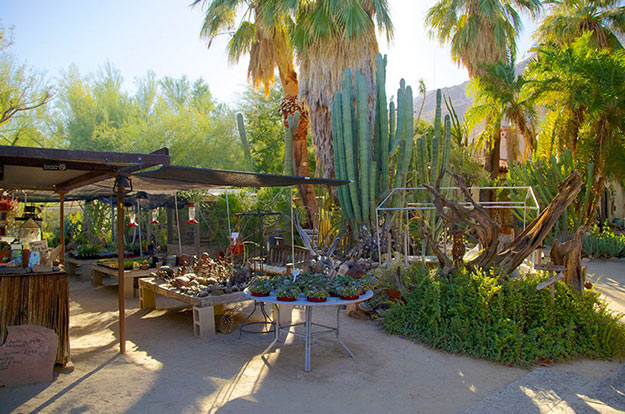 Moorten Botanical Garden & Cactarium
This is a living museum of the desert.  Over 3000 varieties of extraordinary desert plants from around the world, crystals, rocks, fossils, pioneer and gold rush relics are along the interpretive nature trail.  It's a wonderful way to experience the desert without going out into it.
Off-road Desert Adventures
Climb into a 4-wheel drive, open air Big Red Jeep and you're off for an adventure of a lifetime.  Winding around through the slot and box canyons of the famous fault, San Andreas Fault Jeep Eco Tour is a 3-hour ride through the awesome chiseled landscape. Along the way, the driver/naturalist guide brings the desert to life through great information about unique plants, animals, geology, Pioneer history and Native American culture.  See a replica Cahuilla village, pioneer homestead exhibits, and an old mining camp. If driving through the craggy fault landscape is dramatic by day, it's romantic to be there as desert hues change colors from day to dusk on Big Red Jeep's San Andreas Fault Sunset Jeep Tour.
Explore Joshua Tree National Park by Hummer
First, cross the desert and San Andreas Fault zone to Joshua Tree National Park in the air-conditioned comfort of a shuttle van.  Five thousand feet high above the Mojave Desert floor, it's 20-30 degrees cooler in the park! Hop on a roomy Hummer for a great tour as expert guides point out fascinating rock formations, desert animal life and ancient Joshua Trees.
Hike into the Desert
With more than 140 hiking trails within a 60-mile radius of Palm Springs, an incredibly diverse topography, elevations of 11,000 feet to below sea level, this is great hiking country. Trail Discovery Hiking Tours offers guided eco tours to multiple wilderness locations for all levels of fitness. Red Jeep Desert Adventures can put together a hiking tour based on skill level and expectation. They hike places like Palm Springs Indian Canyons, Joshua Tree State Park and along the ridge of Mount San Jacinto which takes off from the Aerial Tramway Mountain Station. Seasoned hikers who want to head out on their own should check out "140 Great Hikes in and Near Palm Springs" to find hikes matching skill level.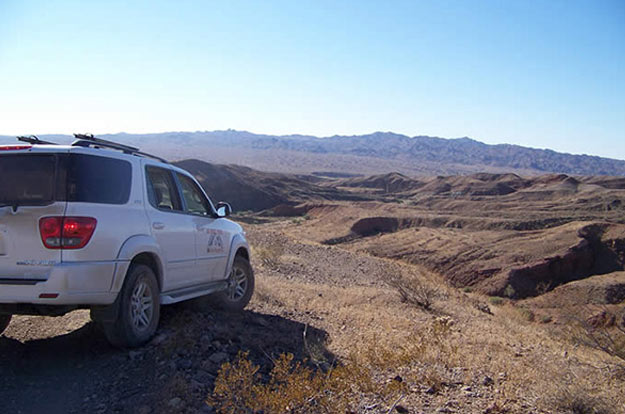 Bike Ride Through the Desert
Biking is another great Palm Springs outdoor activity.  While a 4-hour ride covering 20 miles may sound daunting for casual bikers, Big Wheel Tours Earthquake Canyon Express Bicycle Tour is designed for beginner and intermediate levels.  It descends 1200 feet into the San Andreas Fault zone on a quiet, paved road. Views are spectacular and the landscapes of the Colorado Desert and Mojave Desert are remarkably different in their stark beauty. Riders' efforts are rewarded at the end of the tour with a Date Shake at Oasis Date Gardens!  If you just want to bike ride around town, Palm Springs Bike Trail maps for five in-town bike routes are available from the Department of Community Services.
Have a Blast on a Sunny Cycle
Join forces with family or friends, along with a driver and host, to use pedal power to get around downtown on a Palm Springs Sunny Cycle. New to Palm Springs, it's a super-fun way to see the city. Individual/Small Group Tours are 2.5 hour tours that can be booked for at least 8 passengers; customized Private Tours for at least 8, and up to 15, passengers can be booked on an hourly basis for a minimum of 2 hours. The vehicle has lots of bells and whistles: under-carriage and under-canopy lighting, electric motor assist so you don't have to pedal uphill or coming off red lights.  It also has UBS port chargers, a flat screen TV, stereo sound systems and misters!
Play Golf
Play a round of golf on one of Coachella Valley's more than 100 great golf courses with magnificent views.  It's a favorite Palm Springs outdoor activity of many visitors.  T-times are hard to get in the winter, but as the mercury rises in the summer, crowds disappear and green fees drop.  Online information explaining all the pros and cons of each golf course in "golf-speak" helps seasoned golfers make their choice.
Take a Mid-century Architectural Tour
Admittedly these van tours may not fall under the outdoor activity category, but seeing Palm Spring's world-renown Mid-century Modern architecture is a must, especially through the eyes of expert guides.  An up-close look at a collection of sleek Desert Modern homes is a unique Palm Spring experience.  Hearing about the architects, designers, builders and the personal intrigue surrounding those who lived in these masterpieces, adds to the experience. On Palm Springs Architecture Tours, small groups (6 guests max) are personally led by Trevor O'Donnell, respected architectural tour guide.  Palm Springs Modern Tours, led by professional guides, are equally fascinating and immersive.  You can also see Desert Modern homes on your own using self-guided tour maps and apps available online.
Sunnylands Center & Garden
Visit the tranquil, mid-century modern estate where global conferences are held and presidents and royalty visit –the former winter home of Ambassadors Walter and Leonore Annenberg. The grounds and exquisite 9-acre gardens, planted with more than 70,000 arid-resistant plants and trees, are open to the public free of charge from Thursday through Sunday only.  The Center offers visitors information about Sunnylands history and cultural significance, changing exhibitions, a selection of 20th century sculpture, great views of Mount San Jacinto, and a pleasant café serving light lunches and snacks.  Limited tours of the house are popular, pricey, and sell out fast.  Check their website calendar for availability.