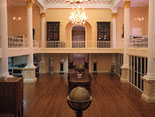 A trip to the North Shore of Massachusetts is not complete without a visit to Salem. Once an active and vibrant seaport in the 1600s, Salem now offers a host of cultural and historic attractions. Being the location of America's witch trials, Salem has plenty of ghost tours and haunted attractions that emphasize that part of its past. However, history and art can also be found in the Peabody Essex Museum. Its wide-ranging collection makes it one of the premier, midsized art museums in the country.
The Peabody Essex Museum hosts a superior collection of New England maritime art. However, the 24 historic buildings that make-up the museum is also home to some of the finest art from Oceania, Africa, India and Asia. The legendary connection between New England and these global cultures is well documented and displayed. One of the highlights of the Peabody Essex Museum is the Yin Yu Tang house. This 200-year-old home, once owned b a Chinese merchant, is the only house like it to exist outside of China.
The Peabody Essex Museum not only has an all-encompassing permanent collection, but incredible special exhibits. Just this summer the PEM hosted a blockbuster show entitled: Golden Dutch and Flemish Masterworks. Currently the museum is exhibiting a collection by Man Ray and Lee Miller, two of the most respected and popular surrealists, as well as an exhibit of Hudson River School painters.
What makes the Peabody Essex Museum wonderful is its accessibility. You do not need to be an art historian to enjoy the work. The size of the museum is not daunting either, as is sometimes the case with National museums.
If you are planning a trip to Salem, then the Peabody Essex Museum is a must see. Tickets to the museum can be purchased at store.trustedtours.com/peabody-essex-museum-of-salem.