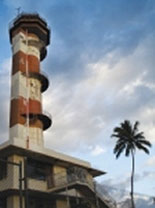 Located on Ford Island, in the middle of Pearl Harbor, the Pacific Aviation Museum is contained within one of the original WWII airplane hangers that survived the attack on Pearl Harbor. This tour is a great way to learn about the history of the war as well as see some of the original planes that participated in the attack, fully restored to the condition they were in more than 60 years ago. For those interested in WWII, the Pearl Harbor tour is one of the best ways to experience it.
Within Hanger 37, a visitor will find themselves walking through the history of the war. It begins with a theater presentation of the attack on Pearl Harbor, complete with historical footage. From there, it moves on to an inspection of some of the aircraft that were involved, including a P-40 fighter, a B-25B Mitchell bomber, an SBD Dauntless dive bomber and an F4F Wildcat carrier-based fighter. There is even an original Japanese Zero fighter which crashed during the war and has since been restored for display.
The Aviator's Tour provides a walk through the entire museum, guided by military veterans, and even a visit to the Restoration Hanger, where the aircraft are fixed up for the exhibits. From the attack on Pearl Harbor to the mobilization of the U.S. and the subsequent war, the story is told with visual accompaniment. Additionally, the museum has a Mig Alley Korean War exhibit, complete with a restored Soviet MiG-15 and an F-86 Sabre, both flown during the Korean War.
When the tour is over, visitors can enjoy themselves by trying out the interactive Combat Flight Simulators, flying a plane during the attack on Pearl Harbor in their very own WWII-era fighter plane. The Laniakea Café provides delicious food for the hungry tourist and the Museum Store has all the Pearl Harbor-themed souvenirs that one could want, from books to toys to model airplanes.
Purchase Discount Tickets for the Pacific Aviation Museum