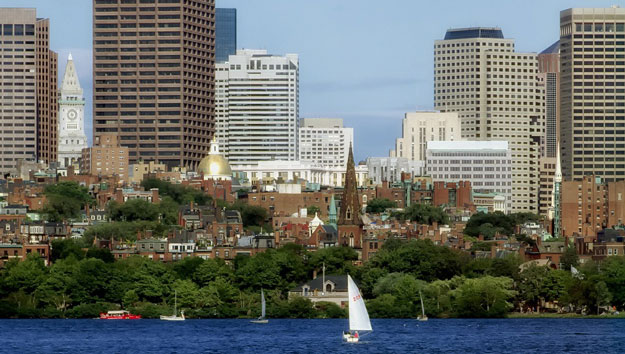 While we all hope to have a rain-free vacation, there's no reason to worry about finding a wide range of rainy day activities in Boston.  Getting around in the rain is easy too.  Between the MBTA's system of subways and buses, which fan out from the center of the city to just about anywhere, and the Old Town Trolley Tour which gets you around historic Downtown, North End, Back Bay, Chinatown, Theater District, Cambridge and Seaport District, with 19 stops close to must-see places, where you can hop off for a short walk to visit a favorite place, then hop back when you're ready to continue the loop tour until you want to hop again for the next rainy activity on your list. Grab an umbrella, put on comfortable water-tolerant shoes to visit these:
Museum of Fine Arts
The MFA is world-class. Galleries are filled with wonderful art from the museum's comprehensive collection of over 450,000 works from the Ancient World to Contemporary Art, from the Americas, Europe, Asia, Africa. Check by the information desk for a list of daily programs and special exhibits. Have lunch in the soaring, glass-enclosed New America Café. (MBTA: T" Green Line to MFA stop: OTT Stop#9 and a few blocks walk along Huntington Ave)
Isabella Stewart Gardner
For a totally different art experience on a smaller scale, walk 3 blocks from the back of MFA to a local favorite and one of Boston's jewels. The Gardner is an immersion into a personal, intimate collection of fine and decorative art exhibited throughout the rooms of a lovely 15th century Venetian-style palace surrounded by flower-decked courtyards and gardens.  Three stories of galleries and loggias are filled with paintings, furniture, decorative arts. Lunch in Café G is delightful.
John F. Kennedy Presidential Library and Museum
Embark on an outstanding journey through the life and legacy of President John F. Kennedy in a stunning building surrounded by a spectacular waterfront setting, just south of downtown Boston. Through interesting exhibits, artifacts and videos, the achievements and challenges of the tenure of America's 35th President unfold. Informative and stirring, it taps into a collective memory of national pride and tragedy. Walk over to the Edward Kennedy Museum, also on the grounds. (MBTA: Orange "T" to JFK/UMass Stop. Board free shuttle bus to the museum. No OTT stop)
Theater & Comedy Clubs
With so much to see and do in Boston, many visitors bypass the Theater District. A rainy day is the perfect time to catch a Broadway show, opera, ballet, musical performance, comedy act and a kid's show at one of Boston's historic jewel-box theaters – the Shubert, the Wang, the Wilbur; the Charles, the Boston Opera House – and other Theater District performance venues.  All are clustered together within walking distance of each other. Many offer matinee and evening performances.  Check online for shows and schedules.  (MBTA "T": Red, Green, Orange Lines. OTT Stop #6)
Boston Tea Party Ships & Museum
Throughout the engaging floating museum, authentically costumed actors dynamically portraying key participants in the Boston Tea Party involve you in the events of that fateful night. The action begins inside a replica Meeting House where the scene is set. Totally committed to the rebellious act, you'll storm down to Griffin's Wharf to board one of the replica ships to dump the tea into the sea!  Then it's off into the inside museum venue where high-tech visuals and a moving film lead give insight into the consequences of the act that helped spark the American Revolution. A perfect ending on a rainy day: the tour concludes in the colonial charm of Abigail's Tea Room where more than tea is served. Relax over a cup of tea and a tasty scone, cookie or pie, or wine and beer with light fare while surrounded by great views of contemporary Boston's skyline. (MBTA "T" Red Line to South Street Station; OTT Stop #16)
If your visit falls on either the 2nd or 4th Friday of each month, don't miss Tavern Nights at the Boston Tea Party Ships & Museum.  A lively evening of music, food, drink, games and dancing, colonial style, it's a great Boston experience!  (The "T runs at night; OTT does not.  Two parking garages are nearby)
Prudential Center Shops/Skywalk Observatory/Top of the Hub Restaurant/Copley Place Shops
A perfect one-stop rainy day activity: shopping upscale shops, viewing Boston from 50+ stories up, and elegant dining!  Shop 'till you drop in upscale shops in two of Boston's premier indoor shopping malls connected by a glass-enclosed Skybridge – Prudential Center Shops and Copley Place.  Then, get 360 degree views of Boston spreading out below from sky-high Skywalk Observatory in Prudential Tower.  Use the audio tour to find important historic and cultural landmarks.  End the day with an elegant dinner and sparkling nighttime city views at Top of the Hub on the 52nd floor of Prudential Tower. (MBTA: "T" Green Line to Prudential Stop; OTT Stop#11)
Brewery Tours
Go on a brewery tour in the city where taverns have been popular gathering spots since colonial times.  See how the craft brewing process works, taste special malts, smell the hops, and have a sample or two.   Harpoon Brewery is in the happening Seaport District and is easy to get to. Sit around long wood tables in the beer Hall and try pints of a full selection of freshly brewed craft beer straight from the source, all within sight of the brewery and cannery. (MBTA: "T" Silver Line to the Seaport District will get you near there, as well as OTT Stop# 19 or 18a, with a walk from each)  Samuel Adams Brewery is further away and more difficult to get to. Once there,  take a tour, learn about the history of the brand, experience the craft brewing process and taste samples of award-winning beers (MBTA: "T" Orange Line towards Forest Hills, get off at Stony Brook and walk per the website directions)
Harbor Cruises
Of course you can get out on the water on a rainy day!  Do it in style on a leisurely cruise around Boston Harbor in the comfort of climate-controlled interior seating and dining areas with large viewing windows of well-appointed cruising vessels.  Enjoy lavish buffets and entertainment on Spirit of Boston Cruises' Sunset Dinner Cruise departing from the World Trade Center Terminal in the Seaport District. (MBTA: "T" Silver Line to Seaport; OTT Stop#19)   Odyssey Lunch Cruise, with a grand buffet lunch and live music and Odyssey's Dinner Cruise, with table side service, live entertainment and dancing, depart from Rowe's Wharf. (MTPA: "T: Orange Line to State St.; OTT Stop #1).
Museums
New England Aquarium
Harbor Seals hanging out in the water at the Aquarium entrance set the stage for what's inside – a lively experience showcasing the diversity of sea life from around the globe. Favorites: the mesmerizing, huge central tank with all sorts of sea creatures swimming through; attention-grabbing tentacles of the giant Pacific octopus; fun-to-watch waddling penguins.  (MBTA: "T" Orange Line to State St.; OTT Stop #1)  Note: If you take the "T" to State St. to get to the waterfront, walk through Quincy Marketplace and stop for a cup of chowder, a lobster roll, or souvenir shopping.
Museum of Science
Located on the grounds of Science Park spanning the Charles River, everything in this venerable museum is all about science and technology, past, present and future.  It's great for kids to see how things work and actively engage in a range of exhibits from engineering, health and the body, to electricity, lightning, wind, butterflies, bees and so much more.  Learn about the universe in the planetarium; see dramatic nature films in the IMAX Theater. While it may lack the sizzle of newer museums, kids love it!  (MBTA: "T" Green Line to Science Park/West End; OTT Stop #4 – both require a several block walk).