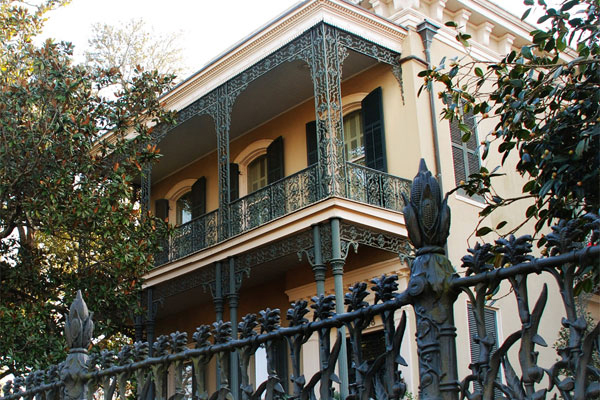 New Orleans weather is subtropical. If you're visiting New Orleans between May through November, expect it to be hot and humid with a high chance of rain. December through April, it's mild with less rain. Don't worry, a long list of great indoor, rainy day, activities ensures that those brief New Orleans downpours, which suddenly happen and go away as quickly as they appear, will not wash out your parade. In anticipation of some rain passing through during your visit, or just to cool off on a steamy day, include some of these indoor activities in your vacation plans.

ESCAPE THE RAIN IN MUSEUMS & HISTORIC SITES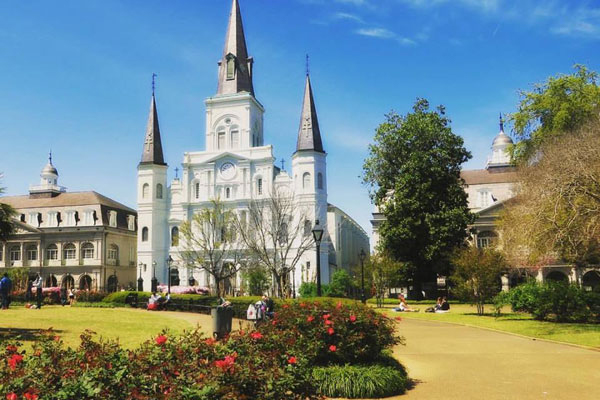 Around Jackson Square
Duck in and out of the rain to go inside several side by side historic sites facing legendary Jackson Square. Take a self-guided tour of the beautiful interior of  St. Louis Cathedral, the oldest Catholic cathedral in continued use in the U.S. If a volunteer tour guide is available, take their impromptu tour. Exhibitions in the Cabildo, where important events in Louisiana history took place, tell the stories through artifacts, documents and paintings. The Presbytere's compelling permanent exhibits focus on two sides of Louisiana's ongoing history. The colorful Mardi Gras exhibits use parade floats, costumes, music and more tell the story of how the celebration began and evolved. Compelling interactive exhibits and artifacts in the Hurricane Katrina exhibit tell the story of the spirit and resilience of the people in the storm's aftermath. Enjoy a tasty treat in Cafe du Monde.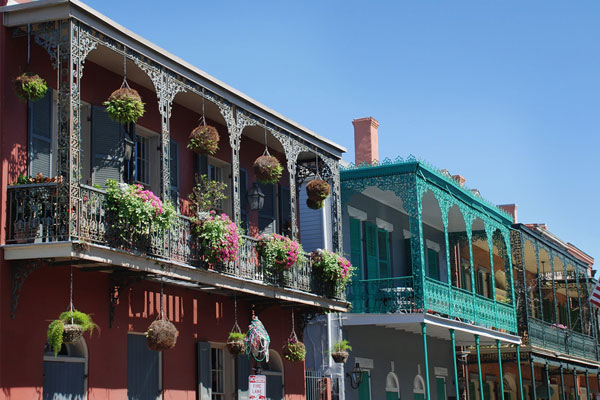 Unusual Museums in the French Quarter
Delve into the myths and realities of voodoo at the Historic Voodoo Museum. The Historic Pharmacy Museum is an eye-opening experience. See how medicine was practiced and how a combination of medicinal potions, superstitions, Voodoo potions were used as cures in the early 1800s.
In the Warehouse Arts District
National World War II Museum is awesome. It's a new Orleans highlight and a must see for everyone – young and old. Compelling interactive exhibits show how the global scale of the war changed the world. It highlights the role and impact of the decisions of world leaders in the direction and outcome of the war, as well as the extraordinary accomplishments and courage of everyday men and women. Take your time to absorb the experience.
Louisiana's Civil War Museum is one of the largest repositories of Confederacy-related artifacts and memorabilia in the United States. On exhibit are 100 original battle flags, Civil War weapons and swords, Confederate soldiers' regalia and uniforms. A rare collection of photographs captures the period in an extraordinary way.
Oden Museum of Southern Art, a Smithsonian Institution affiliate, is a showcase of the visual art of the American South from 1733 to the present. Its comprehensive collection of paintings, watercolors, drawings, prints, photographs, sculpture, wood and craft celebrates the region's unique culture.
In City Park
New Orleans Museum of Art (NOMA), set in one of the largest urban parks in America, is a wonderful experience for art lovers. Noted for its fine collection of French and American art, its expanding collection of art, photography, glass and African and Japanese works is great. Take time for a fresh, simple lunch in Café NOMA overlooking City Park. If the rain stops for awhile, walk along the footpath of Besthoff Sculpture Gardens to admire 60 wonderful sculptures exhibited in a lovely setting of live oak and magnolias, lagoons and pedestrian bridges.
In the Lower Garden District
Mardi Gras World is a unique New Orleans experience. Inside a warehouse on the river, a workshop where Mardi Gras floats are made and old ones are stored, is fascinating and a perfect rainy day activity. It's a place of sequins and sparkle, beads and feathers, outrageous floats and fabulous costumes. See it all on a guided tour and see how you look in a real Mardi Gras costume.
In Treme
Backstreet Cultural Museum holds the world's most comprehensive collection of New Orleans' African American community-based masking and processional traditions. The museum's filmed records of over 500 events is an amazing archive of local legends and great jazz traditions.
RAINY DAY FUN WITH KIDS
In New Orleans you never have to worry about what to do with bored, cooped up kids on a rainy day.
Louisiana Children's Museum is a place where kids can let loose discovering fun stuff. It's a totally interactive place. Stand inside a giant bubble, explore the world of physics through activities and games or up and down inclines and ramps on the Gator Pull. Create art, put on a play and so much more!

Audubon Aquarium of the Americas is an immersion into the underwater world. Walk through a tunnel surrounded by the colorful fish of the Caribbean reef. Watch sea otters frolic and penguins waddle. Touching a sting ray is a kids' favorite. Everyone is awed by the sharks, tarpon, large rays and turtles swimming by in the huge Gulf of Mexico exhibit.
Audubon Butterfly Garden & Insectarium, a short distance away from the Aquarium, is beautiful and creepy. Walk through the butterfly house where butterflies fly free and sometimes land on you for a special moment. See species of insects exhibited in their natural habitat. Kids think they are cool and creepy. They really get into the interactive displays, and have fun watching the short movie. Be sure to try bug appetizer samples in the Café. Unforgettable!

Audubon Zoo. Grab your umbrellas and put the kids in rain jackets for a great zoo experience. Covering over 50 acres, the animal habitats are great.
STAY OUT OF THE RAIN ON A RIVER CRUISE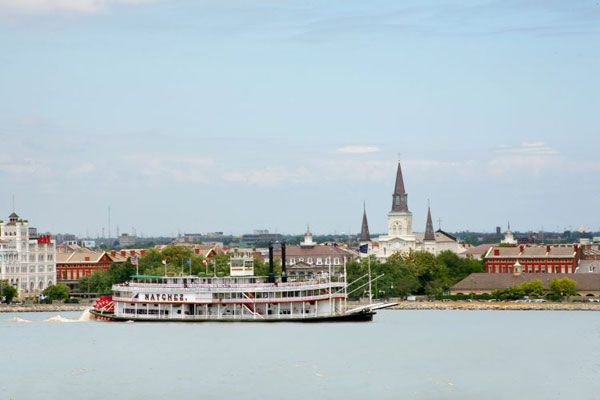 Here's a pleasant way to stay out of the rain – cruise up and down the Mississippi River on a real paddleboat. Do it in style on New Orleans Steamboat Natchez' Creole Lunch or Dinner Cruise. Relax, take in fabulous skyline views and enjoy tasty New Orleans cuisine. Or, what could be better on a rainy night than an elegant evening of watching city lights drift by, dining on delicious selections from a splendid buffet spread, and enjoying live jazz on Creole Queen's Dinner Jazz Cruise.