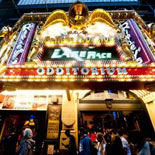 Robert Ripley loved to document unusual things and events that he discovered during his travels around the globe. The amateur anthropologist shared his observations and travels through his daily cartoon strip, radio broadcast and books. When nearly 2 million guests visited his collection at the 1933 World's Fair, Mr. Ripley became a household name. Today, there are 30 Ripley's Believe It or Not! locations around the world. Each one displays a unique collection of items.
Is your group planning a visit to the Ripley's Believe It or Not? Times Square in New York City? Trusted Tours and Attractions provides deeper discounts to groups of 10 or more. For more information, please visit our page: New York City Group Discount Tickets
Ripley's Believe It or Not! New York is a fascinating attraction depicting unusual and one-of-a-kind objects. Located in the heart of Times Square on the famous 42nd Street, The New York Odditorium has more than 18,000 square feet of gallery space. Interactive displays and live performances enhance the self-guided tour of the 20 galleries that showcase over 500 artifacts. Mr. Ripley personally acquired many of these items. The collection continues to grow as the organization locates more bizarre memorabilia and facts.
During the self-guided tour, visitors can view a wide variety of remarkable and astonishing relics and rare treasures. Items on display in the museum include a two-headed calf, six-legged cow and an albino giraffe. The collection also features shrunken heads, a 1.5-ton meteorite and a portion of the Berlin Wall. Live shows include performances by comedians, magicians and sword swallowers. The two-story museum is home to New York's only laser race where guests have to maneuver their way through a series of lasers in order to win. Groups can schedule special events, such as scout programs, sleepovers, birthday parties, photo scavenger hunts and products launches.