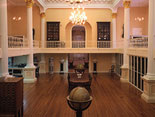 Salem is a vibrant community with a beautiful waterfront and a fascinating history. When traveling to the home of the witch trials, consider these top 9 family friendly attractions.
Peabody Essex Museum was established by Salem's prosperous ship captains. As the skippers sailed around the world, they collected exquisite works of art. They founded the renowned museum to share their treasures with the public. Housed in 24 historic buildings, the museum is rated as one of the best children's art museums in the country.
The Corwin House is Salem's only remaining structure with a connection to the witch trials. The magistrate who lived in the residence sentenced 19 of the "witches" to die. Visitors can see period furnishings and learn what life was like in the late 17th century. The tour describes the local culture and attitudes during this tumultuous period.
Comments Off on Family Things to Do in Salem, MA