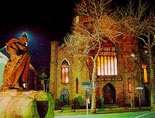 If you are looking for a fun and exciting way to celebrate Halloween this month, what better way to do so than to visit the
Salem Witch Museum
located in Salem, Massachusetts? Whether you believe in witches or not, dramatic stage performances offer the visitor an unforgettable lesson in one of the nation's most popular Halloween destinations' history.
In 1692, in the small town of
Salem
, 180 people were accused of practicing witchcraft and thrown into prison for the crimes. Accused individuals were held against their will and had no way to defend themselves against what were sometimes simply baseless allegations. While a court was formed to defend the "witches," it only led to more accusations and so the notorious "witch hunt" began.
Comments Off on Salem Witch Museum Review