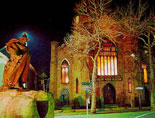 Roger Conant founded a permanent settlement at the mouth of the Naumkeag River in 1626. After being incorporated into the Massachusetts Bay Colony, the settlement changed their name in 1629 to Salem which means Peace. The tranquil, seaside fishing community was anything but peaceful a little more than a half century later.
Save on Tickets Here! Save a total of $1.60 per Adult Ticket when you buy your tickets at: https://www.trustedtours.com/store/salem-witch-museum.aspx AND use Coupon Code: SMWM25 at checkout.
In 1692, children began crying out the names of their tormentors. Doctors could not determine a physical reason for the symptoms, so they said that the children were possessed. Historians believe that an intense feud between families lit the fuse that started the witch-hunts. Fear of the devil and other evil spirits fed the flames of hysteria that subsequently scorched the community. The local prisons held more than 150 people accused of practicing dark magic. In June, the Court of Oyer and Terminer sentenced Bridget Bishop to hang. Before the colonial governor stepped in to halt the proceedings, 13 other women and 5 men followed Bridget to the gallows. One man, Giles Corey, refused to cooperate with the court and was pressed to death.
Since 1972, the Salem Witch Museum has strived to tell the true story behind the infamous witch trials. Located inside a renovated historic church, the museum is a popular attraction. Scenes from the trials come alive inside the great hall. The multimedia exhibits enable you to comprehend the perfect storm that led to the imprisonment and deaths of innocent people. A new exhibit explains the modern interpretations of witchcraft.
Purchase Tickets at: https://www.trustedtours.com/store/salem-witch-museum.aspx
Promo Code: SMWM25 at checkout
Comments Off on Salem Witch Museum Coupons