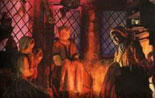 In 1626, Roger Conant founded an English settlement on land that once provided a tranquil setting for a Native American village. The leaders named their new community Salem, which is translated "peace." Fifty-three years later, Salem found itself in the midst of a bizarre event that horrified the nation.
In January, 1692, two young cousins claimed that three women in their community were using magic to torment them with pinpricks and pinches. As hysteria swept through Salem, the circle of alleged victims and perpetrators expanded. At one time, more than 150 people stood accused of practicing dark magic. Bridget Bishop was the first "witch" sentenced to hang for alleged crimes. Thirteen women and 5 men followed her to the gallows. After Corey Giles was accused of being a warlock, the 81-year-old man refused to enter a plea. Mr. Giles was pressed with heavy weights for two days before succumbing to his injuries. Five people died while incarcerated before the colonial governor finally dismissed the judges and halted the witch trials.
The Salem Witch Museum was founded in 1972 to chronicle the events that surrounded one of the greatest injustices in the nation's history. This popular attraction is housed inside a historic brownstone and brick church on Washington Square. Guests will experience the travesty through narrative tales and exhibits in the great hall. Live guides and multimedia programs explain the events that resulted in the imprisonment, torture and execution of innocent people. Exhibits also explain the evolving definition of witchcraft.
Is your group planning a visit to the Salem Witch Museum? Trusted Tours and Attractions provides deeper discounts to groups of 10 or more. Learn more about Salem Group Discount Tickets.
Comments Off on Salem Witch Museum Group Tickets