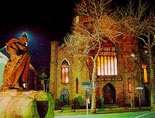 If you are looking for a fun and exciting way to celebrate Halloween this month, what better way to do so than to visit the
Salem Witch Museum
located in Salem, Massachusetts? Whether you believe in witches or not, dramatic stage performances offer the visitor an unforgettable lesson in one of the nation's most popular Halloween destinations' history.
In 1692, in the small town of
Salem
, 180 people were accused of practicing witchcraft and thrown into prison for the crimes. Accused individuals were held against their will and had no way to defend themselves against what were sometimes simply baseless allegations. While a court was formed to defend the "witches," it only led to more accusations and so the notorious "witch hunt" began.
The museum brings the visitor back to the town of Salem Village as it existed in 1692. Visitors are shown dramatic sets in which full-scale figures, narration and lighting set the tone for a remarkable history lesson. The "Witches: Evolving Perception" display teaches visitors about the word "witch" through a stimulating tour. The exhibit examines a typical pagan midwife and the stereotypical characteristics that led to the term "witch," as well as contemporary witchcraft and how the occurrence of witch hunting began. Those who do not comprehend English can listen to the presentation in Italian, Spanish, Russian, Cantonese, Mandarin, German, French and Japanese.
Visitors can also view an interactive map of "Hysteria Sites." The map, named after a book written in 1692 that depicted all of the original gravesites, foundations and houses as marked by historic signs, shows the visitors where witches were believed to have lived. While the majority of the "witch hunting" occurred in Salem, sites cover over areas including Boston, Salisbury, Wehnam, Peabody, Beverly, Marblehead, Haverhill and Andover. The map shows visitors just how far-reaching the citizens' panic became.
Comments Off on Salem Witch Museum Review