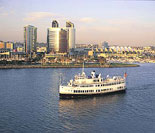 Experience the stunning sighs of beautiful San Diego Bay with a one-hour harbor cruise. Sail the harbor in complete comfort and style from a beautiful Hornblower Yacht observation deck. You will be surrounded by stunning panoramic views as the professional yacht crew narrates the local points of interest and the vibrant military history of the surrounding San Diego landmarks.
Planning an outing on the San Diego Harbor Cruise? Use the following coupon code for an additional $3 off.
Coupon Code: SDHO1
Purchase San Diego 1 Hour Harbor Cruise Tickets.
San Diego Bay, referred to as Big Bay by the locals, is home to some of the most historic ships in the history of the nation, including the U.S.S. Midway and the U.S.S. Ronald Reagan. The Bay also boasts a wide array of scenic sights, including Seaport Village and Coronado Bay Bridge. Wildlife lovers are certain to be fascinated with the local wildlife such as the sea lions, pelicans, Blue Heron, and more.
The Hornblower has become known for its superior guest experience and style. From the time it began as a simple operation of two ships back in 1980 to its modern fleet of nearly 30 ships, Hornblower has continued to focus on surpassing guest expectations and maintaining only the highest degrees of comfort and safety.