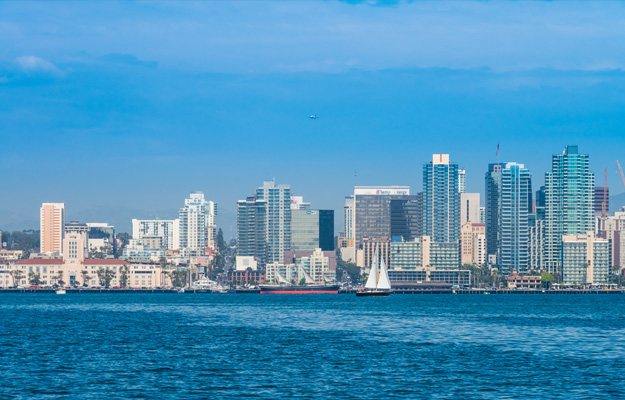 San Diego's scenic coastline and inland views venues are spectacular. Whether accessed by foot, car, trolley or boat, dramatic vistas are everywhere.
Best Bay Views from the Embarcadero
A walk along popular Embarcadero is filled with scenic Big Bay views. Boats of all sizes navigate the bay, historic ships moored at the Maritime Museum can be toured, as can the venerable USS Midway, and Seaport Village is the place shop and snack. The best long-range bay view is from Embarcadero Marina Park North, a short, scenic walk from Seaport Village. The bonus: a dramatic photo op of sweeping Coronado Bridge.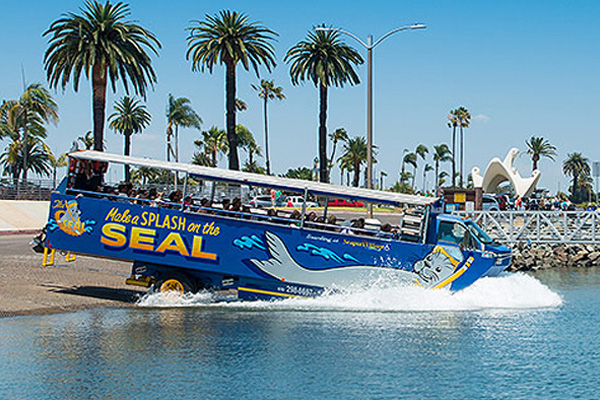 Views + Fun = SEAL Tour
A narrated tour aboard the big, blue amphibious vehicle is 90 minutes of fun by land and sea. Take off from Seaport Village or from the Embarcadero for the land portion of the tour. Visibility from sitting high above the traffic is great. Then comes the fun! Splash into the water off Shelter Island for an awesome scenic cruise around North Big Bay. Views: the skyline glinting in the sun, Cabrillo Monument perched high on Point Lobo, Navy Jets taking off from Coronado Naval Air Station, large ships navigating through the bay and seabirds soaring overhead. The bonus: sea lions sunning and frolicking on floating bait cages!
Picturesque Coronado
On the way to the charming beachfront community of Coronado, views from iconic San Diego-Coronado Bridge are fabulous. One of the best views of the bridge, skyline and South Bay is from the Ferry Landing. A visit to historic Hotel Del Coronado, should include lunch with ocean views in one of the hotel restaurants and a walk along Coronado Beach boardwalk.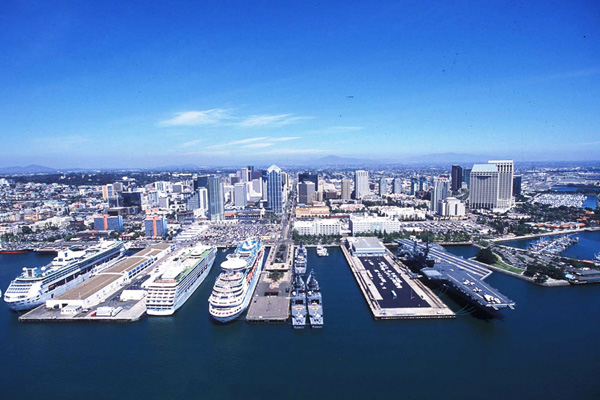 Views Aboard USS Midway
Touring the longest serving Navy aircraft carrier of the 20th century is like walking through a floating city! Views from the decks of the massive 972-foot long carrier are great. The tour is impressive. More than 25 aircraft on display on the flight deck is amazing. Learning how they take off from a ship moving at 60 mph is fascinating. Walking through the ship to experience life aboard is eye-opening. Take a self-guided audio tour throughout the carrier. Hear what it's like to live aboard from docents who experienced it is a treat.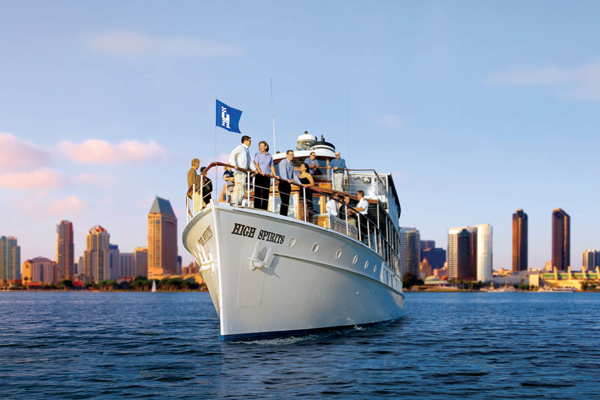 Skyline & Bay Views on a Harbor Cruise
It's hard to be in San Diego without going on out Big Bay. There are boating options for everyone. Hornblower's San Diego Harbor Cruise offers 1 and 2 hour sightseeing cruise options.  Thrill-seekers opt for driving a mini speedboat around 13 miles of Big Bay on a guided San Diego Speedboat Adventure.  Romantics opt for the intimacy of San Diego Sailing Tour's 6-passenger options – a Luxury Sailing Tour and Sunset Sailing Tour. Traditionalists enjoy the views plus indulging in delicious buffet selections on Hornblower's Lunch and Dinner Cruises.
Awesome Whale and Dolphin sightings
A winning trifecta: scenic beauty, being on the water and sighting whales and dolphin. It happens on San Diego Morning or Afternoon Whale & Dolphin Watch.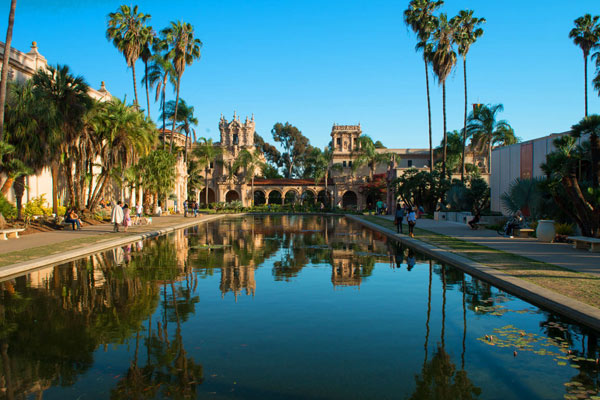 Elegant landscaping and architecture at Balboa Park
There's a lot to see in San Diego's 1600-acre park and cultural center. Manicured, mature landscaping, lawns, shady trees and fountains create an elegant natural setting for grand, highly ornamented Spanish Renaissance buildings, constructed for the 1915-16 Panama-California Exposition and for the 1935-36 California International Exposition. Escape into the peace of the lily pad-filled reflecting pond, orchids, cycads and ferns in the Botanical Gardens.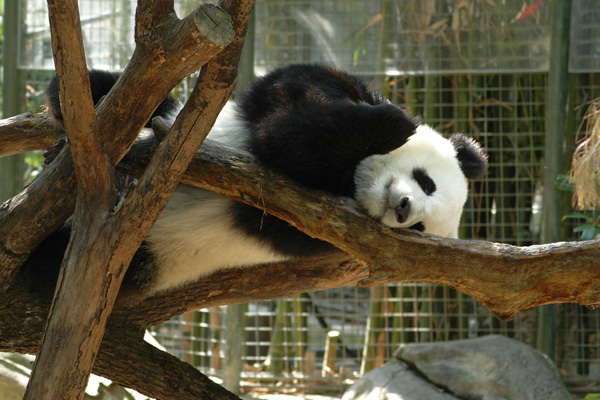 Sky high San Diego Zoo views
Not only does the San Diego Zoo, located in Balboa Park, have a wonderful selection of over 4000 animals housed in natural habitats accessed along picturesque walkways and over bridges, it offers two ways to see the 100-acre zoo's expansive beauty from great vantage points. The one day pass includes a 40 minute, 3-mile narrated, open-air double-decker bus tour on which to see the zoo from a high vantage point. Or, for a bird's eye view, ride over the scenic park 170 feet in the air on Skyfari Aerial Tram.
Ocean views & "OB" Vibe
Spend time in the funky, bohemian SoCal beach town of Ocean Beach. Take in the laid-back surfer/beach culture, check out the Pier, extending a half mile out into the Ocean. Hang out at surf-only and swim-only beaches. Newport Avenue Beach is the most popular. Tidal pools to explore at Niagara Avenue Beach by the Pier. Walk through Farmer's markets, listen to live music, find art, shop eclectic shops, have fish tacos at casual restaurants, check out nightlife on Newport Avenue and Voltaire Street.
Most scenic sunset location – Sunset Cliff Beach
Watch the sunset at Sunset Cliff Beach, one of the most scenic locations in San Diego. Follow Sunset Cliffs Blvd. through Ocean Beach to Laden Street, Luscomb Point or Osprey Street.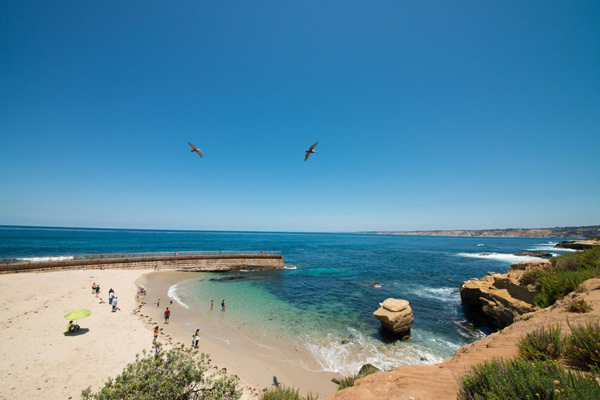 Scenic Beach Trolley Tour with iconic stops
Leave the driving to Old Town Trolley's colorful Beach Cruiser Tour to spend the day in iconic coastal locations. On the way to the first of three hop off/hop on stops, the 90-minute ride is narration and music filled.
1st Stop: Spectacular 360 degree panoramic views from Mt. Soledad. Spend 20 minutes taking in amazing views from 822 feet above sea level. It's the perfect photo op. Hop back on for a ride all the way down the mountain to La Jolla.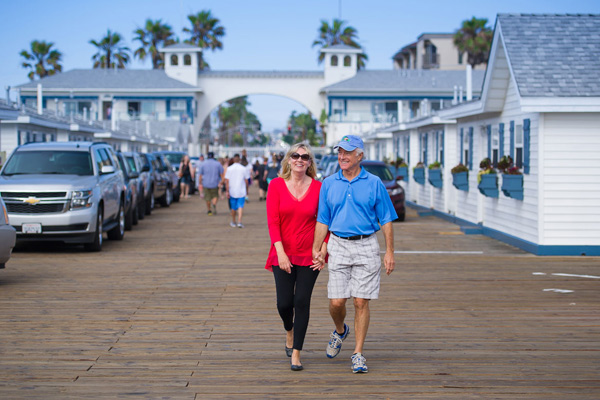 2nd Stop:  Chill out in Lovely La Jolla. Located high on a rocky promontory surrounded on 3 sides by waves crashing ashore below, the village has a quaint Mediterranean ambiance. Stroll along Prospect Avenue to browse through upscale boutiques. Have lunch with spectacular views at George's at the Cove. Spend time at Museum of Contemporary Art San Diego/La Jolla to see works of art since 1950, to enjoy fabulous ocean views from Edwards Garden Gallery and lunch on the patio of Museum Café. Rent a bike and head to La Jolla Cove where sea lions frolic. Wade in Shell Beach Tide Pools. Explore La Jolla Caves by kayak.
3rd Stop: Ocean views, beach and fun at Belmont Park & Mission Beach. Hop back on the Beach Trolley for beach time at Mission Beach where kayaks, surfboards and beach chairs are available for rent. Have fun at Belmont Park, one of California's oldest oceanfront amusement parks. Ride Giant Dipper, an old timey roller coaster. Ride the carousel, drive bumper cars, play arcade games, go on thrill rides. Whiz around on a zipline, climb a rock wall, get through a laser maze, and enjoy incredible ocean views!
Panoramic Views from Cabrillo National Monument
Stop by the Visitor Center to get oriented, then explore panoramic views first seen by Juan Cabrillo when he discovered San Diego Bay in 1542. Walk to picturesque Old Point Loma Lighthouse and to Lookout Point for breathtaking views. Watch large ships going in and out the mouth of Big Bay. See harbor and city views on a self-guided 2-mile walk through coastal sage scrub forest. See the mighty Pacific and the New Point Loma Lighthouse from Whale Overlook. Walk along the cliffs overlooking the water. Drive down to the Tidal Pools, a visitor favorite.