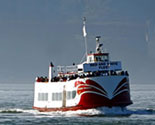 For almost 70 years the Golden Gate Bay Cruise has been the highlight of any trip to San Francisco for visitors and residents alike.
Passengers on the ship leave Fisherman's Wharf and takes you out to the infamous, stunning Golden Gate Bridge, one of the longest, most architecturally recognized bridges in the world. Along the way, you can discover the diverse history of San Francisco and if you are traveling from a foreign country, not to worry, personal headphones are provided which deliver this incredible information in twelve languages such as Japanese, Mandarin, German, French, Spanish, Korean, Portuguese, Italian, Russian, and Thai.
Planning on taking the Golden Gate Bay Cruise? Use this coupon code for an extra $2 Off.
Coupon Code: SFBA1
Purchase Tickets Here:  https://www.trustedtours.com/store/golden-gate-bay-cruise.aspx
En route to the Golden Gate Bay Bridge, you will pass many historic landmarks like Fort Mason, St. Francis Yacht Club, the Marina District, and the Presidio National Park. After the ship passes under the bridge, which incidentally provides an a very memorable photo opportunity. A notable landmark that passengers are in awe of is the notorious Alcatraz Island that housed the infamous prison.
While enjoying the sights, passengers can enjoy a lunch or a light snack while on board. A full service snack bar is available, where passengers can purchase things like hot dogs, soft drinks, popcorn, cocktails, wine, and draft beer.
This is an absolute great way to spend a leisurely afternoon with family and friends.
Planning on taking the San Francisco Bay Cruise? Use this promo code for an extra $2 Off
Promo Code: SFBA1
Purchase Tickets Here:  https://www.trustedtours.com/store/golden-gate-bay-cruise.aspx
Comments Off on San Francisco Bay and Golden Gate Cruise Coupon