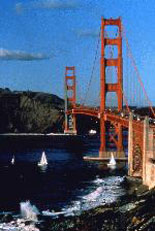 Tour the most scenic locales in San Francisco during the San Francisco Sightseeing Deluxe City Tour. This tour offers the opportunity to explore Geary, Post, Powell, and Stockton Streets in Union Square while enjoying a spectacular view of the bay. Expansive department stores, designer boutiques, and a maze of gorgeous flowers and shrubs are just a few of the delights that await you. Scheduled stops on the tour include a panoramic view from Twin Peaks and Vista Point at the world-famous Golden Gate Bridge.
Photo opportunities abound throughout the San Francisco Sightseeing's Deluxe City Tour. From Twin Peaks, you will have the opportunity to soak up a panoramic 360-degree view of San Francisco. This tour will take you from the city's golden past to its modern wonders, ensuring a memorable experience throughout. Tour guests will have the chance not only see the experience, but truly experience it in unique and unforgettable way.
San Francisco's mild climate makes the city a delight to visit all during the year. Its summers are dry and winters cool and moist. Most of the year, the temperatures are between the higher 50s and lower 70s. Moreover, the climate is distinctive with summer days beginning with fog and slowly turning to sunny days with wind. The weather is always changing and unpredictable but that is what makes San Francisco such a unique place to visit. Spring and autumn are times of a quick change into winter with its raining periods.