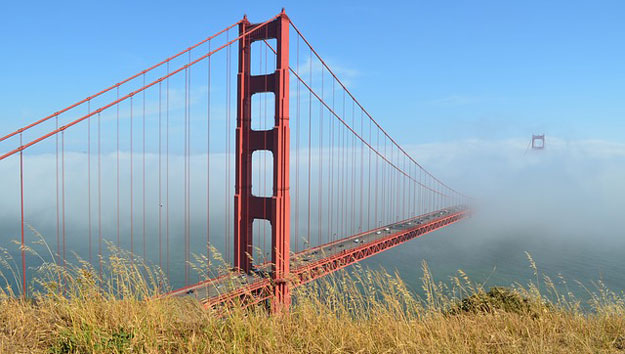 Finding things to do with kids in San Francisco on vacation is easy. Our list includes a variety of fun things which appeal to kids from tots to teens – sightseeing, museums and attractions, outdoor fun, techno games and interactive activities.
Sightseeing by Segway or Bike
Kids often grumble if they think they have to spend the day walking around sightseeing. They bore easily and like to stay active. Here's how to see San Francisco's incredible sights they'll have fun doing.
Sightseeing by Segway is a super fun way for anyone age 12 and older and at least 100 lbs. to see the sights. Riding around on a Segway is cool. You'll see a lot in 2.5 hours, and everyone has fun doing it.
San Francisco Tour Company has a couple of choices: Golden Gate Park Segway Tour travels along winding trails and bike routes through the eastern section of the beautiful 1107 acre park. Views are spectacular; the sights, well-known to hidden, are amazing. Besides passing by numerous ponds and botanical gardens, the tour goes by the California Academy of Sciences, the de Young Museum, the historic Carousel, and through an awesome Redwood grove, stopping for numerous photo ops along the way. The Wharfs & Waterfront Tour heads right into San Francisco's famed active waterfront, hitting all the highlights – Fisherman's Wharf, Fish Alley, fishing fleets, Aquatic Park, Hyde Street Pier's Historic Sailing Ships, Ghiradelli Square and much more. Both are great tours and have views, views!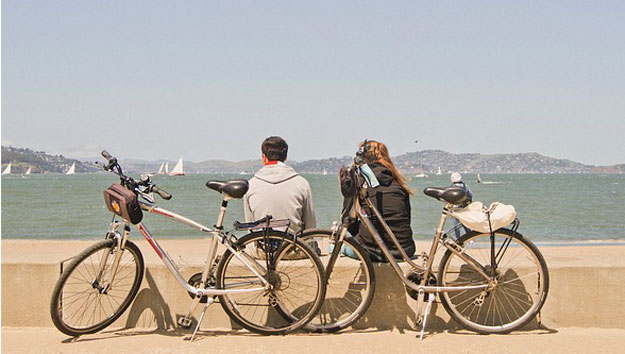 Sightseeing by Bike is equally fun and great exercise. Bay City Bikes' Streets of San Francisco Tour, for anyone 13 years and older, is a fun way to see the city's unique neighborhoods up close. If you're a family of bike riders who can handle a 4-hour ride with many stops and a lunch break, this one's for you.  From AT&T Ballpark to Aquatic Park, from Height Ashbury to Alamo Square, from Little Italy to Fisherman's Wharf, there's something for everyone. San Francisco Guided Golden Gate to Sausalito Tour is a favorite and a wonderful ride for the whole family – from beginner to novice. The ride along the coast from Fisherman's Wharf to Golden Gate Bridge is great. The ride over the iconic bridge is thrilling! Then 3-hour ride ends in quaint Sausalito, where you can call it a day by loading your bikes onto a ferry using the included ferry ticket for a return across the bay to Pier 39. Or, take the time to explore Sausalito, shop and have a bite to eat before returning by ferry in time to return the bikes.
An intriguing attraction for kids of all ages, it's easy to see why it's so popular. It's awesome! Located in Golden Gate Park, there's a lot going on under one "living" roof. The 4-story glass-domed living rainforest is filled with birds, bats, frogs, chameleons and other rainforest creatures. Kids love spotting them camouflaged amid lush, tropical vegetation. Steinhart Aquarium features aquatic animals from around the world – over 38,000 – from sharks to colorful reef fish; albino alligators to waddling penguins. The enormity of T-rex and blue whale skeletons inside Kimball Natural History Museum are just some of the natural world exhibits that leave kids awestruck.  The interactive elements found in the world's largest digital planetarium totally engage them. They really like the sensation of the earth trembling underfoot in an earthquake simulator.  Make a day of it.  See it all, catch one of the daily shows and have a snack or lunch at the Academy Café or The Terrace, both serving nice choices of locally sourced, sustainable food.
This is no ordinary museum. It's a place where kids can go where their curiosity leads them. It's an attention-grabbing on-going interactive exploration of science, art and human perception, keeping them engaged for hours. Located on Pier 15, it's a place to discover through interaction, play and online activities. It covers just about anything imaginable. Check out this sampling of the range and depth of hundreds of interactive exhibits for all ages and all interests. See how we view Earth from space in Third from the Sun. Find out why road bikes have thin tires, while mountain bikes have flat tires, and more fun facts in The Wheel. Decorate white walls with rainbow colors in Reflecting Rainbows; share secret sounds with a friend in Ear Guitar. Understand the histories and origins of words in Become a Word Historian. Is there life on Mars? The clues lie in a chunk of rock found in Antarctica to In Search of Martians.  It's an amazing place.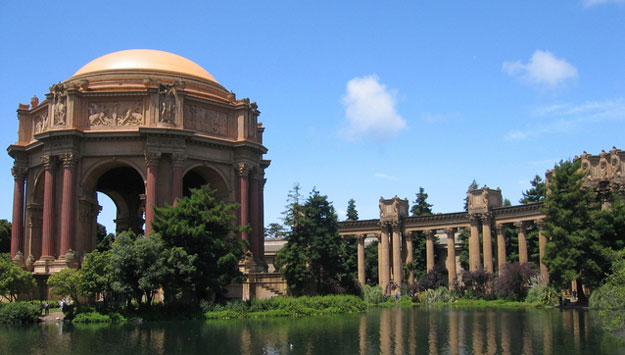 Pier 39 & Aquarium of the Bay
Aquarium of the Bay, located on Pier 39, is all about aquatic animals living in distinct ecosystems that support the Bay's diverse marine life. The walk through a 300 ft. clear tunnel surrounded by thousands of the Bay's marine life swimming by is awesome! Spend the rest of the day discovering what fun family activities Pier 39 offers. This 45-acre waterfront complex has it all – entertainment, shops, restaurants and lounging sea lions. Little kids love riding the carousel; older ones have fun navigating through Magowan's Infinite Mirror Maze. Tech-oriented kids can't get enough of the 7-D experience that includes a roller coaster type ride that moves in sync with the activities on a large movie screen. Various Bay cruises and ferries leave from Pier 39 too.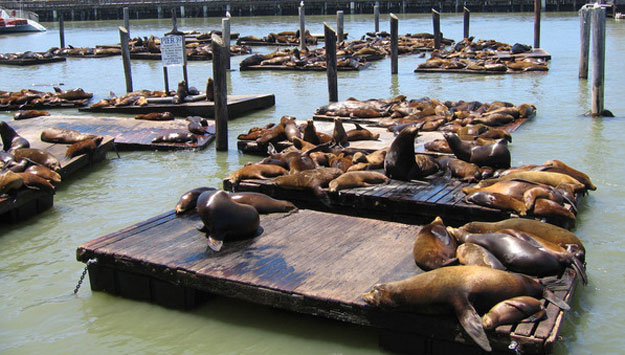 Bay Cruises
Everyone enjoys getting out on the Bay. While at Pier 39, check out two family favorites. RocketBoat is for thrill-seekers. It's a 30-minute twisting, turning, high-speed ride down to the Bay Bridge and beyond – complete with rock 'n" roll music! A bit tamer and longer, the 1.5 hour San Francisco Bay Sail aboard Adventure Cat is awesome.  Sailing past menacing-looking Alcatraz Island and under the Golden Gate Bridge on the sleek, spacious catamaran is lots of fun and views from the breezy deck or covered cabin are amazing.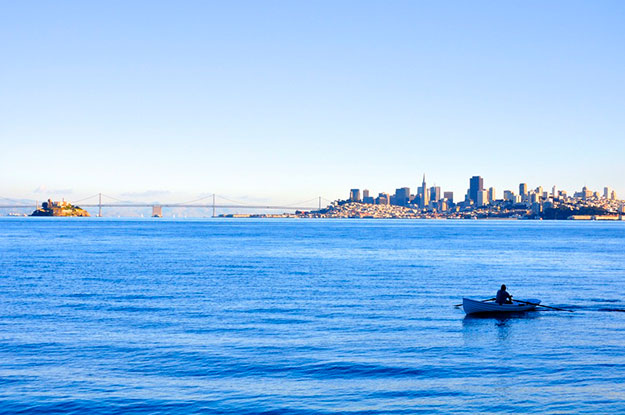 Kids are obsessed with selfies or the mannequin challenge. In Madame Tussauds' they'll have plenty of opportunities to do both. Celebrities, sports legends, San Francisco icons, and film stars through the ages are all here, poised, posed and ready for selfies. Kids can meet favorite celebrities (wax replicas, of course) or become part of history in close-up encounters with global greats. In interactive Music Experience, a favorite, they can climb on stage with Adele, Madonna, Lady Gaga and Michael Jackson.  In Sports Zone they have a blast trying to see if they can imitate their favorite athlete's complex moves. It's an interactive selfie heaven. Kids really get into the experience and let their friends know it through Facebook and Snapchat.
Musee Mechanique
A fun place for kids, Musée Mécanique at Pier 45 is an old-timey game and music arcade. Entrance is free, but bring plenty coins. Kids could spend all day there – or at least until their coins run out.
AT&T Park
The Home of the San Francisco Giants is one of the coolest sports stadiums in America. You don't have to know anything about baseball to enjoy the San Francisco Ballpark Tour. It's for anyone of any age who appreciates any kind of sports, as athlete or bystander.
There's something magical about the place for anyone who has followed, watched or played baseball or softball, from sand lot to Little League, to club teams and beyond. Older kids who are into sports will think walking onto the field, down into the dugout and stepping into the Batting Tunnels is cool. Checking out the seats and imagining watching a game with fabulous San Francisco Bay views is fun for everyone. Going into the Press Box where the game is called is super fun. Little kids work off their energy playing and exploring in interactive Coca-Cola Fan Lot, a mini-AT&T Park play area complete with video scoreboard and speed-pitch game. It's a home run!
The Coastal Trail
Active families with older kids who enjoy hiking should plan to hike some portion of the San Francisco Coastal Trail. The sights, both natural and man-made, are breathtaking. Cliffs plunging into the swirling Pacific Ocean way below the trail, incredible vistas, the majestic Golden Gate Bridge, Sutro baths ruins, wind-twisted cypress trees and scatterings of wildflowers – all are awesome. Fabulous photo ops are everywhere. How much of the trail you choose to walk depends on hiking experience. The well-traveled Coastal Trail from Ocean Beach, hugging the coast through Lands End to Bakers Beach is a gorgeous, approximately 2 ½ hr. walk. For a shorter version, park in the Lands End Trail parking lot for a hike through that dramatic section. Do research before heading out. There are plenty of maps and information available.
Muir Woods
In one word: magical.  A trip to Muir Woods is memorable at any age. A National Park which is part of the larger Golden Gate National Recreation Area is about 12 miles north of San Francisco in Marin County. Flat easy trails loop through what is often described as a cathedral of redwoods.  These awesome ancient giants, ranging from 400 to 800 years old and up to 250 feet in height, dwarf everything around them. Other trees grow in areas where the light filters the redwoods, and the forest floor is strewn with plants able to grow in limited light. Muir Woods is very popular.  To find the best time and way to go, check out the he park's website.
A money-saving tip: check out San Francisco Explorer Pass. Choose 4 experiences from a great mix of 20 of San Francisco's attractions, museums and cruises. Many attractions on this Top 10 list are in the pass.