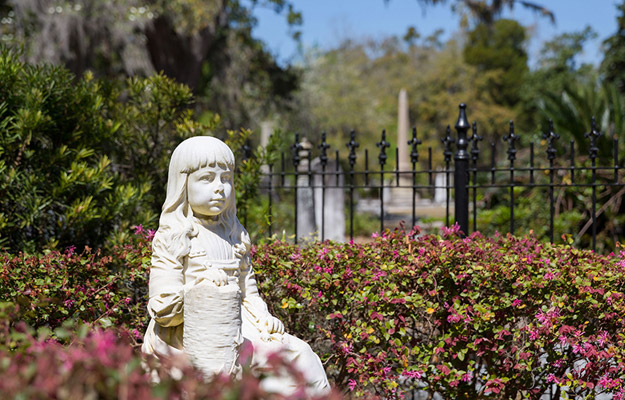 Several interesting things to do are not far from downtown Savannah. Find them in forts, lighthouses, beaches, colonial-era homestead ruins, a beautiful Victorian-era cemetery, sea islands where the Gullah-Geechee culture still exists, pristine islands where nature unfolds, thrilling tree-canopy zipline rides, and views, views, views.
1) BONAVENTURE CEMETERY
Bonaventure is a Southern Gothic cemetery straight out of a Victorian novel. Moss-draped Live oaks, life-size sculptures and ornately carved tombs dripping with foliage top Savannah's most beautiful places list. Established in 1846, Bonaventure reflects Victorian-era romanticized rituals surrounding death and mourning when it was customary for families to remember departed loved ones by strolling cemetery grounds, reading poetry seated on graveside benches or picnicking on shady knolls.
It's a great place for beautiful, moody photos. Angel sculptures are everywhere. Towering, guardian, weeping or pensive, they stand, sit or kneel beside ornate tombs. Grand obelisks and mausoleums are finely sculpted with symbolic details. Poignant sculptures of young children are charmingly poignant.
Walk through using Bonaventure's walking tour app or purchase a map in the Visitor Center. To see the best grave sites and hear stories of history and lore, take a guided tour offered by several Savannah tour companies. A fun way to see it is on Segway of Savannah's Bonaventure Cemetery Tour. Grayline's Fort Jackson and Bonaventure Cemetery Tour, on Wednesday's only, offers a guided walking tour.
2) JEKYLL ISLAND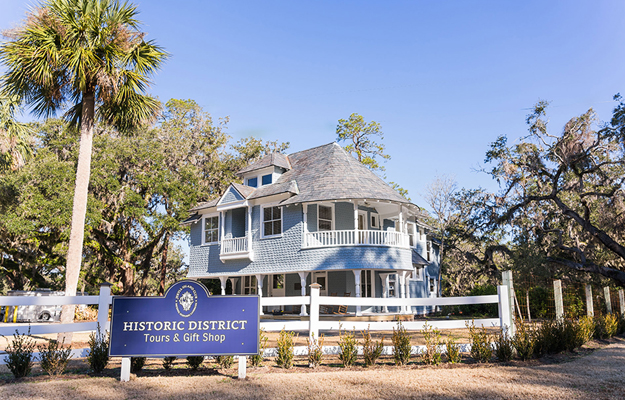 A day trip to Jekyll Island, a 1 ½ hour drive from Savannah, is a wonderful way to experience Georgia's unique sea islands. During the late 1800s Gilded Age, the island became a private hunting club for America's uber-wealthy – the Vanderbilts, Rockefellers, Pulitzers and Morgans. Their retreat is now part of 240-acre Jekyll Island Club National Historic Landmark District, established to preserve the history and ambiance of the island.
Explore the Historic District where several cottages are open for tours. Others have been converted into art galleries and gift shops. Take a tram tour to see how America's millionaires wintered on the island. The tour includes entry into two cottages and Faith Chapel, filled with gargoyles and Tiffany windows. Visit the period-restored Rockefeller cottage. Get tour tickets in Jekyll Island Museum, currently in a temporary home during construction of an exciting new museum.
Take in the island's natural beauty along 20 miles of trails. Walk under live oak canopies, through maritime forests and along driftwood-filled beaches. Rent bikes to get to Driftwood Beach to see nature's unforgettable sculptures. Go to the Georgia Sea Turtle Center. Take a guided kayak tour or nature walk at 4-H Nature Center.
3) HILTON HEAD ZIPLINE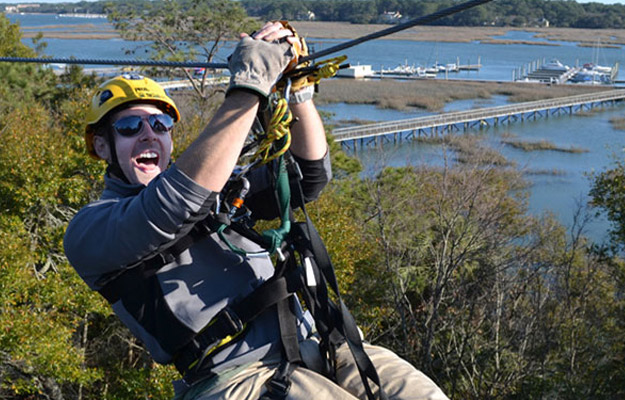 Soar above the trees at Hilton Head Zipline for a bird's eye view of the tidal marshes and meandering Broad River. The varying heights and distances of lines from one of 11 platforms to the another creates varying exhilarating speeds. Check out amazing views from 3 towers. Below are oaks, pines and sun-dappled palmetto plants. Just beyond, white boats dot the Broad River. Spot slow-moving manatee, fast-moving dolphin or stately blue herons standing like statues in the shallows.
4) FORT PULASKI
The silent sentinel on Cockspur Island between Savannah and Tybee Island is 19th century Fort Pulaski. Walk through the fort's moats, ramparts, tunnels and draw-bridges. Gaze over the expansive marsh and the Savannah River. Walk the trails, keeping an eye out for bald eagles, peregrine falcons, manatees and loggerhead turtles. Learn how the newly invented rifle cannon, brought about during the Civil War, made forts obsolete. During the Siege of Savannah, the Confederate garrison inside the fort was no match for this newly invented weapon, forcing their surrender.
5) PIN POINT HERITAGE MUSEUM
A unique museum dedicated to the Gullah-Geechee culture, located between Savannah and Jekyll Island, tells a fascinating story. Following the Emancipation Proclamation, a small community of freed slaves formed a settlement on thin strips of land in the coastal marshes. The freed slaves were descendants of slaves from West Africa who brought with them different dialects and customs. Isolated in coastal marshes, the freed slaves developed a language called Gullah, a unique blend of English Creole language.
Their main source of employment was the A.S. Varn & Son Oyster and Crab factory. When it closed in 1985, it was transformed into a museum to tell the story of the oyster industry and the Gullah-Geechee culture. Guides, descendants of the original Pin Point residents, are marvelous storytellers.
6) TYBEE ISLAND
Just 20 minutes from Savannah, Tybee Island, a tiny barrier island with wide stretches of sandy beaches, is a favorite of beachgoers. South Beach is the active, surfing beach. Less crowded North Beach is ideal for a swim, stroll or a lazy afternoon spent on one of the hanging wooden benches that dot this scenic stretch of Georgia seashore. Follow signs to Tybee Island Lighthouse, Georgia's oldest and tallest lighthouse. Built in 1763, it's one of seven surviving colonial-era light towers. Climb 178 steps to the top for amazing views. Visit the three light-keepers' cottages and the museum to see what life was like in the isolation of the lighthouse.
7) LITTLE TYBEE ISLAND
A kayak or boat trip to uninhabited Little Tybee Island is irresistible for nature lovers. The coastal marshes, tidal creeks, rigid dunes and hammocks of the pristine 6500-acre Natural Heritage Preserve, accessible only by boat, canoe or kayak, are serenely beautiful. The barrier island is a nesting place for bald eagles, white and brown pelicans, woodstorks, herons, egrets and ospreys. Several options for guided kayak and paddleboard tours are available from water tour operators on Tybee Island and North and South Beach.
8) DAUFUSKIE ISLAND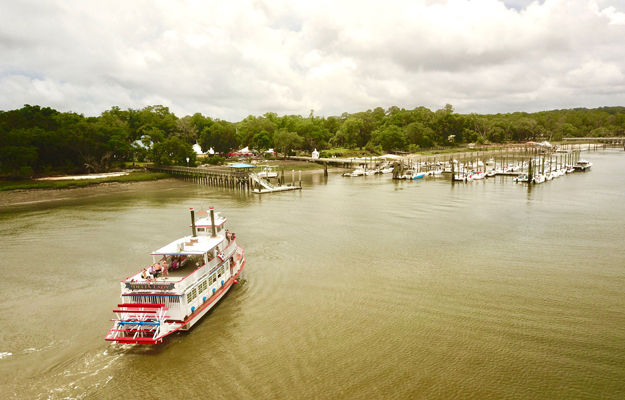 Board Daufuskie Difference Ferry from River Street for a totally unique trip back in time to one of the most intriguing and isolated of South Carolina's sea islands. Accessible only by boat, Daufuskie Island was first inhabited by Native Americans over 9000 years ago. During the colonial era, indigo, rice and sea island cotton plantations thrived. At the end of the Civil War, the free Gullah people, who had lived there as slaves, returned to the island to live and work in oyster canneries and the logging industry. Cut off from the world, their language prevailed.
Rent a golf cart to explore the island on a self-guided tour. Explore the island's history at quaint Daufuskie Island Historical Foundation Museum. Go back in time to Bloody Point Lighthouse Museum, unique in architectural style and history. Don't miss the small shop. Pick up a cool sculpture at Iron Fish Gallery. Go on a horseback ride along the beach. Have lunch at Old Daufuskie Crab Company or Lucy Bell's Café. Tour Daufuskie Rum Distillery which makes Vodka too.