Historic, colorful, artistic Nashville is filled with great scenic ops.  Catch the lovely skyline reflected on the Cumberland River at twilight from super-view vantage points. Capture architectural details of iconic historic buildings. Take in the splendid color of scenic landscapes. Urban cityscapes are scenic when they are in the form of colorful neon signs and, most unique of all, Nashville's newest creative signature – murals painted on public spaces.
1.  OUTDOOR SCENIC VIEWING VANTAGE POINTS
Two outdoor locations, both local faves, offer great panoramic views, day or night.  For great photos, take advantage of twilight's "blue light," the perfect light to see the silhouetted skyline just as sparkling city lights come on and the colors of sunset reflected on the water.  Or, catch it during the "golden hour," just after sunrise or just before sunset when daylight is hued in soft reds and golds.
Shelby Street Bridge. Skyline and river views are spectacular from this pedestrian-only bridge, formally known as John Seigenthaler Pedestrian Bridge.  A bonus: from the bridge you can see the skylines of both the east and west sides of the River.  Views are scenic, day or night.  The downtown skyline is fabulous.  On the East side, Ghost Ballet is really cool. At night, Shelby Street Bridge is a magical glowing in light.
Love Circle, a small park surrounded by trees and perched on one of the highest points of the city near Vanderbilt between Natchez Trace and West end, is a local favorite with commanding views of Nashville's skyline .
2.  CITY NIGHT LIGHT VIEWS
Soul of Music City Night Trolley Tour. Leave the kids, kick back, and cruise through Music City enjoying scenic nighttime views and classic Nashville tunes. On this tour, you'll not only be taken to popular points of interest, but talented guides will dazzle you with their musical talents and extensive historical knowledge of the city. During the tour, you'll stop at a world-famous honky tonk and enjoy a drink with new friends. It's a perfect choice for date night or a group outing and a definite must-do when in Nashville!
3.  ROOFTOP LOUNGE PANORAMIC VIEWS
Rooftop bars and lounges are the way to get a lot of Nashville in one place – spectacular scenery, favorite brews, tasty bites and great music.
Acme Feed & Seed on Lower Broadway has sweeping views of downtown, the Cumberland River, Nissan Stadium and Riverfront Park from its open air rooftop bar.
UP, a "country chic" rooftop lounge on top of the Fairfield Inn in the Gulch, is all about creative upscale libations and an eclectic menu of shareable plates. Both inside and outside seating have great downtown skyline views.
4.  VIEWS FROM THE CUMBERLAND RIVER
General Jackson Riverboat Cruise.   Some of the best scenic views of Nashville can be seen while cruising up and down the Cumberland River on a huge riverboat which accommodates over 1000 people. Both the Midday and Evening Cruises offer family-style lunch or dinner plus entertainment and plenty of viewing decks from which to see the spectacular riverfront sights.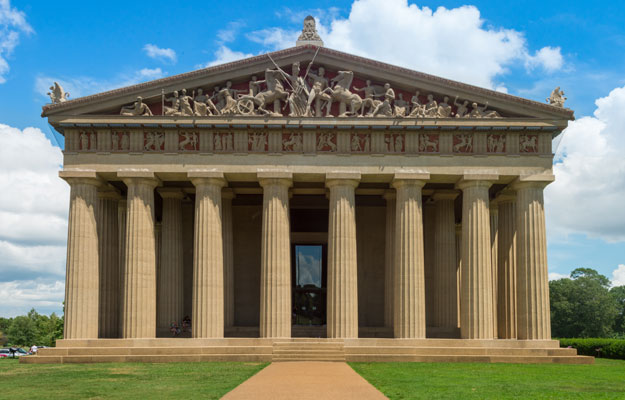 5.  PICTURESQUE HISTORIC BUILDINGS
Nashville's outstanding collection of historic buildings contributes greatly to the scenic beauty of its urban space. Most of these iconic buildings can be seen through the good viewing windows aboard an Old Town Trolley Tour.  Since scenic is not limited to the exterior, hop off the trolley at any of the sites along the route to see them inside, then hop back on the next trolley to continue on.
Ryman Auditorium. While the Victorian Gothic style exterior of Music City's signature building is wonderful, the interior is fabulous! True to its origin as a tabernacle, the interior of the "Mother Church of Country Music" really does look like a magnificent church, right down to stained glass windows and pew seating! To see the interior, take a self-guided Ryan Auditorium Tour.
The Parthenon. Standing in majestic silence in Centennial Park, this full-scale replica of the ancient Parthenon in Athens is impressive, inside and out. Built as a temporary pavilion for the 1897 Tennessee Centennial Exposition, it's startling in the randomness of just being in Nashville. Inside, 42' foot tall Athena, breathtaking in her gilded glory, calls out to be photographed.
Vanderbilt University. A walk through Vanderbilt's scenic campus feels like walking through a natural arboretum of irregular masses of hundreds of plant species and grand trees, the grandest of which the Bicentennial Oak predating the Revolutionary War. The plantings and open lawns form a wonderful backdrop for the uneven curves and textures of the romantic medieval-inspired buildings throughout the campus.
6.  SCENIC IN-TOWN NATURE ENCOUNTERS
Centennial Park. Sometimes dwarfed by the Parthenon dominating its grounds, Centennial Park is vast, shady, scenic space on the edges of downtown.  Views of the lovely lake from waterside paths and verdant grounds are lovely.  It's a great place to get out for a walk and to see the Parthenon too.
Radnor Lake State Park. Nature is glorious in this 1332-acre nature preserve, unique in an urban area about 20 minutes from the center of downtown. The lake is serenely beautiful any time, and spring and fall colors are gorgeous in the dappled sunlight.  There's an abundance of wildlife, increasing the chances of spotting otters, owls, beavers, mink, or deer along six miles of trail.
7.  SCENIC NEARBY NATURE ENCOUNTERS 
Cheekwood Botanical Gardens. Escape into the scenic beauty of this exquisite botanical garden. Expansive, beautifully landscaped grounds, installations, color-drenched gardens, reflecting pools and amazing views make it one of the most scenic locations in Nashville. Tour the mansion and lunch in the Pineapple Room where the view is phenomenal.
Natchez Trace Parkway. A scenic drive south of Nashville, especially when fall colors cover the landscape, is a great way to see the rolling countryside.  Overlooks along the way are places to capture the best views, and Double Arch Bridge spanning Birdsong Hollow offers expansive valley and hill views.
8.  THE HERMITAGE 
The home of Andrew Jackson, the 7th president of the U.S. is a wonderful place of history and serene scenic beauty.  It's easy to spend a day touring the mansion and walking through the grounds and out-buildings to get a sense of life as it was during the era of a young America.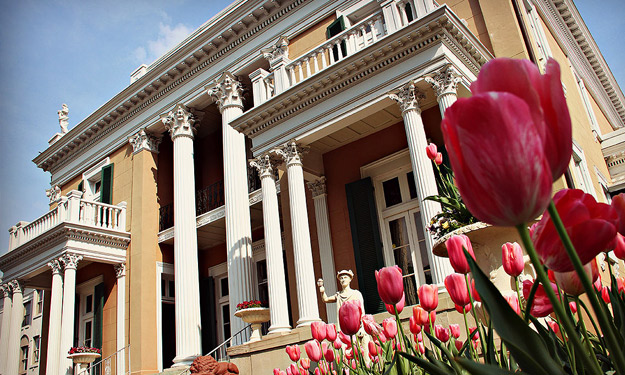 9.  BELMONT MANSION
A visit to the elegant 19th century, 36-room restored Italian Villa surrounded by lovely grounds is a picturesque experience, offering a glimpse of life of the wealthy in Nashville before, during and after the Civil War.    
10.  SIGNS ALONG LOWER BROADWAY
Scenic ops come in many forms, including creative urban sign art which lend a distinct vibe to Nashville's cityscape. To see it, look no further than the neon signs all the way down Lower Broadway. Lighting up the honky-tonks lining the street, each unique sign becomes part of a catchy nighttime color show.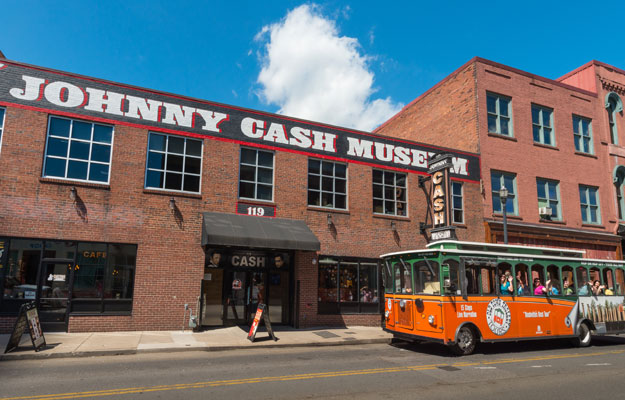 11. NASHVILLE MURALS
Massive colorful murals throughout the city, many created by street artists from around the world through Nashville Walls Street Art Project, give Nashville a hip urban vibe. They have become so popular as the best spots for Snapchat and Facebook shots that they have taken on cult status. Many are downtown and in the Gulch; others are in trendy Hillsboro Village and artsy East Nashville. Once you begin looking for them, they are everywhere, some in well-traveled places; others down obscure side streets, especially in East Nashville.  Find any of these better-known ones on a mural scavenger hunt!  You'll want to look for more.
What Lifts You. Become instantly "winged" for a photo shoot at a local favorite. (The Gulch)
Draper James Stripes. Broad blue and white stripes – that's it.  It's the most popular place for fashion shoots of every kind. (12 South Neighborhood)
Johnny Cash Wall Mural – As fascinatingly complex as the Man in Black himself. (Downtown near the Museum)
Road to the Skyline. A great skyline view on the side of Legend's Corner. (Downtown)
The Dog. A big, sweet face of a dog, that's all. Near Hermitage Hotel. (Downtown)
I Believe in Nashville. A landmark logo created by DCVX Industry now found on T-shirts and everywhere else.  (Original mural is in 12 South; another in East Nashville)
Little Octopus. Tentacles in black and white slither across this restaurant front. (The Gulch)
Dragon Mural. A 20-year old mosaic sea serpent in Dragon Park. (Hillsboro Village)
The Willie. Willie as in Nelson, of course, on Almond Street. (Downtown)
Hillsboro Mural. Colorful on Kay Bobs/Picture Perfect.  (Hillsboro Village).
Tomato Mural. Very East Nashville, a place if farm-to-table restaurants, vintage clothing shops, fresh markets, coffee shops frequented by artists and musicians.