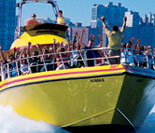 Embark upon a thrilling, 50-minute SeaDog Cruise for a one-of-a-kind tour of Baltimore's Inner Harbor. You will feel the spray and refreshing breeze as you view several historic landmarks in a high-speed motorboat on the Patapsco River. Passengers will enjoy amazing views of the Maryland Science Center, the USS Constellation, Ft. McHenry and the Francis Scott Key Bridge. Located at Baltimore's popular Inner Harbor, the science center is a glass façade building that features a planetarium and numerous interactive exhibits. The wooden-hulled Constellation is the last sail-only vessel designed by the U.S. Navy. She served in the African Squadron, which was established to disrupt the slave trade. The vessel and her crew emancipated more than 700 Africans.
The British assault on Ft. McHenry was the event that inspired Francis Scott Key to pen the National Anthem. You will also see the soaring bridge named in Mr. Key's honor. According to historians, the bridge is located near the point where the lawyer observed the flag while imprisoned on the HMS Tonnant. On the return trip, guests will view another museum ship moored in the harbor. The SS John W. Brown is one of only two remaining World War II Liberty ships.
The tour includes spectacular waterfront views of Federal Hill, Canton, Fells Point, Fort Carroll and the Robert Long House. Knowledgeable tour guides will share lesser-known facts and entertaining stories about these attractions and other popular destinations in Baltimore. You will gain a unique perspective on the city, its harbor and national landmarks. For an unforgettable Baltimore tour of the city's waterfront attractions, take a SeaDog Speedboat Cruise Baltimore. The exhilaration of travelling at 30 knots on the specially designed, open-air speedboat will be the highlight of your vacation. This seasonal cruise operates from April through October weather permitting.
Save $1 with Coupon Code: BASE1
Purchase Discount Tickets for SeaDog Baltimore Cruises