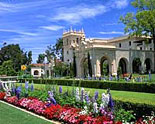 San Diego is one of the most beloved gems of the Pacific Coast. The beautiful weather, beaches and fantastic tourist attractions draw visitors from all corners of the globe. When visiting the area with your family, there are plenty of attractions that you can enjoy without breaking the bank! Here are the top free attractions of the San Diego region:
Embarcadero. Downtown San Diego is a vision by the sea. The balmy weather is perfectly offset by a lovely skyline and a breathtaking view of the harbor and military base at Coronado Island. It doesn't cost a cent for you to walk along the harbor sidewalk and enjoy the view of the S.S. Midway, the Star of India or the H.M.S. Surprise, which was used in the filming of Master and Commander. You can also watch the cruise liners come into harbor. Along the harbor walkways, vendors set up shop along the seaside and offer traditional souvenirs, jewelry and much more.
Point Loma. Point Loma and the Cabrillo Monument are both free tourist attractions that you and the entire family can enjoy. The lighthouse sits at the top of the point, a small white edifice with lots of history. Right to the side of the lighthouse there is a monument to Cabrillo himself, the man who initially discovered San Diego by way of Coronado Island. The drive down will treat you to a view of a beautiful, somber cemetery for American Soldiers.
Seaport Village. Right down the street from the Embarcadero is a shopping center that sits on the harbor. You can see the Coronado Bridge. There are lots of novelty diners like a Greek eatery and pizza-by-the-slice. There is a small street fair every Sunday during the summertime and a horse gives carriage rides all year long. It's a nice place to enjoy the beauty of the harbor without spending any money.
Balboa Park. Although this park is full of many expensive attractions like the San Diego Zoo and the Air and Space Museum, you can walk through the gorgeous gardens and buildings that once housed the World's Fair for no cost at all! The Lily Garden is especially fun to see, and little ones will enjoy the walk over the old bridge that towers over the equally old freeway.
Gas Lamp District. This area is located in the heart of downtown San Diego. It is a great place for families to visit during the daytime, because at night it becomes a bar scene. But during daylight hours the district is a great place to hang out. There are lots of fun places to eat, like The Broken Yolk, and you can walk by the baseball stadium.
The Hotel Del Coronado. This breathtaking structure is famous around the world and you can walk through the building, courtyard, shops and beach for free.
If you need anymore information on great deals tours or attractions in the San Diego area, check out https://www.trustedtours.com/store/san-diego.aspx
Comments Off on Six Free Things to Do, See and Visit in San Diego