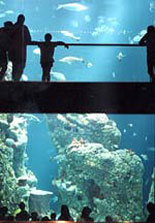 The South Carolina Aquarium in Charleston is the perfect place to spend an afternoon and immerse yourself in sea-life and nature.
Planning a visit? Purchase South Carolina Aquarium Tickets
Upon entering the aquarium, visitors find a dramatic wall of two story windows that offer beautiful views of the historic Charleston Harbor. Through the windows, guests often spot dolphins playing in their natural habitat. Also, centrally located in the Great Hall area of the aquarium, visitors enjoy viewing many colorful arrays of fish swimming around a 15,000 gallon tank.
The aquarium itself has easy to navigate exhibits set up according to the unique regions of South Carolina. Guests are exposed to the nature of the entire state from mountainous regions, to coastal plains, salt marshes, and the ocean. With such a wide range of exhibits, guests can expect to see many unexpected animals, such as eagles, possums, otters, penguins, and an albino alligator.  For a minimal addition to the aquarium admission fee, guests can tour the turtle hospital and/or visit the 4-D theater for some aquatic entertainment.
Many of the sectioned regions at the aquarium have interactive exhibits. Visitors, particularly young visitors, can enjoy the touch tank. This gives anyone willing to roll there sleeves up, an opportunity to get wet while experiencing some hands on sea creatures. The knowledgeable staff at the touch tank and throughout the aquarium are well-prepared, enjoy answering questions, and bring guests' overall experience to life.
Trusted Tours offers discount tickets to a variety of Charleston attractions.
Comments Off on Family Fun at The South Carolina Aquarium with Discount Tickets