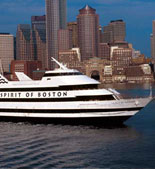 For a marvelous combination of Broadway-style entertainment, a lavish buffet and some of the best sightseeing in Boston, climb aboard a Spirit Cruise. After a rousing sendoff from the beautiful pier, the ship will take passengers on an unforgettable tour of Boston Harbor. Traveling as far the Mystic River Bridge to the north and Castle Island and Fort Independence to the south, the cruise enables passengers to observe many historic landmarks as well as the incredible city skyline. Points of interest along the trip include the iconic Zakim Memorial Bridge and the USS Constitution, which is the U.S. Navy's oldest commissioned warship. You will also see the spire of the Old North Church, the obelisk of the Bunker Hill Monument and the piers where the famous Yankee Clippers were built in the 19th century.
Planning a cruise on Spirit? No coupon code needed! Simply visit: Spirit Dinner Cruise of Boston
Spirit Cruises of Boston vessels have three enclosed, climate-controlled decks so that the tour can sail year round, rain or shine. There is also an open-air upper deck and an area on the main deck where you can experience the exhilarating ocean breeze as you cruise around the harbor and the magnificent Back Bay. The onboard executive chef and accomplished culinary staff prepare a wide variety of menu items, including appetizers and desserts. Accommodations can be made for guests with special dietary requirements, such as kosher or vegetarian meals. The entertainment includes live performances and DJs playing a unique mix of hits from various musical genres. In addition to lunch, dinner and moonlight cruises, Spirit Cruises of Boston sponsors special themed tours as well. Capable of seating more than 600 passengers, the vessel can also provide a memorable setting for special events, such as weddings, anniversaries, family reunions and business outings.