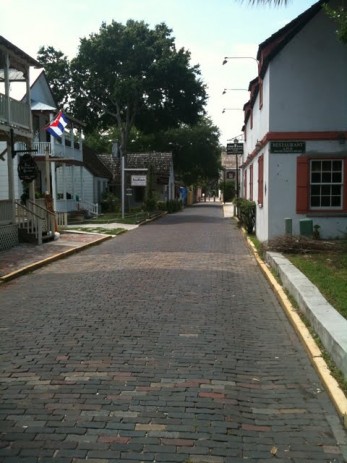 Only minutes away from the historic Old City lies all that is synonymous with Florida: miles of white sand beaches; small oceanside villages; newer waterfront developments; parks with tidal marshes and old Florida live oak hammocks; nature trails to explore, on foot or by boat; glorious sunsets; waterside restaurants serving fresh seafood; and swimming, shelling and golfing to enjoy.
To The South
Anastasia Island
Just across Mantazas Bay over the Bridge of Lions, Anastasia Island is a combination of residential neighborhoods, a protected bird sanctuary amid sand dunes and salt marshes, and beautiful beaches. You can climb the St. Augustine Lighthouse, visit the Alligator Farm Zoological Park and hike through the sea marsh habitat of the Anastasia State Park and Recreation Area. Miles of beautiful beaches beckon as does the laid-back beach town of St. Augustine Beach. Oceanside restaurants, an active night life, beach front lodging, golf, and fishing off St. Augustine Beach Fishing Pier are all nearby.
Crescent Beach
Further south on beach highway A1A, encounter the small 1960s era Crescent Beach community tucked in a serene natural setting. A delightful combination of cottages, large waterfront homes and condos are within walking distance of a scenic beach fringed by sea oat covered sand dunes.
To The North
Vilano Beach
Minutes north of St. Augustine, over the Usina Bridge and somewhat overshadowed by the notoriety of St. Augustine Beach, is Vilano Beach, known for its lovely beach and great surf fishing. Primarily a year-round residential community tucked between the Atlantic Ocean and the Tolomato River, it has several small 1950s motels, larger recently built hotels, and restaurants, all within walking distance of its beautiful beach.
North Beach and Ponte Vedra Beach
Continuing north on A1A, sample seafood restaurants in the serene seaside atmosphere of North Beach, or venture up the beach about 20 minutes north to upscale Ponte Vedra Beach where the focus is golf, but where tennis and horseback riding on the beach are popular too. The seaside town, thoughtfully planned as far back as the early 1920s, has an understated charm, despite the addition of million dollar homes, large, luxurious, amenity-rich resorts and spas, wonderful restaurants, scenic golf courses, and elegant boutiques. Best known for its prestigious golf courses, including Sawgrass Stadium, home of the famous Island Green, selected as one of the "World's Most Photographed Holes," it is home to the PGA Tour and to the Association of Tennis Professionals.
Comments Off on St. Augustine Beach Towns To Visit