Step off St. George Street into the Colonial Quarter two-acre compound for an immersion into three centuries of St. Augustine's history and more. Every corner is themed to replicate life as it was from the time of the first Spanish settlement through the subsequent English and Spanish occupations that shaped the character of the Ancient City.
Whether you choose to take a 1-hour guided Historical Adventure Tour, offered at 12 noon, 1:30pm and 3pm, or to walk through at your own pace on a self-guided tour, the authenticity of the grounds, costumed re-enactors, and demonstrations give insight into what is was like to live in the earliest days of Europeans in the New World.
Do it all at Colonial Quarter and save $1.74 total with Code SACOLONIAL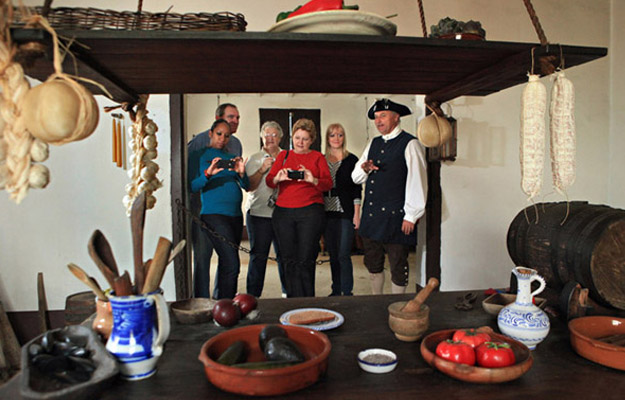 Life replicated includes blacksmithing demonstrations, where blacksmiths show how old metal was recycled into tools, cooking utensils, nails and strap hinges, and live musket demonstrations, where you can see how challenging it was to lock and load a 17th century musket in the face of impending danger. Climb 35 feet to the top of a wooden watchtower, the precursor of lighthouses, to see views over the marshes, of Castillo de San Marcos, and St. Augustine's bayfront.
The Colonial Quarter experience extends beyond historical tours and demonstrations. The complex is a great place to eat, shop and hang out when visiting St. Augustine. Three casual on-site restaurants, each with a unique atmosphere and menu featuring period culinary fare with a modern twist. Taberna Del Caballo, a Spanish-style tavern, serves tasty taps, sandwiches and traditional Sangria. Bull & Crown Publik House, a British-style pub, serves fish & chips and tasty burgers. St. Augustine Seafood Co. is a quick and easy place to get fresh St. Augustine seafood.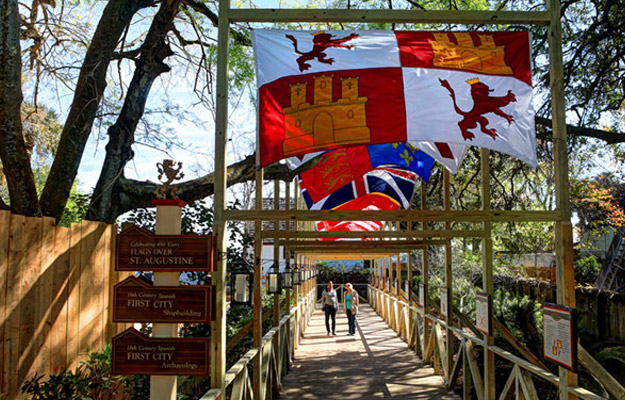 Find interesting souvenirs and great gifts in Colonial Outpost. This gift shop has everything from replica weaponry and explorers' instruments to shells, gems, toys, local crafts and a great selection books about the Ancient City. There's entertainment in the Colonial Quarter compound too. Sit in the shade of the 2nd oldest sweeping Live Oak tree in the Oak Amphitheater for live music concerts and open mic nights. Or, take a break from sightseeing for football nights on Sundays! Modern life, right in the middle of historical St. Augustine.
Do it all at Colonial Quarter and save $1.74 total with Code SACOLONIAL