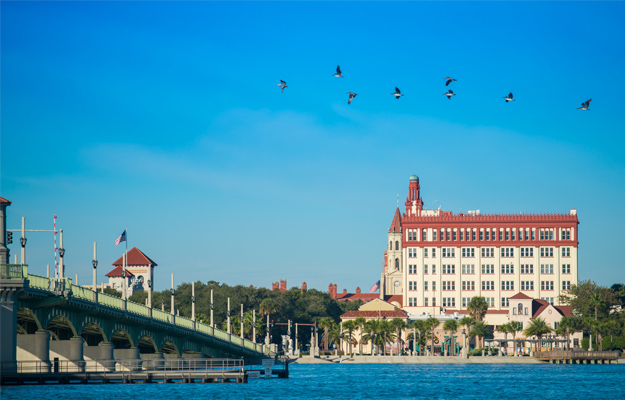 Dolphin, Birding and Nature Boat Cruise
As America's oldest city, quaint St. Augustine is best known for its treasure trove of wonderful historic sites. Equally special is the incredibly beautiful network of waterways, estuaries and saltwater marshes around it. When visiting the ancient city, plan to spend at least part of a day out on these inland waterways to enjoy the abundant birds, sea creatures, and plants of this unique ecosystem. A memorable experience for all ages, it's definitely a St. Augustine highlight.
There's always action going on around the salt marshes and estuaries behind the dune beaches of the Atlantic Ocean. The environment of salt water mixed with fresh, adaptive shoreline mangroves, sometimes appearing as low bushes, other times as leggy trees, and masses of Spartina grass carved out by the flow of small creeks and rivers, is filled with nature's surprises.
Watch Great blue herons and snowy egrets moving stealthily over shallow flats in search of fish, and elusive pink roseate spoonbills working their way in a swaying motion through the soft mucky sand in search of a tasty meal. Observe the fishing style of birds of prey, the osprey, and bald eagle, circling overhead and swooping down to the water to grab a fish in their talons. Enjoy the spectacle of pelicans catching their meal by diving into the water head-first. Spot tiny fiddler crabs scampering over tidal flats, jellyfish moving along by the tidal flow, or a hawk soaring over the marsh grass. The highlight: a pod of bottlenose dolphin arching gracefully to the surface as they feed on a school of small fish.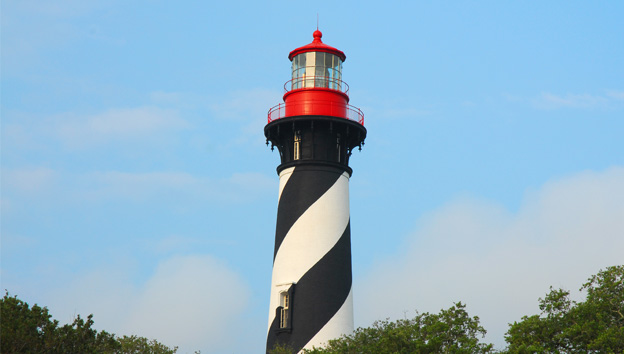 See all of this and more on St. Augustine Eco Tour's  90-minute Dolphin, Birding and Nature Boat Cruise. It's an awesome outing for all ages, from first-time boaters to seasoned sailors. Adults sit back, relax and enjoy the sights. Kids totally get into it. Departing from Municipal Pier, just steps away from St. Georges Street, each of the three tours offered daily – morning, afternoon and sunset – takes only 2 to 16 guests on any one of several comfortable, dry, stable boats. The captains, all expert guides who understand this special environment and know a lot of local history too, are personable and engaging. Through them, the secrets of the tidal marsh are revealed.
The moment you meet your captain dockside, you feel at home. Hop aboard and settle in for a laid-back and informative experience. Head out under the Bridge of Lions with the soft ocean breeze in your face. See ancient city landmarks from another perspective – the massive ancient fort, the lighthouse, and the Great Cross rising from the marshes.
Creating barely a ripple meandering quietly through 12 miles of rivers and creeks, your captain takes you to all the right spots for incredible sightings and great photo ops.  It's comfortable, like hanging out on the water with someone you know who just happens to know a lot about the surroundings.  You converse and ask questions.  Everyone gets into it.  It's interesting and participatory. Catering to the interests of everyone on-board, the captain idles through the shallows along a flat to watch birds fishing and fiddler crabs scrambling.  He uses a net to scoop up a small crab or octopus for all to see up close. Then, what everyone hopes for happens! A pod of bottlenose dolphin rolls through the flat-calm surface. It's your lucky day – in the pod, there's a pup tucked up close and moving in sync with its mother!
Purchase St. Augustine Dolphin Tour Tickets   Coupon Code: SADOLPHIN (Save $5)