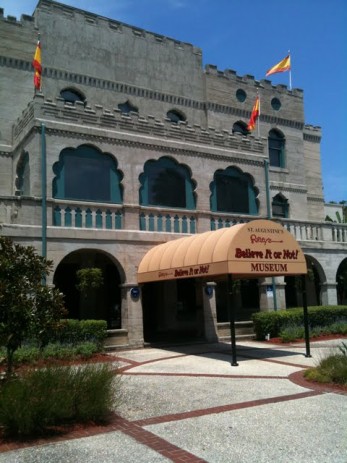 Shortly after Robert Ripley's death in 1949, Castle Warden was purchased to house the first of Ripley's famous Odditoriums. It opened the following year and showcased Ripley's vast collection of strange and astonishing artifacts collected throughout his travels. Among other relics, the museum features a model of the original Ferris Wheel constructed entirely from Erector sets, a mummified cat, various objects used by shamans of cultures throughout the world, as well as celebrity life and death masks (including the likes of Abraham Lincoln). Perhaps the Odditorium's chief crowd pleaser is Douglas Schnittker, the venue's own one armed magician. The original museum garnered such success, Ripley's associates were spurred to open Odditoruims throughout the United States, and later the world. Still, Ripley's personal collection remains housed at Castle Warden. Additionally, the opening credits as well as segments for recent episodes of the Ripley's television series were filmed here.
Primarily known as "The Castle," Castle Warden had originally been constructed in 1887 by namesake William Warden, a millionaire in search of a winter home. The Moorish Revival style mansion later enjoyed success as a hotel, accommodating a slew of famous guests including renowned author Marjorie Kinnan Rawlings, as well as Robert Ripley himself.
Telephone: 904-824-1606
Web: https://staugustine.ripleys.com/
Address: 19 San Marco Avenue, St. Augustine, FL 32084
Directions from Current Location
Comments Off on Ripley's Believe It Or Not!