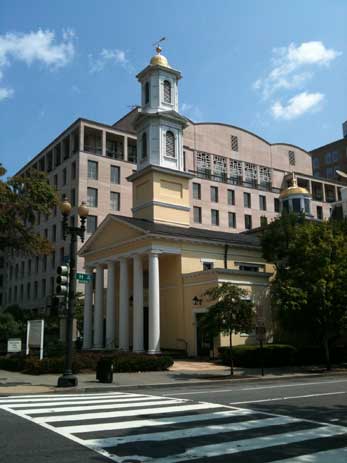 The simple, elegant Federal-style yellow church across from Lafayette Park at the corner of H and 16th Streets has been on this site since 1816.  It's the Church of Presidents, where every president since James Madison has attended on a regular basis or for an occasional service.
Inside is the Pew of Presidents. When Madison attended, he sat in a reserved pew, #28.  During interior enlargements in 1822, it became pew #54, set aside to this day for a presidential visit.
As one of the earliest structures in the federal city, St. John's Church stood alone with its White House neighbor in a barren landscape. The original Federal-style design by Benjamin Latrobe was in the form of a Greek cross topped by a central lantern cupola, a somewhat boxy appearance.
Typical of Latrobe's work, it was graceful inside.  Massive pillars were placed at the intersection of the transepts; a circular gallery supported by columns surrounded the interior; aisles of brick provided a unique Federal-era touch.
Between 1820 and 1822, the nave (where the congregation sits) was extended westward towards 16th Street, creating an elongated Latin cross. The columned entrance portico topped by the tall timber-frame steeple fronting H Street today was also added. The church bell, cast by Paul Revere's son, Joseph, has been in continuous service since it was installed in 1822.
When the chancel was extended eastward in 1880, the clear glass windows of the original church were replaced by stained-glass, in vogue during this Victorian era. Today, over 20 stained glass windows depicting the life of Christ and Biblical scenes bathe the sanctuary in a warm glow.
Despite these renovations and additions, many elements of the building's Federal architecture have been maintained. For a glimpse of a piece of the original church, look behind the steeple to the center of the roof – there's the shorter, original lantern cupola.
The location of the Church of President's is historically interesting and the subject of intrigue.  It was placed on 16th street, aligned on the 2nd Washington Prime Meridian.  This Prime Meridian runs straight through the White House, through the center of the Ellipse, and to the Jefferson Pier, the intended site of the Washington Monument. (See #7 Zero Milestone)
Established in 1804 by Thomas Jefferson, the White House-centered Prime Meridian is just one of the many intrigues surrounding the establishment of the early federal city. Was the placement of the Church of Presidents along the White House Prime Meridian a coincidence or purposeful?
Comments Off on St. John's Church