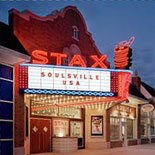 Jim Stewart established Satellite Records in 1957 and asked his sister Estelle Axton to help him expand the record label a year later. They purchased the Capital Theater in Memphis and turned it into a recording studio. The stage was converted into a control room, and the angled floor created a unique acoustical sound. When they discovered that another company was using the name Satellite Records, the siblings renamed their company Stax Records, which was a combination of the first letters of their surnames.
Coupon Code: No Coupon Code Needed
Purchase Tickets Here:  Stax Museum Tickets
Stax Records went on to launch the careers of many legendary performers, including Otis Reading, Isaac Hayes and the studio house band, Booker T and the MGs. The studio served as the venue where other well-known artists recorded their hit singles, including Wilson Pickett's "In the Midnight Hour." In competition with Motown and its "Hitsville, USA" studio, Stax Records placed the moniker "Soulsville, USA" on the theater's marquee to highlight its unique R&B sound. The label produced more than 160 songs that made it onto the Top 100 chart.
When the record label went bankrupt in 1976, a Pentecostal church purchased the former studio and ran a soup kitchen in the building. By 1989, the structure required expensive renovations so the church decided to raze the building. In 1998, a group of concerned citizens formed a non-profit organization that rebuilt the theater in 2001. The new structure re-creates the Art Deco building as it appeared during the label's heyday. Located on McLemore Avenue, the 17,000-square-foot Stax Museum chronicles the history of the record label and soul music nationwide. The museum also sponsors a musical academy for at-risk children who live in the local area.
The museum traces the history of "Soulsville, USA" with interesting exhibits, such as the replica of the control room and other attractions that include the Express Yourself Dance Floor and the Hall of Records, which highlights a wide assortment of cover art. A behind-the-scenes collection of artifacts includes 2,000 films, photographs and original instruments. Visitors can see Albert King's purple Flying V guitar, a variety of costumes and a 1972 peacock-blue El Dorado with gold trim and fur seats that was owned by Isaac Hayes. A century-old church from the Mississippi Delta illustrates the gospel origin of soul music. The new edifice hosts annual events, such as Elvis Week. Located at 926 E. McLemore Avenue, the Stax Museum is open to the public.