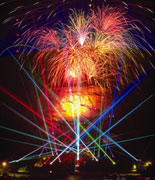 Stone Mountain Park, situated in the Atlanta, Georgia region, is a 3,000-acre recreational area that is a favored vacation spot. It highlights both natural setting and a variety of events for the entire family. Activities are plentiful at Stone Mountain. Visitors can walk on the walk up trail that is 1.3 miles to the top of Stone Mountain. At the top, view scenes of the Atlanta area. Ride the Sky Ride to the peak of Stone Mountain to view the carving of Confederate soldiers on Stone Mountain. Board the train for a scenic ride around the base of the mountain. the Plantation with buildings constructed from 1790 and 1845 to see Mississippi River boat The train is one-way loop with two stops-the depot and a stop near the walk up trail. Sail aboard the Mississippi Riverboat on the Stone Mountain Lake. Tour the Antebellum plantation that has buildings built between 1790 and 1845, providing a display of a pre-Civil War farm. Visit the Confederate Hall, a museum that displays the geologic structure of Stone Mountain Park as well as Civil War history in Georgia. Finish the day with the laser light show.
Stone Mountain also plans seasonal events such as The Yellow Daisy Festival, the Stone Mountain Christmas, and the Indian Festival and Pow Wow.
Visitors can plan accommodations at the Marriott Stone Mountain Inn or Evergreen Marriott Resort or reserve a spot for a tent or RV at a Georgia Campground.
The Stone Mountain Park encircles the mountain and takes in a number of attractions. The Park endorses a One-Day adventure pass that allows visitors to partake in all the attractions for $28.50. This includes Adults and those aged 12 and above. Children pay $23.70. This tries to eliminate the purchase and usage of tickets to each attraction. It is possible to buy tickets for each attraction.
Stone Mountain is accessible by car and the parking fee is $10 for each car for one day parking. There also is a yearly parking permit for $35. Those who walk into the park do not pay a fee. Transportation is available by the MARTA rail system as far as Avondale and then by taking the MARTA bus route 120 with a walk following that.
Stone Mountain is open the entire year. The hours change each season.
Save an additional 5% with coupon code ATSM5
Purchase Tickets Online For Stone Mountain
Comments Off on Stone Mountain Coupons and Review