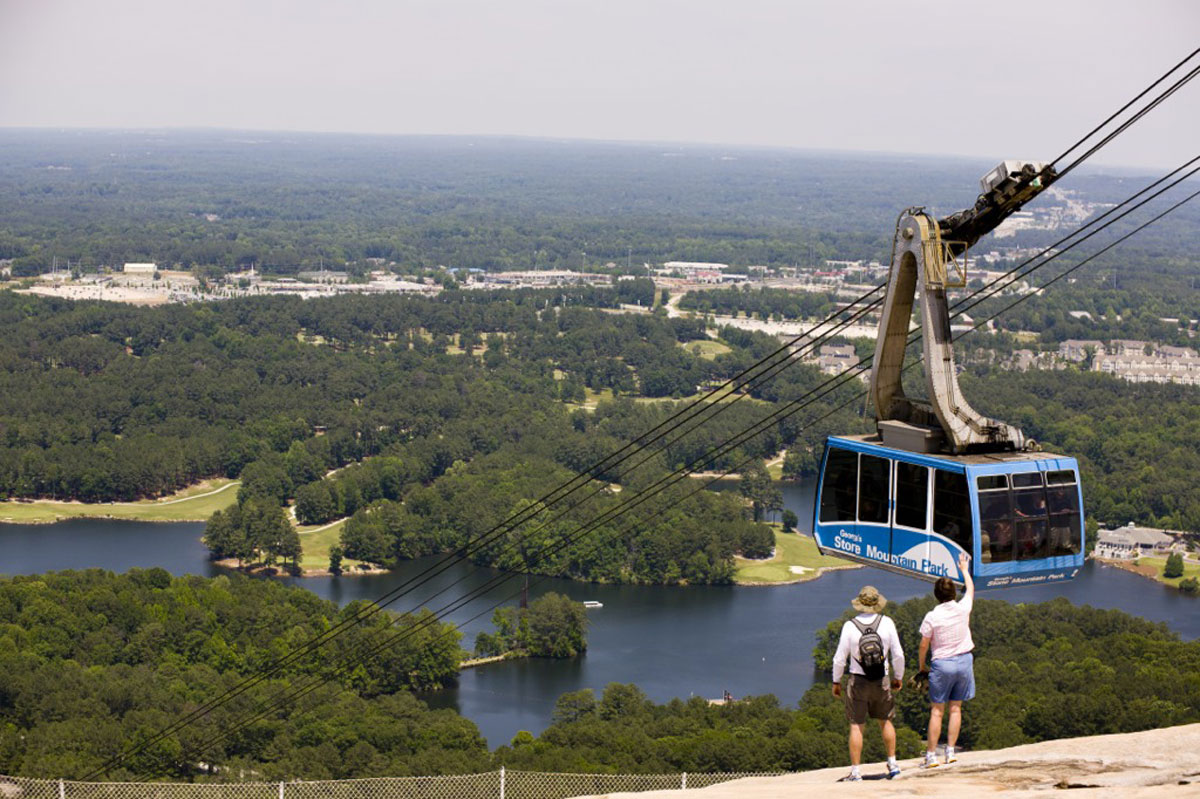 The sight of the singular mammoth boulder rising 825 feet above the ground, just 10 miles northeast of downtown Atlanta, is mind-blowing.  The geological phenomenon was formed over 300 million years ago when an up-swelling of molten magma from within the earth's crust solidified as it cooled.  Since its designation as a State Park in 1958, the combination of natural beauty, historical significance and family attractions, has made Stone Mountain a favorite Atlanta getaway.
The scenic 3,200 acre State Park has something for everyone – hiking trails, fishing and boating on Stone Mountain Lake, large camping grounds for tents and RVs, and a popular theme park.
Before you go, there are a few things you need to know.
The park is open year-round, weather permitting, for hiking, camping in over 400 sites for RVs and tents, and fishing and boating in Stone Mountain Lake.
Park gates are open from 5am to midnight daily.
Theme park attractions are open seasonally (mid-March – the end of October) from 10am until 5pm.
During winter months (November – mid-March), with the exception of SkyRide and Discovering Stone Mountain Museum, attractions are closed.
November – February 25th, Stone Mountain theme park becomes "Snow Mountain," a  winter wonderland filled with holiday activities  and events.
Check the park Attraction Calendar before you go for weather-related closings.
Entrance to the park year-round is a $15 per car parking fee which gives you access to camping, fishing, boating, hiking along nature trails, the children's playground, and seasonally, to the LaserShow Spectacular.
There are additional fees for the attractions.
Adventure Pass gives you easy access to all the attractions open March – October. See the list of favorites below. Check out the savings offered by Trusted Tours & Attractions.
Except for major holidays, some, but not all, attractions are available for individual purchase.
Snow Christmas Pass is your wintertime entry into a magical place for family fun of snow, related activities, magical holiday lights and events from November 11 to January 3. Imagine a place where Rudolph comes to life in 4-D and live performances get you in the Holiday spirit. Everyone loves the sing-along Christmas Train and shopping for holiday gifts in Crossroads.  Kids eagerly wait for Santa to pass in the Christmas parade and love the thrill of tubing down Avalanche Alley in real snow and playing in Snow Zone. Purchase it and save at Trusted Tours & Attractions.
Snow Mountain All Access Pass.  Snow fun doesn't end on January 3.  With the Snow Pass, it continues until February 25th.
Seasonal themed festivals take place in the park.  Check the calendar to see if one is going on during your visit.
FREE FAVORITES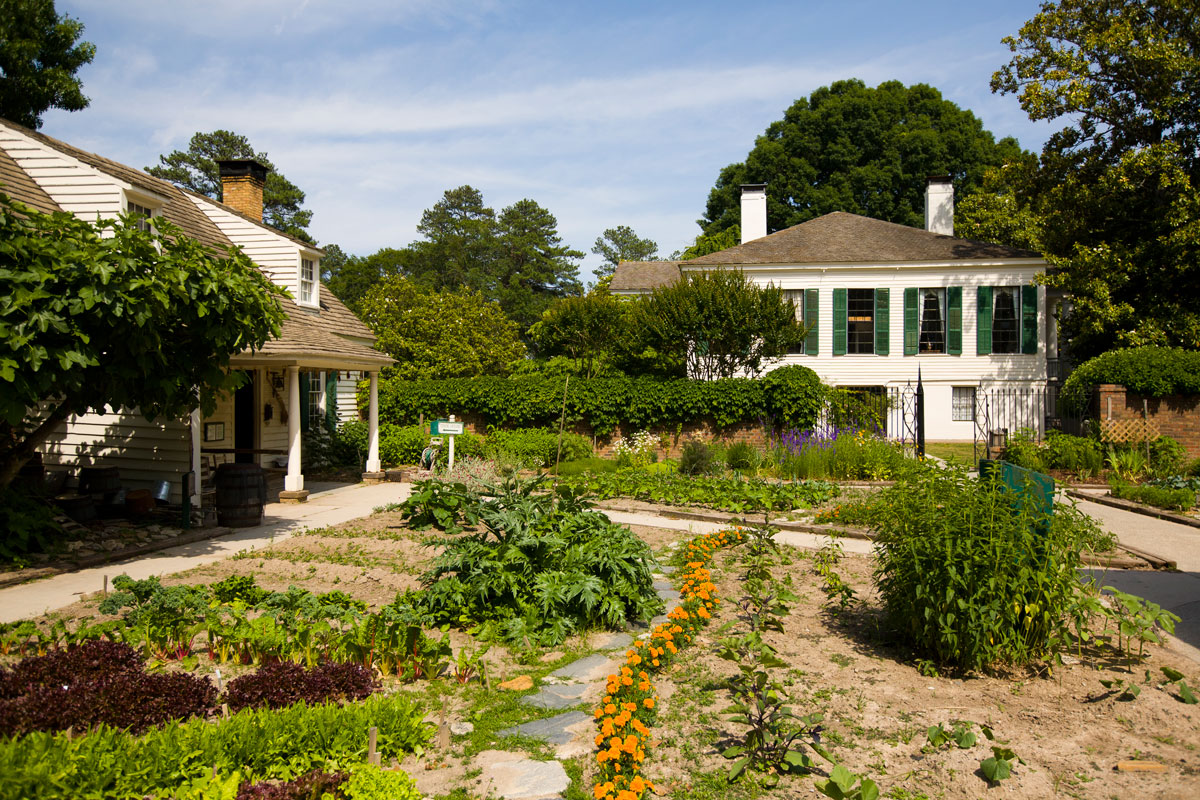 Walk the Top.   A must-do for visitors who are comfortable walking 1.3 miles up a gradual incline with a steep slope (with a handrail) at the end. From the summit, views are spectacular.  It's an easy ½ hour walk, do-able for the entire family.  Wear solid walking shoes as it can get slippery and stay on the trail marked with the yellow line.  Other nice hiking trails include the ¾ mile Nature Garden Trail through the hickory and oak forests, and the 2-loop, 2-mile Songbird Habitat Trails.
Covered Bridge and Grist Mill.  Both picturesque 19th century historic structures, which were moved to the park in the 1960s, are great photo ops. Located near one another in Stone Mountain Natural District, an undeveloped part of the park located on Stone Mountain Lake, there is parking nearby.
The Crossroads.  Browse through quaint shops and see craft demonstrations, candle making and glass-blowing of a simpler time in the re-creation of a small Georgia town.  Use the ticket in your Adventure Pass to challenge the family for a round of mini-golf!
Lasershow Spectacular. End your day at Stone Mountain with the state-of-the-art sound and light extravaganza projected five times larger than an IMAX screen against the backdrop of the giant outcropping and the Confederate Memorial Carving.  Light, music, lasers and epic fireworks create awesome effects.  Throw out a blanket on Memorial Lawn and enjoy the spectacle for free.  Or purchase Reserved Seating on several terraces.  Extra goodies come with the VIP Reserved Seating. Go all out! The Lasershow Dinner Package includes VIP treatment plus a buffet dinner. The Lasershow runs on Saturdays from April – May, daily from Memorial Weekend through early August, and on Saturdays August through October. Shows times:  Spring – between 8:30 and 9:00;  Summer – between 9:00 and 9:30; Fall – between 8 and 8:30.  Confirm dates and times on the park calendar.
FAVORITES FOR A FEE   
Summit SkyRide.  Riding the cable car on up the face of Stone Mountain is spectacular.  Open daily, weather permitting, from 10am to 5pm year-round, the views are amazing.  The close-up view of the massive, 90' x 100' Confederate Memorial Carving, the largest bas relief sculpture in the world and carved into the mountain's face, is awesome. Note that if you Walk the Top and take the SkyRide down, or vice-versa, you will have to walk about a mile to the parking area.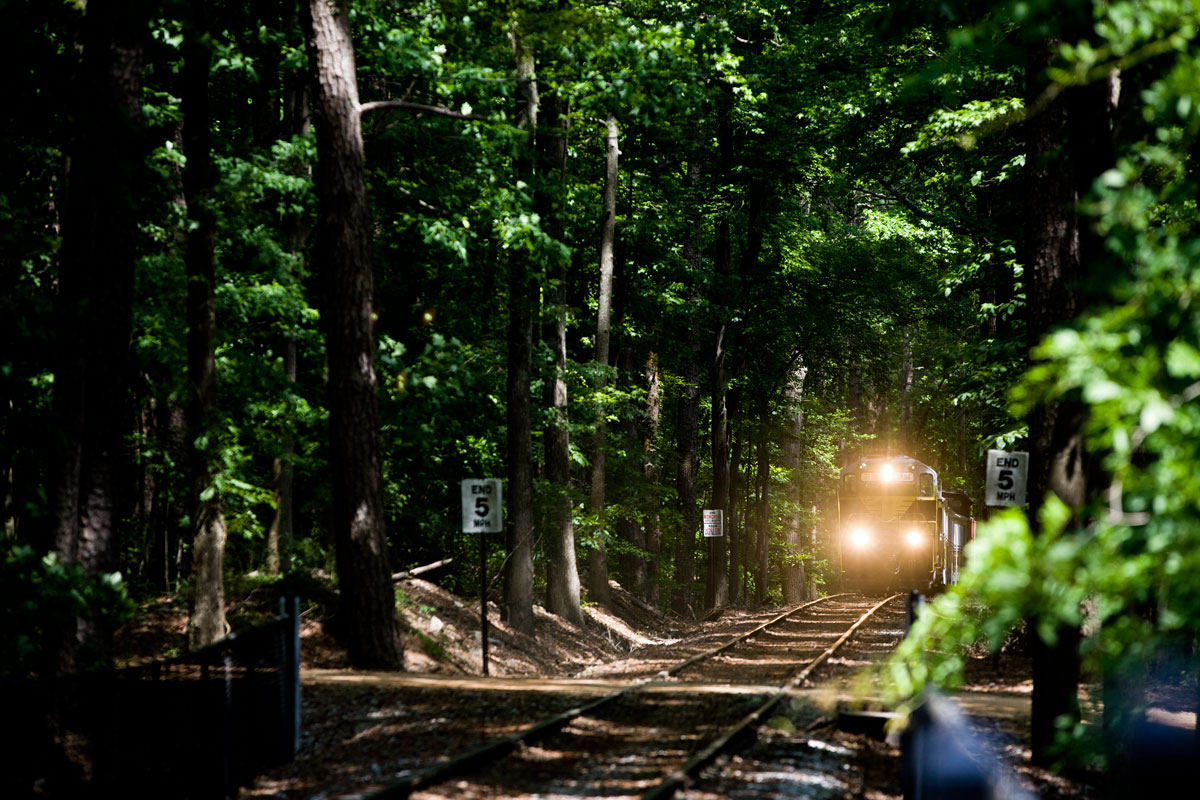 Scenic Railroad.  The seasonal 5-mile scenic train ride around the mountain base is a favorite of all ages.  The 1940s era locomotive pulling open-air cars and on-board narration make the 25 -30 minute ride interesting and fun.
SkyHike.   Navigating through a maze of suspended rope bridges and towering platforms way above tree level overlooking gushing geysers is a great family activity.
Camp Highland Outpost.  Not quite as high in the sky, this outdoor challenge of rock walls to climb, low rope courses to navigate and multiple line bridges to cross is fun for the whole family.
Historic Square.  Experience the diversity of 18th and 19th century life in Georgia on a guided tour of several original restored Georgia buildings built between 1793 and 1875. See period furniture, a working cookhouse and traditional gardens.  Kids love petting the animals and learning about farm animal behavior in the Farmyard.
Dinotorium. Kids really get into being totally immersed into the pre-historic world throughout four levels of dinosaur-related fun and games.
Discovering Stone Mountain Museum.  Learn how the history of the "Rock" as sacred ground, landmark, refuge, and meeting place has meant different things to different people throughout its history. Watch a feature film about the Confederate Memorial Carving.  Get a sense for the carving's enormous size while standing by full-scale replicas of some elements. Open year-round.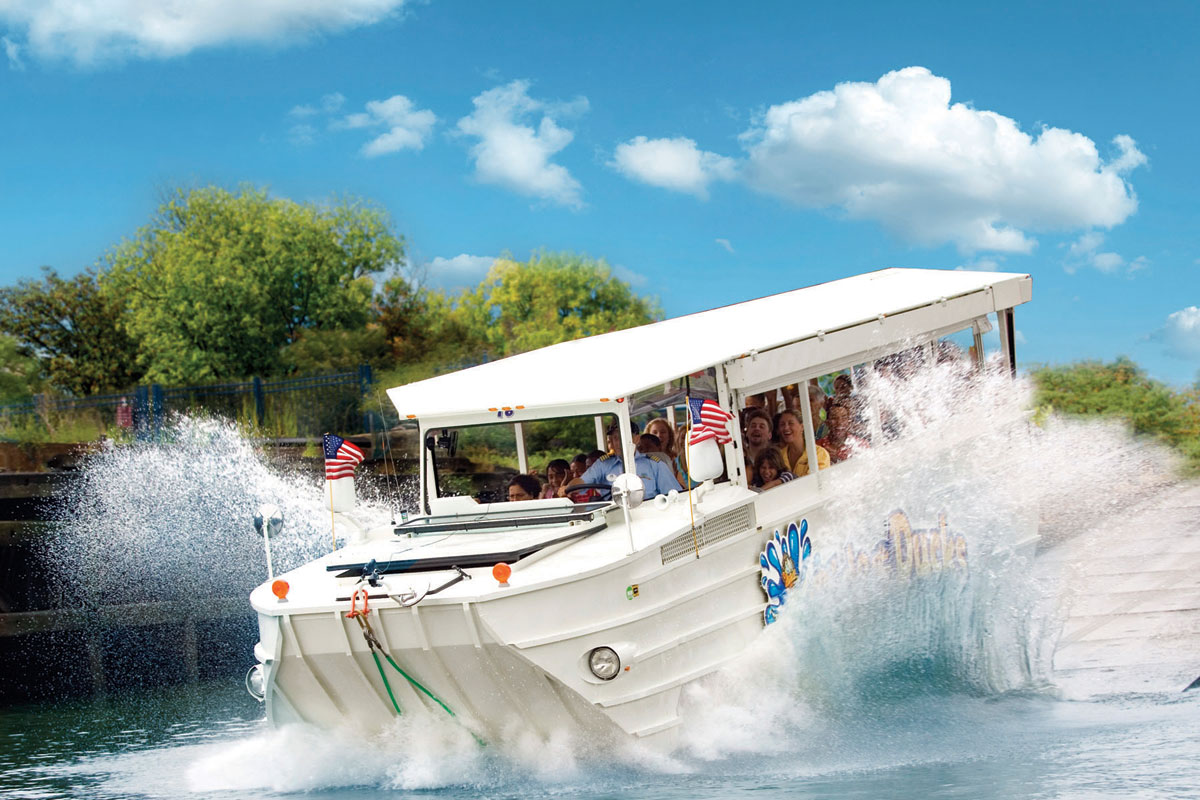 Duck Tours. Rumble over land in an amphibious vehicle and splash down into Stone Mountain Lake for 45 minutes of fun, quacking as you go.  This fun family favorite is not included in the Adventure Package. Purchase tickets separately through Trusted Tours & Attractions or buy them on site at the Duck Hut.
ADDITIONAL TIPS
Food is part of the Stone Mountain experience.  Many choices are regional favorites. From simple favorites to full-scale restaurants, from food stations to campfire fare, there's something for everyone.  Indulge in crispy fried chicken, ribs, pizza, vegan choices, s'mores and peach cobbler.  Grab to-go fresh snacks and complete meals in the open-air Marketplace. Or bring your own and enjoy a picnic lunch at shady tables scattered throughout the scenic park.
Enjoy a Stone Mountain vacation by staying more than one day.  Onsite, stay at Marriott Stone Mountain Inn or Evergreen Marriott Resort which has two championship golf courses.  Nearby are several chain hotels.  For a super close-to-nature family experience, rent a Safari tent, Yurt, or RV and stay in Stone Mountain Park Campground.
Comments Off on Complete Guide To Visiting Stone Mountain