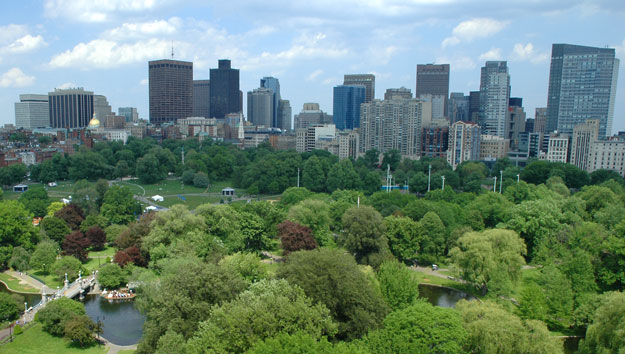 After a long winter of hibernation, summertime in Boston calls for the city to open up to the outdoors. Winter layers are shed, on come shorts, tank tops and flip flops, and Bostonians embrace summer outdoors with no let up all summer long.
Cafes and restaurants open up their sidewalk seating; farmers markets abound; rooftop gardens flourish. In Boston neighborhoods, residents come out of their winter cocoons and walk, bike or skate everywhere; lively feasts and festivals fill the streets; garden tours happen; the scent of BBQ fills the air. Cultural attractions come alive with summer events; the sound of outdoor concerts fills the air; nightlife takes on a lighter vibe. Ferries, sailboats, yachts crisscross busily around Boston Harbor; sailors, skullers and amphibious Ducks share the Charles River.  Red Sox games sell; bikers pedal by in neon blurs; beaches fill; Frisbees fly.  The vibrant arts community comes alive with weekend art shows; Shakespeare is back on Boston Common.
Celebrate America's Independence:
Boston's Premier Summer Event: 4th of July Celebration
The rousing, patriotic Boston Pops Concert + Fireworks Extravaganza is an annual tradition.  Head over to the Esplanade along the Charles River or over to Cambridge along the Charles early (yes, that means morning!), bring a blanket and a picnic (there are food and drink concessions too).  Stake out your spot, hang out, walk along the river, make friends, listen to recorded music, and wait for the rousing, patriotic music to begin at 8:30 and the fireworks at 10:30pm.
Harborfest
For six days bracketing the 4th of July (from July 2 through July 6)  the largest Independence Day celebration in the U.S. takes place.From day into night, on land and sea, in historic sites, restaurants, parks, businesses, cruising vessels, neighborhoods, Boston's colonial, Revolutionary War and maritime heritage is celebrated with historical reenactments, concerts, walking tours, performances. entertainment, Harbor Cruises, Chowdafest and much, much more.
Boston By Land:
Discover Historic Treasures
Walk the red line through downtown Boston.  Do it on your own, map in hand, or enhance the experience on Freedom Trail Foundation's Walk Through History tour.  Accompanied by a Freedom Trail Player in character and dressed in 18th century attire, it's interesting and fun.  Through their stories, 16 historic colonial sites along the way come alive with meaning.  Over 21?  Raise your glass to patriots all in a few of Boston's famous pubs on Freedom Trial Foundation's Historic Pub Crawl of Boston.  Or, get some fresh air, exercise, and a close up view of Boston's interesting neighborhoods on a Boston City View Bike Tour.  For a nice change of pace, pop into historic Kings Chapel for a noon concert, and no visit to Boston is complete without a walk through the Boston Common, the oldest public park in America, and through lovely Public Gardens.  Walk along the North End's quaint streets, enjoy lunch in one of the many traditional Italian restaurants,visit the Paul Revere House for Saturday demonstrations of colonial crafts in the outdoor courtyard.  Step inside Old North Church and stop at Captain's Jackson's Historic Chocolate Shipe and the Print Office of Edes & Gill on Old North's shady campus.  Go over to Charlestown Navy Yard to see venerable USS Constitution in dry dock for lengthy repairs. U.S. Naval sailors serving on this historic ship are there to tell her story.  You may even get to climb aboard.  While there, visit the USS Constitution Museum for a hands on glimpse into fledgling America's journey towards become a Naval force.  Or, walk along the downtown waterfront and over Congress St. Bridge to board a replica 18th century sailing vessel and "Dump the tea into the sea " while on tour of the Boston Tea Party Ships & Museum.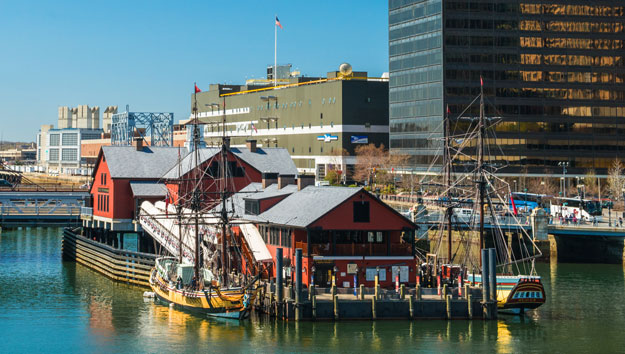 Go to a Red Sox Game
Bostonians love their Red Sox, and most games are sell-outs.  But, if you want to take a chance and are willing to go early on game day and stand in line, you may be able to score one of the game day tickets available.  Can't get into a game? Get inside the fence of the legendary stadium, the oldest park in Major League baseball to see it up close on the 1 hour Public Tour, departing on the hour 9-5 year-round.  Or, hit the highlights in 15 minutes on the guided Fenway in Fifteen tour only offered on game days from noon to 3pm.
Summer's in Full Bloom at Arnold Arboretum
Throughout summer, there is a sensational bursts of color and fragrance everywhere on the slightly rolling, trail-laced, grounds of this magnificent arboretum.  It's a glorious way to experience summer!
Boston By Sea:
Go Whale Watching
Nothing beats the thrill of seeing a whale rising from the deep blowing a large spray, slapping the water with its tail fluke or gracefully rolling into a dive with fluke submerging last with barely a ripple.  It's breathtaking. The New England Aquarium Whale Watching Tour is an awesome 3 hour experience which partners the NEAQ and Boston Harbor Cruises.  It's whale watching at its best.
Enjoy a Boston Harbor Cruise
There are many options to choose from.  It's a nice way to get out on the water, enjoy Boston's lovely skyline, distinctly clear during the day, silhouetted by the setting golden sun, or dressed up in lights for the evening, all while enjoying a leisurely cruise around Boston Harbor on large, well-appointed cruising vessels.  Climate controlled interior seating and dining areas with large viewing windows and large open decks offer relaxed, comfortable choices to take in the sights. Spirit of Boston Cruises and Odyssey Cruises both offer lunch, sunset and dinner cruises in style complete with grand buffets and bars, music and dancing.  A narrated Boston Harbor Cruise, daytime or sunset, is a great way to see the landmarks along the skyline of the inner and outer harbor and hear all the tales and legends.  Or, feel the breeze and enjoy the quiet of a day, sunset, or city lights sail aboard the Schooner Adirondack.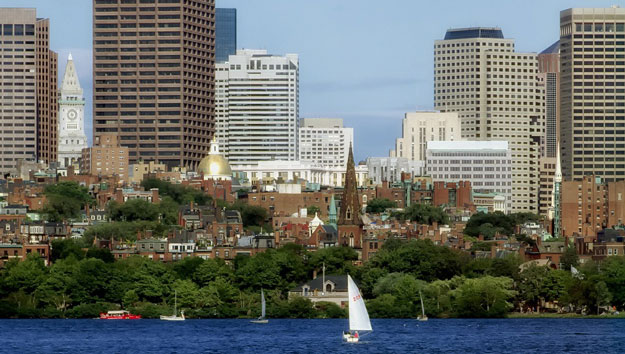 Boston By Land & Sea:
Experience a Duck Tour
Quack your way through city streets on colorful WWII era amphibious vehicles to see the sights by land, then splash down into the Charles River enjoying Boston and Cambridge skylines by sea!
Enjoy Nature on Boston Harbor Islands
Take Boston Island Ferry Service out to 3 of the Boston Harbor Islands, a cluster of 34 small islands, so close they are visible from the shoreline.  Georges and Spectacle Islands are the most popular and have amenities and cafes.  Walk through Fort Warren, a Civil War era fort with a museum on Georges Island. The fort's parade ground is a scenic place to walk, and views from the ramparts and tower are great!  Lunch or snack in the full service café.  For nature lovers, Spectacle Island is the place. Walk the trails and up one of the tallest hills in the islands, where the panoramic view is spectacular. Spectacle has sandy beach areas too for wading or swimming.
Spend the Day on Cape Cod
Experience Bostonian's summer retreat.  Head over to Provincetown on Boston Harbor Cruises Provincetown Ferry, a quick, comfortable 90 minute ride. The ferry docks right in the center of quaint P-town, long known as an artist colony, where charming, colorful streets are meant for walking.  Step into small, eclectic shops, galleries and great restaurants.
Local Events During the Summer:
Free Friday Flicks
Another favorite Boston experience. Bring your blanket to the Esplanade for family-friendly Free Friday Flicks. Or, enjoy the merriment at Tavern Nights at the Boston Tea Party Ships & Museum. It's family friendly and it's a blast! On the second and fourth Friday evening of each month, beginning on June 26, dine on colonial fare, try your hand at colonial games, enjoy a lively theatrical presentation and learn to dance to live colonial music.
MFA First Friday
On the first Friday of every month the Museum of Fine Arts opens its doors from 6 – 9:30 pm for fine art, music, cash bars featuring signature cocktails and delicious tapas available for purchase. Open to visitors 21+. ID required. The MFA is a spectacular place. If you can't get there for First Friday, a daytime visit any time of year to experience the world-class collection is a must.
Shakespeare on the Common
A favorite summertime pastime, this year's play, King Lear, runs from July 22-August 9 on Tues-Sat at 8pm & at 7pm on Sundays. Bring a blanket or low folding chair, relax in the Boston Common lawn and enjoy the outdoor performance on the lovely grounds as the "people's park" in 1634.
Boston Harbor Hotel Movie Series
On the downtown waterfront at Rowe's Wharf, the hotel's annual Sunset in the City Entertainment Series is a summer tradition. There's free music overlooking the waterfront from 6-10pm Monday, Tuesday, Wednesday and Thursdays and music + movie on Fridays, between mid-June and August 30. Music starts at 4:30pm; movies at sunset.
Check out the Summer Festival Calendar
Outdoor festivals happen everywhere all summer long!  Favorites happen in North End, Boston's Little Italy, where Italian feasts and festivals take place throughout the summer, as they have for over 100 years!  Steeped in tradition, the festivals, most of them taking place in August, usually kick off on Fridays and continue on Saturday and Sunday.  These high energy, colorful heritage celebrations take place along narrow, old streets of Boston's oldest residential neighborhood to honor various saints with food, music, parades, and religious ceremonies.  An annual tradition since 1910, Fisherman's Feast really brings out the crowd from August 13-16.