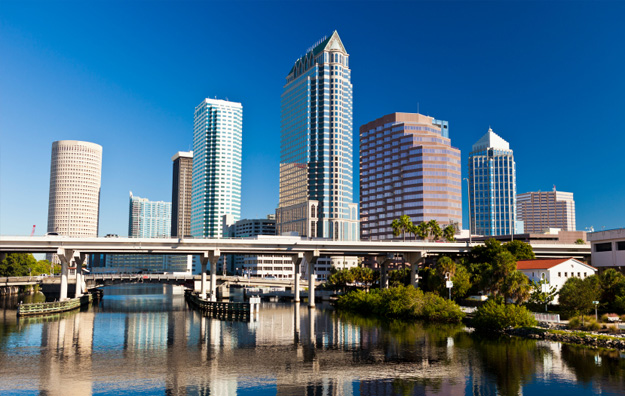 Tampa is one of three cities surrounding vast Tampa Bay. The others are St. Petersburg and Clearwater, a short drive across major bridges spanning the bay.  Depending on your interests on a 2-day day visit to the Tampa, you can spend it all in Tampa or mix it up a bit on the second day by heading over to St. Petersburg and St. Pete Beach.
Day 1 – Morning
Tampa is known for its pleasant downtown, interesting collection of small museums, the Florida Aquarium, Busch Gardens, a large theme park and zoo, and the historic warehouse district known as Ybor City, at one time  the location of a thriving cigar industry and now a popular nighttime destination.
Start out the day around Tampa's attractive downtown in an area known as the Waterfront Arts District.  Of the suggestions below, the Glaser Children's Museum is wonderful for kids. The others are excellent small museum that take less than an hour each to visit.
Tampa Museum of Art.  Take a pleasant stroll along Tampa Riverwalk  to a small gem located in an architecturally stunning building by the Convention Center.  It features dynamic and beautifully curated traveling exhibitions and a unique and growing permanent collection.  It's a pleasant experience with just enough to see to begin a day.  The Museum's SONO restaurant is delightful.
Florida Museum of Photographic Arts.  The 2nd and 3rd floors of the eye-catching glass building nearby, aptly called the "Cube," are devoted to a tiny, compelling collection of rotating photography exhibitions from the museum's permanent collection, primarily the works of local photographers as well as travelling exhibitions.
Glaser Children's Museum.   If you are travelling with children, this museum, located next door to the Museum of Art, is a wonderful place where kids can imagine and create.  It consists of 3 floors of total interactive fun, activity, building and role-playing.  Interactive exhibits within multiple themed areas connect kids to everyday work people do.  They can make a movie, paint with light, make and fly a paper airplane, climb a wall, build a building, operate a crane, be a pilot, a harbor pilot, firefighter, meteorologist and more. It's imaginative and fun!
Henry B. Plant Museum.   This small museum, located inside the distinctive Moorish Revival building topped by turrets, is now a part of the University of Tampa campus.  Through lifestyle exhibits in multiple antique-filled rooms, the Museum gives visitors an insightful glimpse into an interesting chapter in Tampa's history during the Gilded Age the late 1800s. The opulent hotel rising out of the tropical Florida wetlands was built as an exotic tourist destination through the vision and wealth of railroad magnate Henry Plant who brought the railroad down Florida's west coast.
Day 1 – Afternoon 
Ybor City.   Known as a hot nightspot, it's nice to go there during the day to appreciate the architecture of old brick cigar factories and warehouses converted into bars, cigar shops, vintage clothing stores and restaurants serving authentic Cuban cuisine.  Plan to have lunch at the legendary Columbia Restaurant. If you can't make it for lunch, go be sure to go back for dinner.  It's the real thing!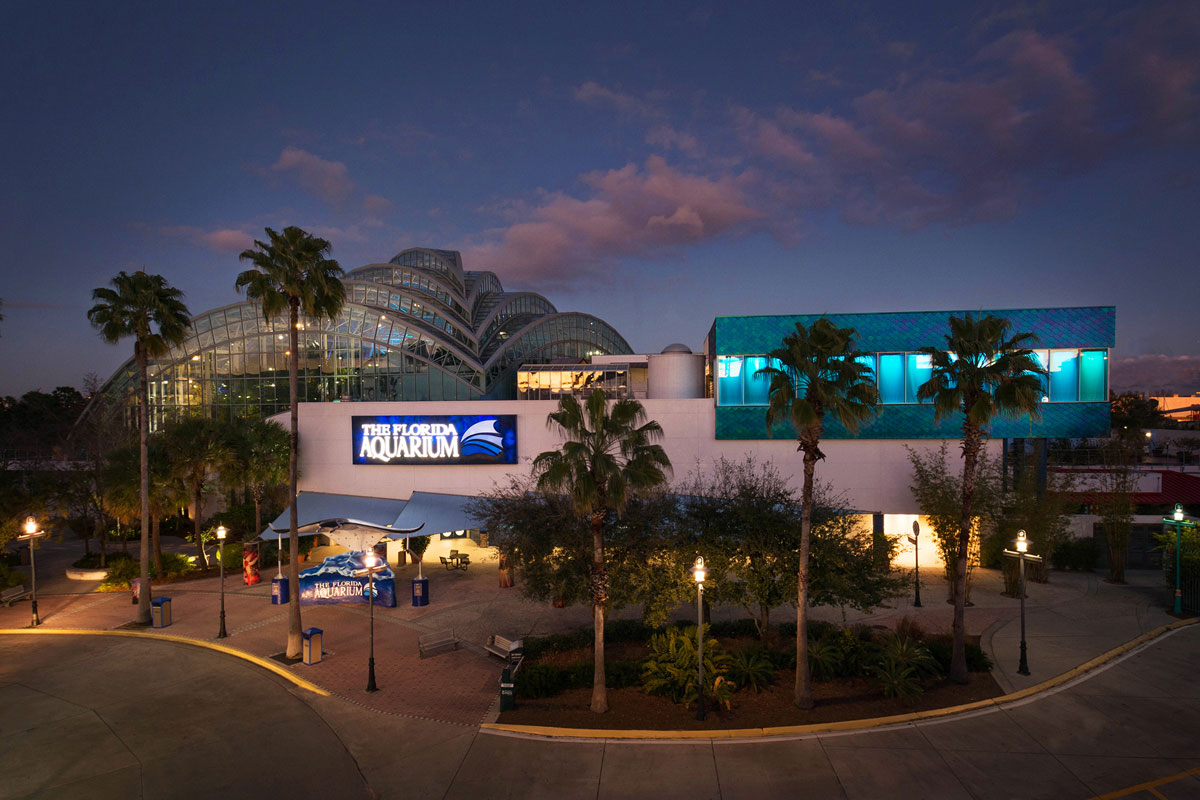 Florida Aquarium.  The Florida Aquarium, in the Channelside District adjacent to the Port of Tampa, is alive with action.  Small by mega-aquarium standards, it's an engaging place to spend a couple of hours.  Exhibits are wonderful and can be experienced close up.  Kids really like it, as do adults.  Don't expect dolphin shows.  The focus of the aquarium is on a range of aquatic animals found in Florida waters and all over the world.  See alligators moving through bogs, and magnificent wading birds of the swamps of Florida wetlands.  Journey into Madagascar to see lemurs and chameleons; watch seat otters frolicking and the life on a coral reef darting around in magnificent color.  It's a special, approachable experience.
Day 2 All-Day Option:  Busch Gardens in Tampa
This theme park is a must if you are traveling with kids.  Plan to spend a day. Located about a 20-30 minute drive from downtown, it has everything kids wish for in a theme park – over 300 species of animals roaming over 65 acres,  thrilling roller coaster and other wild rides that twist, drop, spin, and invert.  There are animal shows, encounters, feedings, experiences, safaris and tours.  There are water play areas for tots, river rapids to experience and sky rides to take. As is the norm at many theme parks, general admission covers access to the park and many things to see and do.  However, most of the events, encounters and shows are an additional cost.
 Day 2: All Day Option: St. Petersburg
If you like art and also want to see some of the prettiest white sand beaches of the Gulf of Mexico, a trip across the Howard Franklin Bridge from Tampa to St. Petersburg is well worth the 30 minute plus car ride.
Dali Museum.  Standing out distinctively along downtown St. Petersburg's lovely Bayfront is an architecturally acclaimed building covered in triangular shaped glass panels.  Inside is the largest collection of the work of surrealist artist Salvador Dali outside of Europe.  It's a sensational visual, optical and intellectual experience, whether or not you appreciate or understand his art.  The Museum also hosts world-class temporary exhibitions.  In recent years, those have included an amazing exhibition of the works of both Dali and Picasso curated side by side, and a special exhibition of Frida Kahlo's work.  Have a quick lunch in the small café and visit the excellent gift shop.
Chihuly Collection.  In the downtown Central Art District adjacent to the Morian Art Center, the permanent collection of Dale Chihuly's magnificent and masterful large-scale, vivid sculptures in glass are breathtaking. The art and architecture work together to create a spectacular visitor experience.
St. Petersburg Beach.  Head over to the beachfront community of St. Pete Beach for lunch and the afternoon. Escape into another era in the fabulous "Pink Castle," the Don CeSar, an elegant beachfront historic hotel for lunch overlooking the Gulf in the Sea Porch Restaurant. For something more laid back, drive up the beach to Pass-a-Grille Beach. Check out the funky specialty shops and restaurants along Corey Avenue, a couple blocks off the beach.