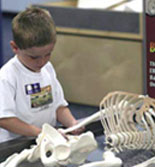 Home to the largest science center in the South Eastern United States, Tampa's Museum of Science and Industry (MOSI) combines fun and learning for people of all ages. Visiting MOSI is an experience unlike any other and far from your typical "hands off" approach associated with many museums.
Save An Additional $1 with Coupon Code: TPMO1
Purchase MOSI Tickets
Learn While Having Fun
Explore the numerous exhibits and displays that make up 40,000 square feet of the Children's Science Center. As the largest Children's Science Center in the United States, there is never a void of activity. Covering a wide spectrum of science and health related matters, children are encouraged to design, create, build, construct, observe and play.
Comments Off on Tampa Museum of Science and Industry Coupons