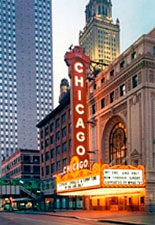 The splendor of The Chicago Theatre will leave you completely in awe and is a must-see for your upcoming visit to Chicago. Become inspired by the elegance and glamour of The Chicago Theatre with this unique tour that will take you back in time.
Planning a visit to the Chicago Theatre? Use the following coupon code and save an additional 5% on the Chicago Theatre Marquee Tour.
Coupon Code: CHTH5
Purchase Chicago Theatre Tickets

The Marquee Tour offers you the chance to enjoy a one-hour guided tour of the celebrated Chicago Theatre. As part of this unique walking tour, you will be able to go behind the scenes into one of the last movie palaces still in existence in the country today. Journey back in time and find out how it became such a legendary entertainment icon.
The opulence of the Theatre often leaves visitors in astonishment. The majestic staircase, elegant lobby, stunning auditorium, and lovely murals make it easy to see why this venue was quickly dubbed the Wonder Theatre of the World when it first opened its doors to the public on October 26, 1921.
As part of the tour, you will have the unique opportunity to actually stand on the same stage as many of the greatest artists in the world, including such iconic legends as Liza Minelli, Frank Sinatra, Dolly Parton, Dean martin, Beyonce, Prince, and more.
You will even see where such legends have autographed the Theatre's backstage walls. A wide array of the brightest stars and most famous productions in history have graced the stage at the Chicago theatre, including Arcade Fire, Allman Brothers Band, Kelly Clarkson, Blues Traveler, Ellen DeGeneres, Harry Connick, Jr., Kathy Griffin, Aretha Franklin, Indigo Girls, Gypsy Kings, Lyle Lovett, David Letterman, Dolly Parton, Diana Ross, Oasis, and Prince.
Planning a visit to the Chicago Theatre? Use the following promo code and save an additional 5% on the Chicago Theatre Marquee Tour.
Promo Code: CHTH5
Purchase Chicago Theatre Tour Tickets