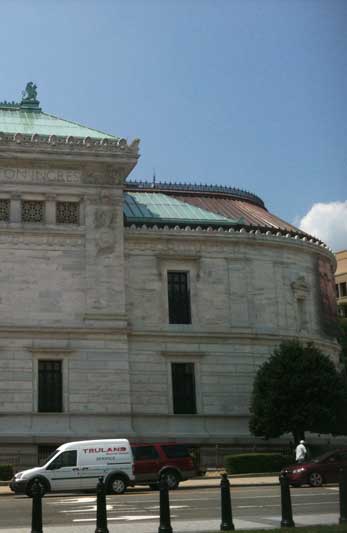 After Octagon House detour, backtrack east on New York Avenue to State Place to 17th Street NW. Turn right on 17th and walk south. The impressive Beaux Arts building hugging the street on the right is The Corcoran Gallery of Art.
Pink Millford granite covers the basement level; brick faced with white Georgia Cherokee marble covers the upper levels.  It exudes elegance, inside and out.
Walk midway down 17th Street NW to the entrance. Make your way past the 8 foot bronze Canova Lions lounging in the sun to experience the rotating exhibits inside – of one of the finest collections of 18th, 19th and 20th century American art anywhere, as well as an impressive collection of European art – plus the Salon Doré, an entire gilded Louis XVI salon transported here from Paris by way of the home of donor, Senator William Andrews Clark of Montana.
The American exhibits include fine 18th century portraiture; Remington's action-packed bronzes; distinctive paintings of Whistler, Sargent and Homer; landscapes from the Hudson River School; and the contemporary art of Warhol and Rothko.
The European exhibits include the works of Dutch and Flemish artists and French Impressionists gifted over the years by Senator Clark and other generous benefactors.
Since The Corcoran Gallery of Art began exhibiting its wonderful collection, first in 1871 in the 2nd Empire gem, now the Renwick (Site #33) , and later in 1897 in this magnificent building, it has remained true to the objectives of its founder, 19th century banker and philanthropist William Wilson Corcoran: to have a public gallery "for the purposes of encouraging America Genius."
Allow about 1 hour to enjoy the gallery. It's open Wed-Sunday 10-5. Plan to lunch at the Café des Artistes inside, open 11-2 Wed-Sat.  For a real treat, try it for brunch on Sundays – and tour the gallery before or after.
Comments Off on The Corcoran Gallery of Art