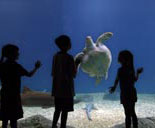 Located in Tampa, the Florida Aquarium is one of the most popular facilities of its kind in the country. The aquarium has welcomed more than 7 million people since it opened in 1995. Guests experience imaginative, interesting and entertaining displays of the marine flora and fauna that inhabit the aquatic world around us.
Is your group planning a visit to the Florida Aquarium in Tampa? Trusted Tours and Attractions provides deeper discounts to groups of 10 or more. For more information, please visit our page: Tampa Group Discount Tickets
The 150,000-square-foot aquatic facility enables guests to experience several fascinating ecosystems in Florida, such as the everglades, beaches, coves and oceans. The aquarium's signature 500,000-gallon tank highlights the colorful marine life that inhabits coral reefs. In addition to ocean predators, such as sharks, lionfish and octopus, guests view rock lobsters, rays and other aquatic animals that inhabit the coastal waters. Other marine life on display includes African black-footed penguins, river otters and unusual sea dragons as well as green sea turtles and a massive grouper that tips the scales at 300 pounds. Touch tanks enable guests to interact with bamboo sharks and sea stars. The Florida Aquarium has numerous shows throughout the day that feature the animals.
Explore a Shore is a festive two-acre outdoor water play area with live entertainment and a two-story pirate ship designed for adventurous young buccaneers. Adults can relax in this Caribbean-themed oasis while children explore animal sculptures and enjoy refreshing water features, such as slides and jet sprays. The "Swim with the Fishes" program, which enables guests to experience a reef environment without prior dive experience, and a dolphin-watching cruise are just two of the premium services offered by the aquarium.
Comments Off on The Florida Aquarium Group Tickets & Packages